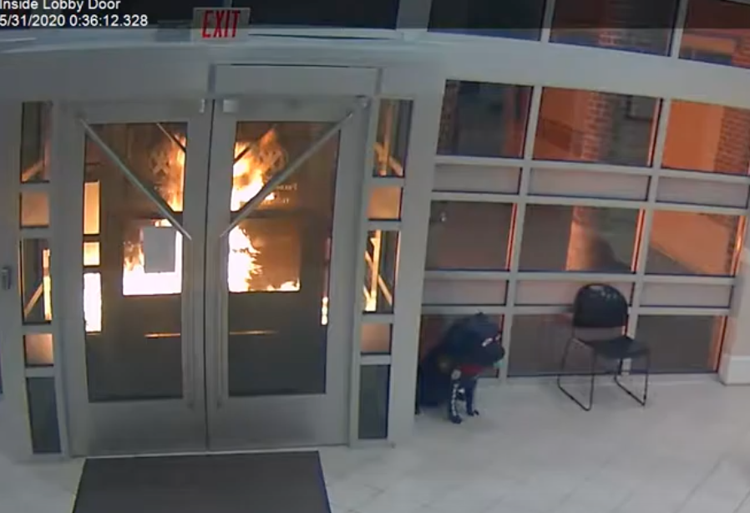 Nationwide protests sparked by the violent death of George Floyd under the knee of a Minneapolis police officer quickly descended from First Amendment-protected free speech to a week of widespread rioting, looting and anarchy in cities all across the country.
But if the purpose of the protests was to denounce police brutality against African Americans like Floyd, that goal was soon eclipsed by harrowing scenes of rioters torching vehicles and buildings, beating shop owners, attacking police officers, smashing windows and looting stores.
Examples include arsonists who deliberately set fire to an apartment building under construction in Minneapolis that would have housed up to 200 low-income families, and attempts to burn down the historic St. John's Episcopal Church in D.C., which opened its doors to participants in the Rev. Martin Luther King Jr.'s peaceful March on Washington in 1963.
Some also torched an occupied building in Richmond and then tried to block the Fire Department from reaching the scene. During an emotional press conference, Richmond Police Chief Will Smith said that his officers had to force their way through the unruly crowd to reach the blaze and rescue the residents, including a child.
Vandals in D.C. even defaced the Lincoln Memorial, which honors the Great Emancipator. How does spray-painting threats on a memorial to the man who freed the slaves honor the life of George Floyd? Or the woman photographed marching out of a looted restaurant with a purloined cheesecake in her hands?
In Fredericksburg, what started out as a peaceful protest turned into something darker when the crowd started to march toward police headquarters on Cowan Boulevard and refused to disperse —hours after somebody set fires at the front entrance of the station and at the Fallen Officer Memorial.
"Tear gas was deployed to disperse the crowds who threatened innocent bystanders and police, were unsafely blocking streets, throwing rocks and vandalizing vehicles as well as historic structures after being given multiple attempts to leave," according to police spokeswoman Sarah Kirkpatrick.
Peaceful protest is a constitutionally protected activity. Rioting, looting and arson are violent crimes. All those involved in these unlawful acts are criminals who have lost any claim to the moral high road.
Even Floyd's brother, Terrence Floyd, condemned the violence taking place in his name. "If I'm not over here blowing up stuff, if I'm not over here messing up my community, what are you all doing?" he asked the crowd in Minneapolis. "You're doing nothing. That's not going to bring my brother back at all."
People who are supposedly protesting police brutality against African Americans while participating in the wanton destruction of minority neighborhoods and businesses already struggling from the coronavirus lockdown have another agenda, as social media posts showing pallets of bricks staged along planned protest routes in a number of urban centers make perfectly clear.
"Violence begets violence," MLK taught. Rioting always ends with innocent citizens who had nothing to do with the outrage unjustly losing their liberty, property and sometimes even their lives to the raging mob.
The (Fredericksburg) Free Lance-Star
Catch the latest in Opinion
Get opinion pieces, letters and editorials sent directly to your inbox weekly!