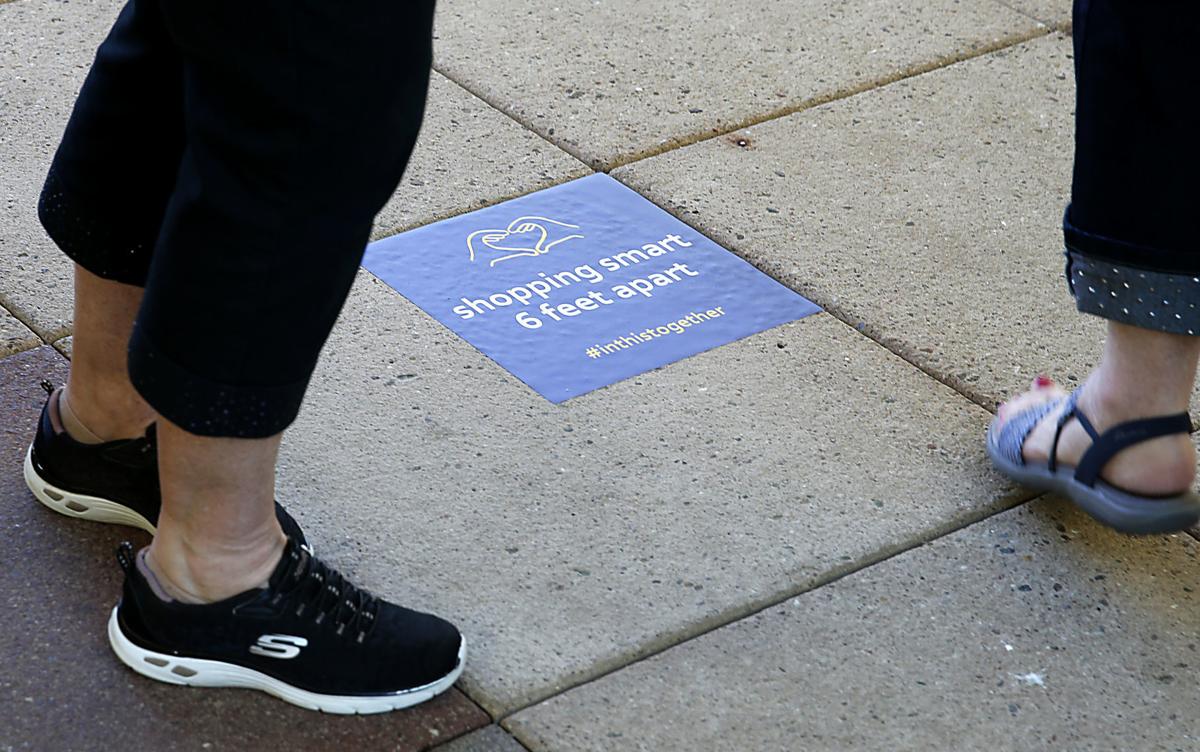 On a recent Saturday afternoon, customers at Short Pump Town Center in Henrico County walked the mall's outdoor grounds with a sense of ease. Shoppers clutched bags of purchases and sipped drinks on restaurant patios with restored indoor and outdoor dining as part of Virginia's Phase 2 reopening. Data from the U.S. Commerce Department released Tuesday showed retail sales were up 17.7% in May.
"Our friends, family, neighbors, shops and restaurants create the heartbeat of our community," read an Instagram post from Short Pump Town Center. "We are excited that we can once again come together, to see our community flourish and thrive. Welcome back."
That kind of message should breed optimism, but not a false sense of security. Virginia's stay-at-home order is over. The pandemic is not, and the virus still is within our borders.
In North Carolina, hospitalizations hit a record-high over the weekend. Twitter video from a WRAL-TV reporter showed large clusters of people frequenting streets and businesses in downtown Raleigh, without wearing masks or practicing social distancing.
Hours before that tape, Mandy Cohen, secretary of the North Carolina Department of Health and Human Services, mentioned the possibility of reinstituting a stay-at-home order if concerning virus data grew worse.
In Arizona, hospitals grapple with higher levels of coronavirus patients. The Arizona Republic reported 931 people visited emergency rooms for COVID-19 on Sunday. Just under half (464) were in ICU beds.
And in China, which instituted a 76-day lockdown around its coronavirus epicenter in Wuhan, a new cluster of cases has emerged in Beijing's food market. After nearly two months without community transmission, along with the use of apps to trace COVID- 19, Chinese media outlets reported the virus was found on a cutting board of an imported salmon business.
Virginia has been fortunate to see declining COVID-19 positivity rates in recent weeks. The activities and the behaviors are the focus of our attention — the mallgoers who comply with or defy the order to use a face covering in a department store or public restroom; the protesters who have spent hours chanting in close proximity to hundreds of people; and the businesses making efforts to create safe spaces, versus others taking a lax approach.
We believe U.S. Treasury Secretary Steven Mnuchin when he said, "We can't shut down the economy again." But if we're experiencing public health issues as we reopen restaurants, beaches and brick-and-mortar retail spaces, what will happen in the fall as schools, events and office spaces attempt to get back to normal?
We must embrace measures to keep the economy going — and the coronavirus at bay. Good choices today increase the chances, our state and nation won't have to face another round of tough decisions.
— Richmond Times-Dispatch
Catch the latest in Opinion
Get opinion pieces, letters and editorials sent directly to your inbox weekly!