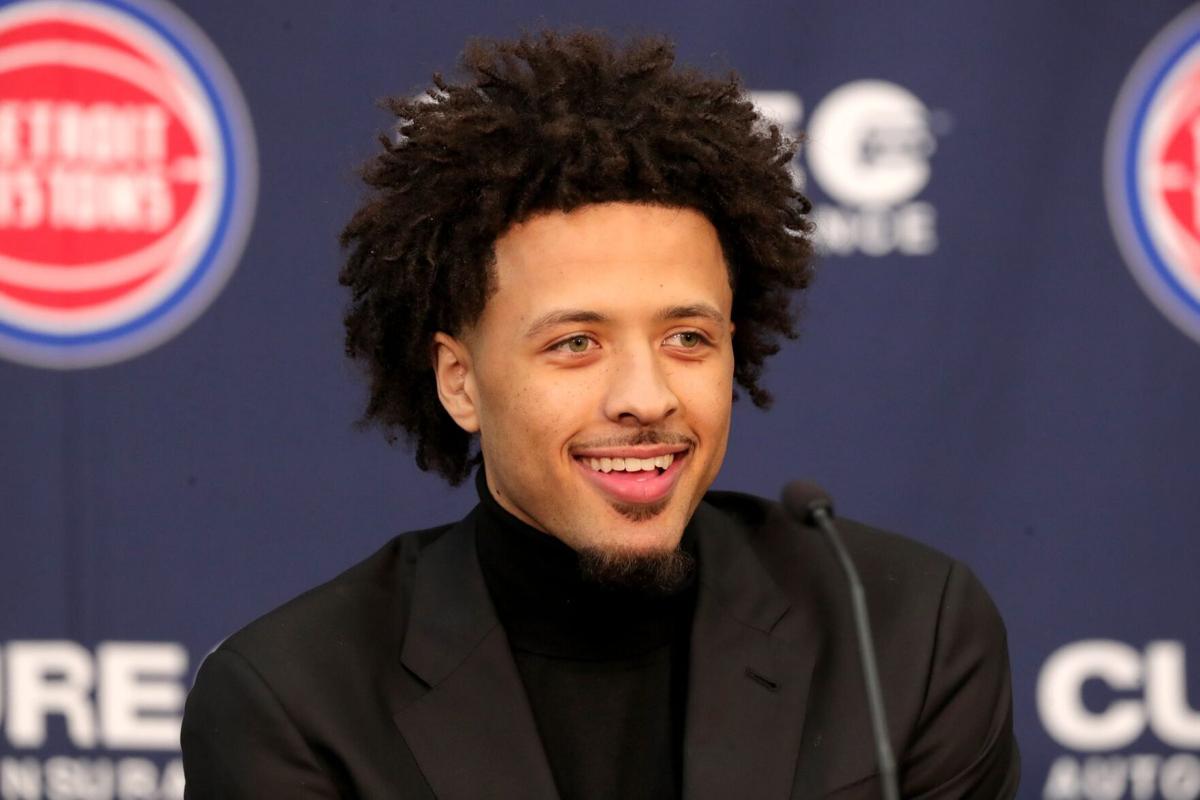 LAS VEGAS — You know you've made it when a New Yorker in Las Vegas heckles you during a Summer League game, which is what happened to Detroit Pistons rookie Cade Cunningham on Friday night when he stepped to the free-throw line in the second half against the New York Knicks.
"Clean up your room, Caden!" a fan yelled as the No. 1 pick in last month's NBA draft readied himself to shoot. "Clean up your room!!"
It was funny in the way Knicks fans can be obnoxiously funny. It was also a kind of honorific. Here was a 19-year-old not even three games into his NBA career, playing exhibition games a mile from the Vegas Strip, getting the kind of attention reserved for the league's royalty.
Talk about expectation. Not to mention buzz.
It's been a while, eh Detroit?
Where one of yours catches the eye of so many of theirs?
Cunningham may or may not end up operating in the upper strata of the league. He may not finish in the Hall of Fame, his name synonymous with greatness. But, in the span of a week, he has become compelling theater in a way no Detroit athlete has in a while.
It helped that he dropped seven 3-pointers against the Knicks on Friday night. The kind of game he needed after an uneven debut.
Well, that's not quite right. Some of you needed Cunningham to have a game like this.
It's been 50 years since the Pistons last had the No. 1 pick. And while some of you may remember what it felt like when the Pistons drafted Bob Lanier all those years ago, here's guessing most of you don't.
And you aren't quite sure how to feel. And you think that the No. 1 pick should bust out of the gate like ... LeBron? Shaq?
Or at least you think the No. 1 pick needs to show more than Cunningham did in his first two games — especially in his second game, when he matched up against Jalen Green, the No. 2 pick. So, you worried, even though Cunningham showed flashes of the all-court, two-way game that made him such a coveted prospect in the first place.
Because you wanted more, right?
More signs that Pistons general manager Troy Weaver took the right player. More signs of explosiveness. Or a tighter handle. Something, anything, that looks like what a No. 1 pick is supposed to look like.
Only there is no such thing. Not really. There is one LeBron. One Shaq.
Besides, in today's NBA, the best players come in all sorts of packages. Skill and an ability to impose that skill are what matter. Sometimes it's hard to see, especially when that skill isn't wrapped around a 40-inch vertical.
Friday night, though, Cunningham showed what high-level skill looks like. But before we dissect his effortless and fluid stroke, before we break down his seven 3s, his sense of the moment and the space he creates with his dribble, let's remember that he used the first two games to build toward Friday night.
And that he showed plenty in the buildup.
Mostly in his demeanor and in his speech, which we got to hear because the NBA mic'd him before his showdown with Green. On the tape, you could hear Cunningham passing out attaboys and moving his teammates around on defense. You could also hear him taking ownership.
Remember that it is not normal for a 19-year-old to direct traffic on an NBA court. Not in his first game. Not in his third.
Also remember that no matter how easily Cunningham steps in as the leader of the Pistons, and no matter how natural he is at doing it, his direction — and words — won't mean anything if he doesn't make plays on the court.
Lots of plays. Because veterans will listen only so long if the goods aren't there.
Cunningham understands this. Has all his basketball life. Which is why, of his team-high 24 points Friday in the Pistons' 93-87 win over the Knicks, none were more important than his last nine.
They came on three 3s. The first late in the third quarter, after the Knicks had cut into the Pistons' comfortable lead, not long after he'd been subbed back in the game to quell New York's momentum.
The shot came after a between-the-legs crossover and left-handed in-and-out dribble. A quick-hitting double move meant to create space. It worked. And after a flick of the wrist and a snap through the net, Cunningham settled his team.
The last two 3-pointers came in the fourth, again after the Knicks made a run. And while it is easy to say it's only a Summer League game, Cunningham made similar shots at Oklahoma State.
Here's how he explained his sense of the moment:
"Any time the game is close or kind of in crunch time, I kind of feel like a magnet from my hands to the ball. I want the ball in my hands. My teammates trust me ... I've been playing for a long time and whenever it gets to those times I kind of feel it."
"(I) just want to be an outlet for my team. I want to be trusted. You have to be brave in those times. You've got to have some (guts), (to) step up and go get the ball. I was up for the challenge."
If that sounds like he thinks a lot of himself, he does. But his words didn't sound like bragging. In fact, they sound grounded, humble even. It's why, less than two weeks into summer ball, he's the magnet for the team.
"He's a great young leader," said Saddiq Bey, who is only 22 himself. "It's natural. He doesn't force it. It's great to be around."
Again, it's great to be around in part because he can hit 3-pointers off the bounce when the game gets tight. At least he can now.
It's also great to be around because he doesn't force shots. And because for a player who's got the ball in his hands often, he makes his teammates feel like he doesn't. Like he's sharing it. Which he is.
Sometimes we use the term playmaker to describe someone who doesn't score. Or is reluctant to score. Or as a euphemism for a player who isn't an elite athlete — relative to the NBA, of course.
And maybe this description colored your opinion of Cunningham's trajectory. It probably didn't help that some analysts like to talk about his "floor" more than other top prospects. As in: he's safe.
You didn't want safe. The Pistons don't want safe, either. They took Cunningham because they think he can be a transcendent player.
The kind of player who huddles his teammates and directs them days after he's met them, who can put a defender on his back, slow down, keep his dribble, and bend the geometry of the court. As he did against the Knicks early in the game, which led to a Killian Hayes 3-pointer.
The kind of player who can rebound, defend on and off the ball, create space for himself and others, and shoot, especially in the tense moments, but, just as importantly, understands when those moments arise.
That he does at 19 is partly why he was taken with the first pick. That he thrives in those moments is a reason, too.
On Friday night, Cunningham showed calm when the Knicks swarmed. He showed a shot as sweet as a winning hand. He showed a showman's sense for the stage, even if he thought it was "surreal" that he was here, playing in the NBA. And he showed he knows how to conduct, a trait he learned from his dad, who coaches football, a sport where communication is everything.
"It's all about adjusting," he said. "(You're) playing against the best athletes. Have to be sharp with your decisions. … Those are things I'm gonna pick up as I get more comfortable in the league."
Then imagine where he already is, dismissing the harangue of an impassioned Knicks fan as easily as he's dismissed defenders closing out. The possibilities are endless.