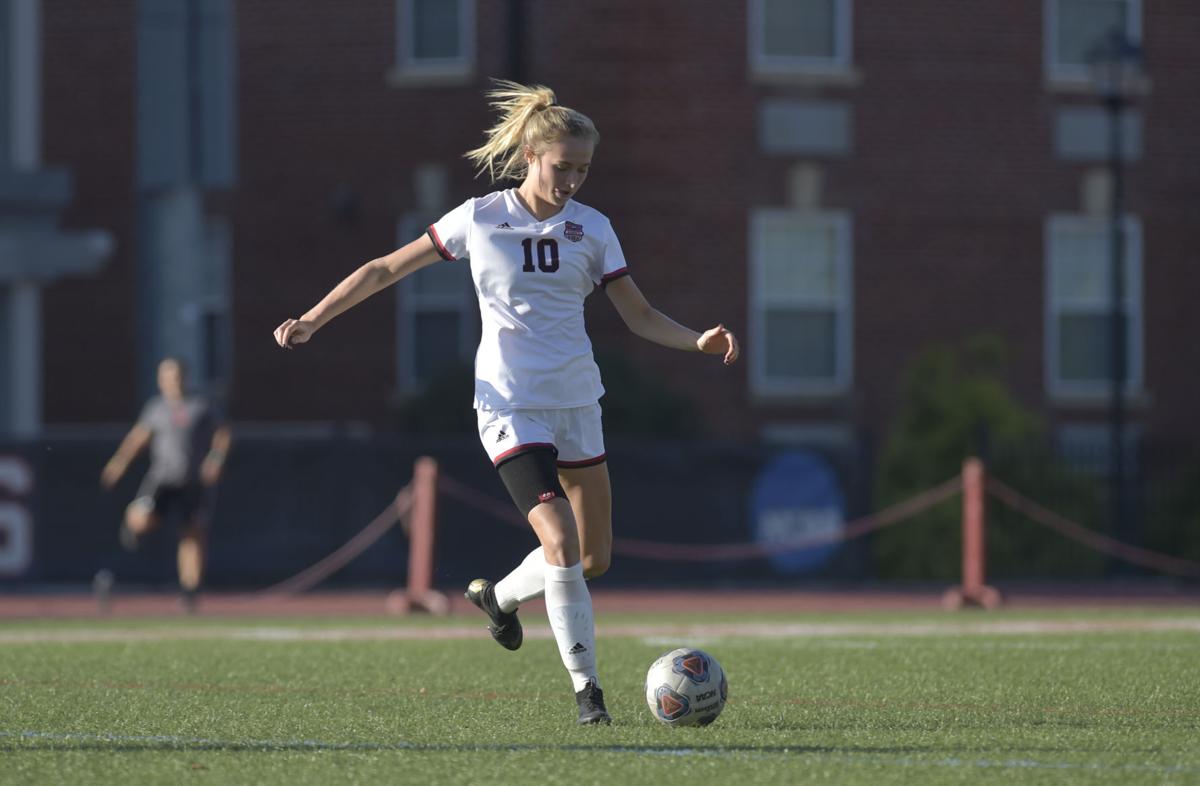 As August rolled around, Shellenberger Field and Turner Gymnasium sat empty. Late summer in any other year normally brings with it a flurry of athletic activity at the University of Lynchburg as coaches and players gear up for the fall season.
But the UL sports website — like the sites for all other Old Dominion Athletic Conference institutions — is entirely devoid of schedules. Amid the coronavirus pandemic, the future for these Division III schools holds no promise, no guarantees. Now, teams are forced to find and hold on to glimmers of hope.
So rather than putting together memorable performances to start the 2020 school year, members of the UL athletic department have temporarily redefined the idea of a "highlight."
According to UL athletic director Jon Waters, the highlight of the first couple weeks back on campus came when staffers pulled out cameras to snap headshots of players, an exercise that, for a few moments, had athletes on teams all doing the same thing.
Dating back to the spring, such activities hadn't been an option at all for area Division III athletes, the possibility of virus transmission eliminating athletic contests and practices for months.
And now, even though some of those athletes have been able to find some sort of normalcy in modified returns to school and practices, colleges in the area still don't have their full identity back.
"Those sports are who we are," Randolph athletic director Anthony Berich said.
In Lynchburg and the surrounding area, the types of activities going on at three schools in the ODAC — which is not staging any competition before the start of the new year — vary widely currently.
Among UL, Randolph and Sweet Briar, the Vixens led the way in returning to the field.
For months, SBC has touted its small campus community and self-contained geographic footprint as assets in fighting the spread of the virus, allowing for both the return to in-person classes and practices for students and athletes.
Among ODAC schools that have reported cumulative or daily numbers of positive COVID-19 cases, Sweet Briar has fared well with disease spread. Numbers of positive cases among the community of the Amherst County college have been in the low single digits, with the school reporting zero active cases as of Tuesday.
Modified athletic activities have been taking place for weeks at Sweet Briar, made possible also because of their early return, according to athletic director Jodi Canfield.
As recently as last week, players were participating in instrasquad scrimmages, with numbers of players in the game at any time drastically reduced from the typical requirements.
Compared to Randolph, the Vixens are in a different universe when it comes to athletic activities currently taking place.
The Rivermont Avenue school is empty still, with classes only being offered remotely through at least the end of the fall semester. WildCat athletes are conducting solo workouts from their hometowns, with team gatherings occasionally happening virtually.
"Hopefully student-athletes are doing their part," Berich said, adding he "believes in" Randolph's decision to postpone students' return to campus.
Across town, the University of Lynchburg, after dealing with a spate of cases in August and earlier this month, is getting students back in the gym, weight room and on fields.
About a week after students returned to campus, positive COVID-19 test results spiked and forced classes to move to a remote format. Based on a review of available data showing cumulative cases, the peak of more than 40 positive cases in August put UL among ODAC schools with the highest counts.
During that time, though, athletes and coaches weren't practicing at all. The athletic department at UL, ever since students began returning, has been in "slow motion" when it comes to letting athletes transition back to normal.
"[It was] driving most of us crazy," Waters said, "but [it was] the right thing to do."
This month, after cases came down at the school and in-person classes resumed, UL teams started their return to in-person activities.
Practices require social distancing and the grouping of athletes into pods, equipment being sanitized and a number of other mitigation measures and health checks. Similar precautions are in place at Sweet Briar.
All three athletic directors at the area DIII schools said they're optimistic about games happening in the spring.
According to Canfield, the model under consideration in the ODAC includes fall and winter sports playing 50% of a normal schedule, and spring sports – which had their seasons cut severely short earlier this year – playing a full schedule.
Talks about regular-season and postseason formats are underway among member institutions and league officials, with no official plans released yet.
"There are lots of challenges," Waters said of the potential return to competition in 2021.
Staging all three seasons simultaneously will tax athletic training staffs and gameday operation staffs. There will be challenges in scheduling practices on shared fields, figuring out travel accommodations and finding officials, too.
And "the testing landscape has to change considerably," Canfield said, explaining the obstacles small schools face in finding affordable tests and labs that can turn around results quickly.
Should all those details be worked out, though, and games actually take place in 2021 in the ODAC, Waters explained a jam-packed winter and spring will be worth watching.
"I absolutely believe that as a school and society as a whole, we could be looking at one of the most epically exciting and spirited times of a return to sport as we've had," he said.
Be the first to know
Get local news delivered to your inbox!