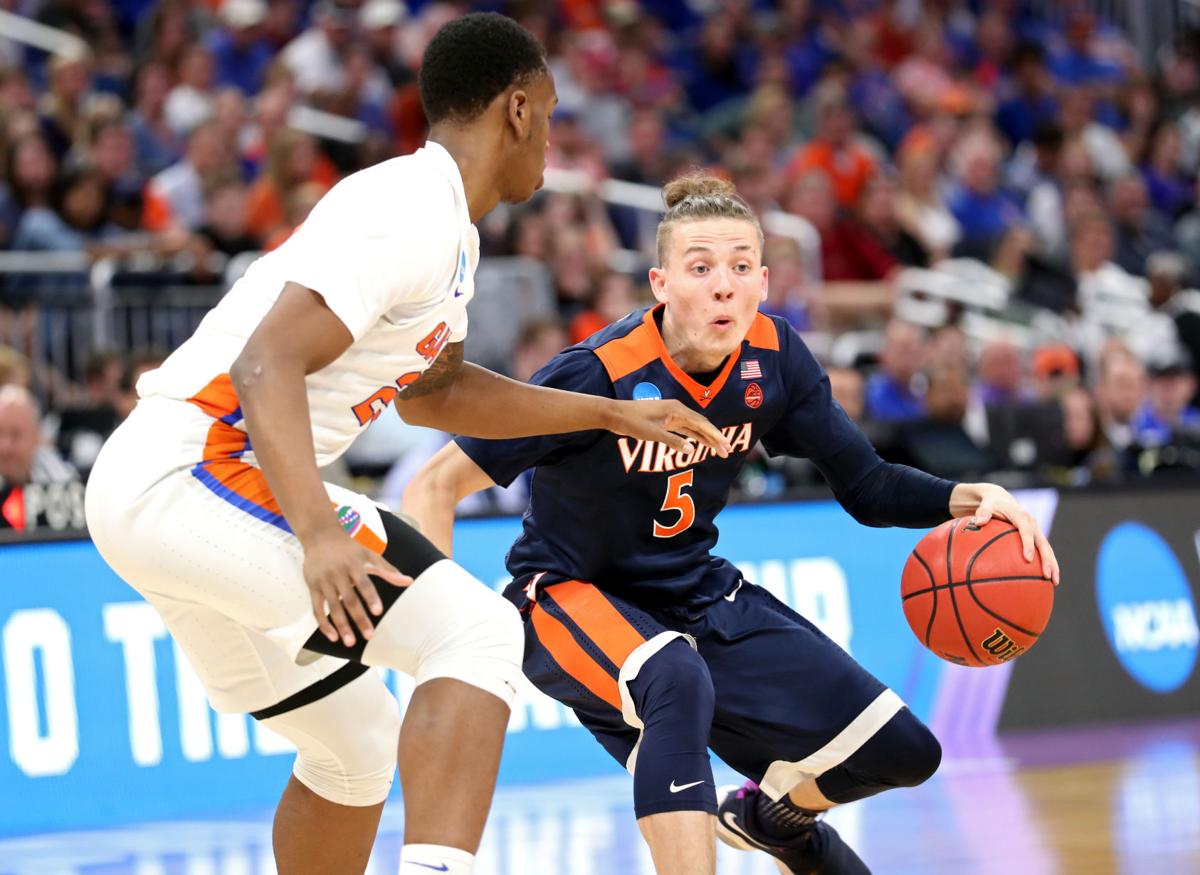 The man bun is gone, but the guy underneath it is back stronger than ever with a few additions to his repertoire.
As good as Kyle Guy was last year for Virginia, call him Guy version 2.0. A year ago, the freshman shot 49.5 percent from behind the arc, 44 percent inside it and 71 percent from the free throw line. This time around, he'll be better. Much better.
The former Mr. Basketball in Indiana, Guy has worked hard on his game. Not only has he focused on becoming more consistent with an already pure as you'll find shot in college basketball, but has expanded his game, improved his defense and become a smarter player.
Yeah, hard to improve on being a 50 percent shooter from Bonusphere, but as scary as it sounds, he's even more deadly.
"The dude is a sniper," teammate Devon Hall said last week at ACC Basketball Media Day in Charlotte.
Having lost a couple of scorers via transfer, some of the scoring load will be on Guy's ample shoulders. He's put on about 10 pounds after eating practically everything he saw in an attempt to add bulk and strength.
"I wasn't as consistent as I wanted to be last year, so I've been getting up shots every day before practice and after practice," the sophomore sharpshooter said. "Consistency is what I'm shooting for."
Coach Tony Bennett, who knows a little something about shooting the basketball, particularly from the 3-point line, has worked hard to develop Guy's shot.
"You look at the Steph Curry's and the Klay Thompson's, and all those guys," Bennett said. "You work on how efficient their footwork is, their balance, their consistency and their stroke. Kyle can kind of lean and twist and do some things, because sometimes he has to.
"What I stay on him about is don't ever assume your strength is your strength, and that you don't have to work to hone it," Bennett explained. "If it's an A, make it an A-plus.  Go after your strengths and make them great."
So the coach has emphasized an aggressive mindset from the shooting standpoint, making sure the footwork is clean and the consistency thing. Repetition, repetition.
Assistant coach Ron Sanchez has pushed from another direction to expand Guy's arsenal.
"Sanchez has been on my rear end about every time I catch [the ball] to look at the basket because he said I've already put the fear of God into the defender because I can shoot it," Guy grinned.
The moment he freezes that defender, the Virginia guard is putting the ball on the floor and driving toward the paint where he can get an easier shot or get fouled. He wants to get to the free throw line more this season. For UVa's sake, he needs to get to the line more.
Wahoo fans will easily notice the extra benefits of his work come Nov. 10, when UVa opens the season at John Paul Jones Arena against UNC Greensboro.
But the first thing they'll notice won't be his game. It'll be his hair.
The man bun, which charmed the gals but was a target for opposing hostile fans, is gone. Long gone.
"I think it's wonderful," Bennett said, breaking into a chuckle. "His mom and I talked. He doesn't know it, but he was getting schemed on."
Guy's mom, Katy, and relatives, went as far as to bring a pair of scissors along from Indianapolis on their visit to Louisville to watch UVa play the Cardinals last season. Guy declined the offer. In the offseason, he got a major haircut.
Anyone close to Guy knows that if they pushed too hard for change, he would resist. So, Katy and Bennett dropped little hints here and there, and as the coach said, it worked out beautifully.
"He came back with a clean haircut," Bennett said. "He doesn't know it but he got duped."
Guy did make a couple of additions to his appearance though, adding a couple of tattoos, giving him a total of five. He says he's addicted to them, although his mom isn't very happy about it.
"She likes the meaning of them, so she'll get over it," Guy said.
His first one, three crosses on his wrist, and the one that hurt the most, came in the summer of last year.
Meanwhile, Bennett is pushing Guy, who can play either guard spot, to be more aggressive, more assertive. Points have to come from somewhere and what better option than a guy who can bury a zone defense with dagger after dagger.
The coach likes the way his protégé is hunting catches, hunting shots, coming off screens, firing lasers at the basket, and putting the ball on the floor and attacking.
"I just want him to be sound with the ball, get good shots, stay aggressive," Bennett said. "Certain guys have to do that for us, and he's one of them."
"That is a weapon and it opens up some other things for us," Bennett added. "He was a little streaky last year but he did shoot 49 percent. That's impressive, especially being inconsistent with his minutes."
Guy scored in double figures in 10 of the 34 games he played, with a career-high 20 coming against Grambling (5-of-6 on 3's).
There's plenty more where that came from.
Jerry Ratcliffe is The Daily Progress' sports reporter and columnist. Contact him at (434) 978-7250, jratcliffe@dailyprogress.com, or on Twitter @JerryRatcliffe.