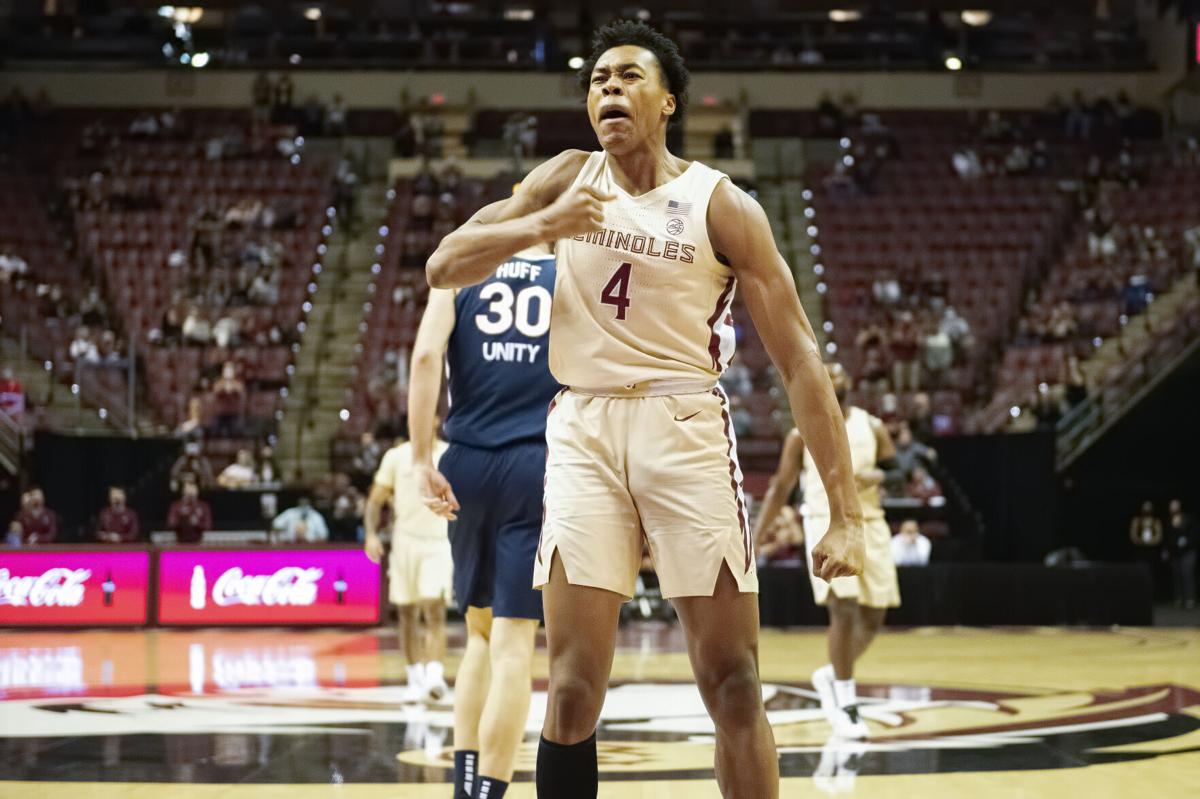 Another matchup with a ranked opponent, another double-digit loss for Virginia.
Kihei Clark's latest second-half surge couldn't completely erase Florida State's dominant first half. Clark helped pull No. 7 Virginia back into the game, but in the end, Monday night's battle of the top two teams in the ACC didn't turn out to be much a fight at all.
No. 16 Florida State built a 20-point halftime lead on its way to a convincing 81-60 win over UVa, pulling into a tie in the loss column atop the conference standings with the Cavaliers, who fell to 1-3 against Top 25 opponents this season.
"You can't maybe win a game in the first five, eight minutes, but you can put yourself in a spot where you can make it dang near impossible to come back," said UVa coach Tony Bennett. "To put ourselves in that kind of hole was frustrating."
It was Virginia's most lopsided loss since a 98-75 loss to No. 1 Gonzaga on Dec. 26.
The Seminoles, last year's ACC champions, have now won 24 straight league home games, the second longest streak in conference history, and have beaten Virginia in seven of the teams' last eight meetings.
Down 45-25 at the half, UVa (15-4, 11-2 ACC) outscored Florida State 16-3 in the first 5:36 of the second half, with Clark scoring 10 of those points. The junior guard finished with 12 points and four assists.
But the Seminoles (12-3, 8-2) answered Clark's second-half onslaught with a 17-2 surge of their own to regain control.
Senior guard M.J. Walker scored 17 points, going 5 for 6 from 3-point range, to lead FSU, which won for the seventh time in its last eight outings. Walker's fifth 3-pointer from the corner with 10:38 to play put the lead back to 64-43.
Junior forward Raiquan Gray added 15 points for the Seminoles, who scored the most points that Virginia has allowed in an ACC game this season.
Their defense was even more impressive.
In a matchup of the top scoring team in the ACC (FSU) and the top defensive team in the league (UVa), the Seminoles' defense proved to be arguably the most elite unit on the floor, controlling Virginia's top two scorers, senior frontcourt stars Sam Hauser and Jay Huff.
Hauser finished with 11 points and five rebounds, while Huff was held to four points and two boards.
Junior wing Trey Murphy III led UVa with 13 points.
Virginia committed 13 turnovers leading to 21 points for the Seminoles.
"They make every catch hard. They switch every screen," said Bennett. "They force you to spread the court, try to move a little bit, touch the paint, and get aggressive. ... It challenges you. You have to handle the ball. They're there and they bring in waves of guys."
On Saturday, the same day Virginia easily handled North Carolina behind big games for Hauser and Huff, Florida State struggled past Wake Forest, needing overtime to beat the Demon Deacons. Just 48 hours later, FSU was essentially done with the ACC's top team before halftime.
"If you want a chance to beat a team of this caliber, or that is playing at this level in this setting, you can't be sometimes really good defensively," Bennett said. "You have to be all-the-time good."
Unlike Saturday, when Virginia used a 21-2 first-half run to take control of the game in a home win over North Carolina, this time, the Cavaliers allowed that kind of surge. Florida State scored 14 unanswered points to spark a 20-3 run that put the Seminoles up 22-9.
Back-to-back 3-pointers by Walker pushed FSU's lead to 28-11 with 7:44 left before the break. It led by as many as 23 in the first half and went to the locker room up 45-25, the most points UVa has allowed this season.
Virginia struggled with ball security, committing eight first-half turnovers, and couldn't keep the Seminoles off the glass, getting outrebounded 17-7.
Senior guard Tomas Woldetensae came off the bench to try to keep UVa in the game in the first half, scoring eight of his 11 points before the break.
Held scoreless in the first half, Clark had another big second half, helping the Cavaliers outscore FSU 16-3 in the first 5:36 minutes coming out of the locker room. Clark scored 10 of those points, and Murphy III capped the spurt by hitting a 3-pointer to trim the Seminoles' lead to 48-41.
"Kihei was really important for us," said Woldetensae. "He pretty much took the entire team on his back and tried to push it through."
But as quickly as Virginia pulled back into the game, FSU turned it back into a beat-down. The Cavaliers next play Saturday at Duke, which found out star freshman Jalen Johnson was opting out of the rest of the season on Monday.