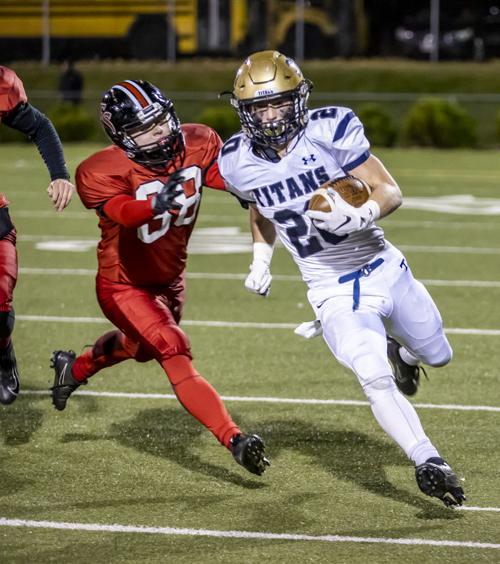 Jersey No. 20 is a special one in the Hidden Valley football program.
Worn by the likes of eventual Duke recruit Jake Kite in the early 2010s, it is a badge of honor among the Titans.
"That's a number at our school that's earned, not given," Hidden Valley coach Scott Weaver said.
Senior Matt Strong has owned the jersey since his freshman year. And like Kite, he is headed to an FBS program in the ACC.
The 6-foot, 195-pound defensive back and running back has accepted a preferred walk-on offer from Virginia Tech, which has been the Hidden Valley star's dream destination. When Virginia Tech assistant coach Adam Lechtenberg made the offer, Strong wasted little time accepting it. "I was really surprised to hear it out of the blue, but I was excited. I was happy," he said. "I grew up watching them. An offer from them was hard to not take.
"I didn't know when I wanted to make the decision, but talking with my coaches and family made it easier. I had a feeling in my head I wanted to go there, it was just about when I would make my decision."
Strong received no scholarship offers from FCS or Division II schools, but Weaver blames that on the massive impact the COVID-19 pandemic has had on the normal recruiting process.
No on-campus college camps and the postponed 2020 VHSL football season limited the exposure for many uncommitted or unsigned high school players.
Strong was a first-team All-Timesland selection at defensive back in 2019, with 90 solo tackles and five interceptions for a team that finished 7-5. He also ran for 736 yards on 148 carries.
"He is a really, really good player," Weaver said. "With everything going on in the world with COVID and how it's affected football in recruiting, it kind of hurt his chances.
"If this was a normal year, I'm not saying that he's playing Power Five ball, but the high-level FCS programs [would] offer that kid. Everything happens for a reason. Maybe this is a blessing in disguise."
Strong has been preparing for the condensed and delayed football season as official practice begins Feb. 4.
His numbers in the weight room have improved: 515 pounds in the squat, 300 in the bench press and 300 in the power clean.
Weaver is high on Strong's future in Blacksburg.
"For him to have the opportunity to get his foot in the door and earn it, he's a kid that I believe will take full advantage of that opportunity," the Hidden Valley coach said.
"My expectations are for Matt Strong to be playing at Tech one day."
Twin brothers Jayson and Corey Easton have transferred from Alleghany to James River.Jayson Easton, now a 6-foot-4 wing guard, averaged 22 points per game in 2019-20 including a 40-point game against Floyd County. Alleghany is among several area schools which has not been given the green light to begin its basketball season because of COVID-19.
James River has played two games and has a home game Friday against Radford.