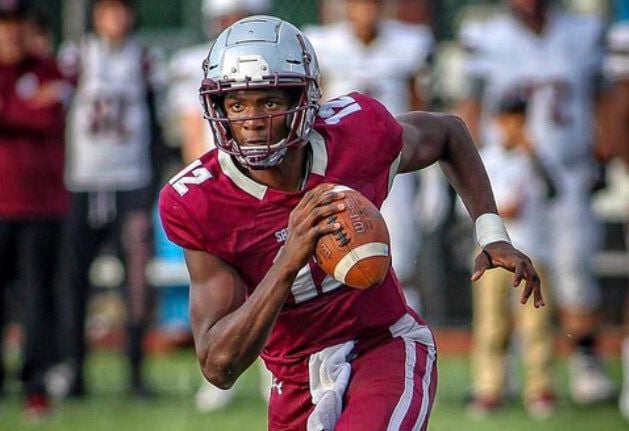 The Hokies made Bullock their primary quarterback target for 2021 after Dematrius Davis decommitted on May 6. Bullock was on their recruiting board at the time, but they backed off recruiting any other quarterbacks while Davis was committed.
"It's a business at the end of the day," Bullock said in a phone interview this week with The Roanoke Times. "They want the best guy for them. He decommitted and that gave me an opportunity. I'm going to take advantage of any opportunity I get. I'm blessed they are even interested at all."
It didn't take long for Tech to reestablish the relationship with Bullock they began building in the fall. The Hokies helped themselves by speaking directly with those close to Bullock and getting to know his personality off the field. 
Bullock, a 6-foot-4, 200-pound three-star recruit out of New Jersey, didn't go more than 48 hours during that period without hearing from a member of the staff. Tech wasn't the only team in constant contact with Bullock — Rutgers and UCLA were heavily pursuing him — but the intense recruiting push made a difference.
Tech offensive coordinator Brad Cornelsen was Bullock's primary recruiter, but coach Justin Fuente was heavily involved as well.
"He's been showing a lot of love to me and my family," Bullock said of Fuente. "I appreciate everything he's done for us. I can tell coach Fu is a great dude and that he wants the best for his players on and off the field. It's been really good to get to know him."
Tech organized larger virtual meetings for Bullock and his parents with a group of student-athletes — quarterback Quincy Patterson, safety Ny'Quee Hawkins and offensive lineman Tyrell Smith — and another one with the entire coaching staff. They also had calls with faculty on the academic side.
On the call with players, Bullock hit it off with Patterson right away. Tech always tries to match up recruits with a current player at the same position while Hawkins and Smith share a similar background coming out of New Jersey.
Bullock said those sessions helped his family get a comprehensive feel for the football program and school. The first-person accounts on the coaches call from defensive coordinator Justin Hamilton and co-defensive line coach Darryl Tapp of their success as Hokies had a big impact on the quarterback.
"Coach Ham definitely stood out and coach Tapp, he was talking to my dad a little bit and chopping it up," Bullock said. "I could tell coach Tapp had that energy to him."
Bullock turned down the opportunity for a virtual tour of Tech's campus once he got a scholarship offer because he wanted to see Blacksburg in person with his parents.
The couple of hours they spent driving around town on June 12 helped Bullock make a final decision. Cornelsen acted as a guide of sorts on FaceTime since the NCAA dead period prevents the coaching staff from interacting with any recruits in person.
A pivotal moment came when Bullock walked into an empty Lane Stadium and got to envision himself taking snaps in the 65,632-seat stadium.
"It was a surreal feeling, it was different," Bullock said. "When I stepped on the field I just thought — could I see myself playing here? I just felt that vibe. I can't even explain it too much, it just felt right. Everyone says Blacksburg is a football town and I got to see that. It has that energy."
Mike Niziolek is the Virginia Tech football beat writer for The Roanoke Times. Follow him on Facebook and Twitter.