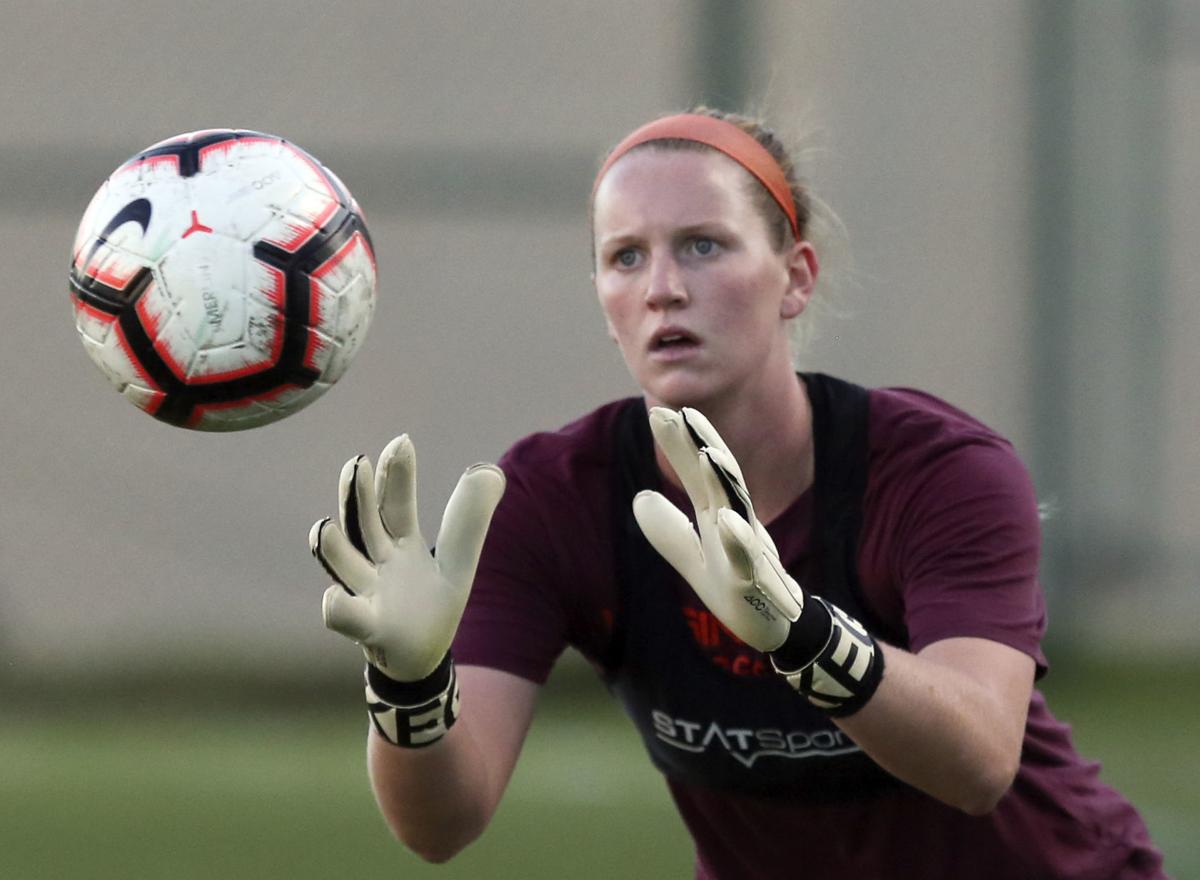 Senior goalkeeper Mandy McGlynn of the Virginia Tech women's soccer team was named to the All-ACC first team for the second straight year on Thursday, while Virginia senior forward Meghan McCool also made the first team.
McGlynn has 73 saves, 10 shutouts and 12 wins. She has a school-record 32 career shutouts.
McCool has scored 14 goals, including six game-winning goals.
UVa was represented on the second team by defenders Phoebe McClernon and Courtney Peterson; midfielders Taryn Torres (one goal, three assists) and Alexa Spaanstra (three goals, 10 assists); and forward Diana Ordonez (13 goals).
The third team included Virginia Tech defender Kelsey Irwin (three goals, two assists) and UVa goalie Laurel Ivory (12 shutouts).
Radford 3, Campbell 2, 2OT
MATHEWS, N.C. — Nelia Perez scored an unassisted goal in the second overtime period to give the No. 3 seed Highlanders (15-5) a win over the No. 2 seed Camels (13-4-2) and return Radford to the Big South finals.
Radford rallied from a 2-0 halftime deficit with goals from Alexeis Kirnos and Kayla Thomas.
The Highlanders face Gardner-Webb, which upset top seeded High Point, 2 p.m. Sunday in Mathews for the Big South championship.
Radford shut out the Runnin' Bulldogs in the regular season.
Christopher Newport def. So. Virginia 25-12, 25-22, 25-23
NEWPORT NEWS — Katie Crofford knocked down 11 kills and one ace and Sammy Carroll dealt out 31 assists as the top seeded Captains (25-8) advanced to the CAC finals and will host No. 2 seed Mary Washington, a straight-sets winner over Salisbury, on Saturday.
For the No. 4 seed Knights, Kaely Rath and McKaye Cunningham had seven kills each, LaRee Crockett dished out 16 assists and Mykynli Knight added 19 digs to finish their season with a 16-13 record.
Southern Virginia's Laree Crockett, who averaged 6.4 assists per set in the regular season, was named to the All-Capital Athletic Conference first team.
SVU's Mykynli Knight (413 digs) and Kaely Rath (271 kills) made the second team.
NEWTON, Mass. — Rachel Robinson scored on a penalty stroke in the 10th minute and Cato Geusgens added a goal, with an assist by Annie McDonough, in the 39th minute and the fourth ranked and No. 3 seed Cavaliers (16-3) held off the fifth ranked and No. 6 seed Blue Devils (13-7) in the ACC quarterfinals.
Lauren Hausheer recorded six saves for the Cavs who play No. 2 seed Boston College at 3:30 p.m. Friday in the semifinals
UVa defender Rachel Robinson, who had three goals and three assists in the regular season, made the All-ACC first team.
UVa defenders Amber Ezechiels and Anzel Viljoen (six goals, 10 assists) made the second team.
Be the first to know
Get local news delivered to your inbox!