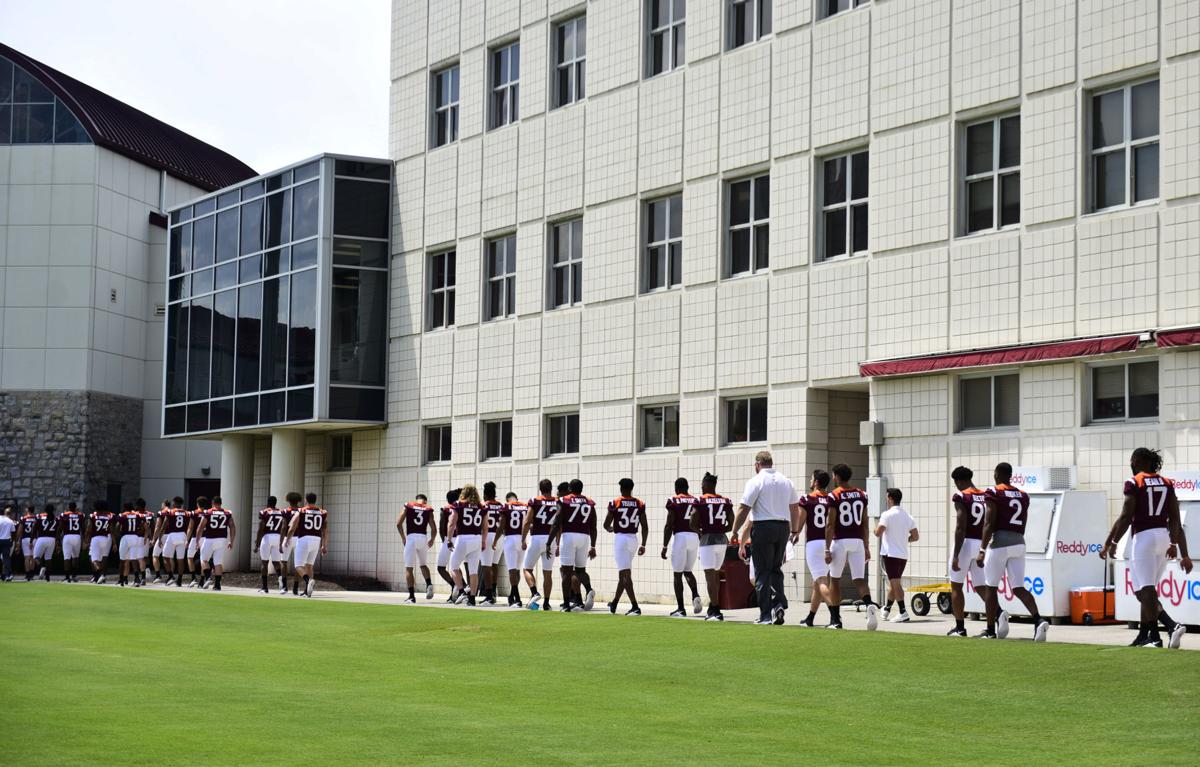 BLACKSBURG — A growing number of Virginia Tech football players are back on campus for voluntary workouts after a three-month hiatus, but it's not business as usual in Blacksburg.
The university is navigating a challenging new environment in the wake of the COVID-19 pandemic, and the athletic department has adopted a cautious approach with every step along the way.
"It's a tremendous undertaking…" Tech assistant vice president of university relations Mark Owczarski said. "We've tried to make the best decisions with the information that we have at the time, but understand that we may have to pivot or adapt to change to the circumstances we are faced with moving forward."
Tech tentatively expects the football team's full roster to be on campus in mid-July for the start of the six-week preseason camp the NCAA recently approved. The athletic department hopes to follow the football players' return by welcoming back student-athletes from other sports next month, including the men's basketball team.
The university has been tight-lipped about the process of bringing students back to campus, but documents obtained by The Roanoke Times in response to Freedom of Information Act requests and a series of interviews have shed light on what's gone on behind the scenes.
---
All student-athletes are required to fill out and sign a two-page questionnaire upon returning to campus that asks them if they've had any COVID-related symptoms in the last 14 days and list the places they have stayed during the last 30 days.
There was a group of 25-30 Tech football players who stayed on campus after classes were moved online, but most players traveled home once the university went to essential operations status in March.
"If you decide to return to a campus environment and sport participation, physical distancing is not always practical there is a risk of exposure to and contraction of COVID-19 from asymptomatic and symptomatic individuals. Please consider this possibility in making a decision to return or participate," the document states.
---
Are student-athletes being tested when they return to campus? How often are they being tested? Have any student-athletes tested positive for the coronavirus?
Virginia Tech has declined to answer those questions. The athletic department also declined interview requests for athletic director Whit Babcock, football coach Justin Fuente and the university's chief medical officer Mark Rogers.
Rogers oversaw the effort of bringing players back to campus, according to a release put out by the university in June.
The Roanoke Times has confirmed with multiple sources that players are being tested when they return to campus and isolated until they get results.
"Hendon could not go into the facility until he had been tested, which was good," Hendon Hooker's father Alan said. "As soon as he got back [to campus], they tested him and he still had to wait a couple days until the results got back. That was really encouraging; it shows they are going to adhere to their strict protocol."
The team's returning starting quarterback returned home to Greensboro to finish up the spring semester and was part of the first wave of players that spent the last three months off campus to return to Blacksburg. Offensive lineman Brock Hoffman was also part of that group.
"We were reassured once we knew the plan with Virginia Tech and the way they were bringing the kids back in and testing them," Brock Hoffman's father Brian said. "I was comfortable after I heard all that."
Virginia Tech football coaches have messaged parents updates throughout the suspension of workouts with additional information to go with the multiple weekly emails the university is sending out. The coaching staff also encouraged players to communicate with their parents as much as possible.
Multiple sources with knowledge of the situation confirmed that the administration of tests for staff and student-athletes are being handled in-house. The processing of those tests are done through the Virginia Department of Health.
Tech's Fralin Biomedical Research Institute and the Fralin Life Sciences Institute are processing COVID-19 samples for the Virginia Department of Health. The tests administered on campus go through the VDH and aren't directly submitted to Tech's research centers.
Tech hasn't announced any COVID-19 testing data beyond confirming an initial case back in March.
Health department spokesperson Julie Grimes said the state is in discussions with universities about how to publicly report testing data for the fall. Owczarski said those discussions are part of the university's broader effort to develop a testing and contract tracing plan for the fall semester that the university wants to have in place by July 3.
As of July 1, there have been 1,079 tests and 73 cases in the 24060 zip code which includes all of Virginia Tech's campus. According to the health department, there have been 61 positive cases in the educational setting (the state includes colleges and universities, K-12 and day cares in the educational setting data).
There are HIPAA laws that prohibit schools from releasing individual results, but some universities are providing collective testing data. Clemson has completed 430 tests since June 1 with a total of 47 positive results (14 football players) and is updating those totals weekly.
---
Tech's "COVID-19 Back-to-Work" plan in place for athletic staff and facilities details the guidelines for reopening portions of the Merryman Center for voluntary workouts. The four-page document includes the process for facility access, cleaning procedures, personal protective equipment (PPE) recommendations, social distancing requirements and medical screening policies.
Per the guidelines, the athletic department created a check-in center in the main lobby of the Merryman Center. Access is limited to individuals previously granted approval by department heads or sports administrators.
The VIP list, including the athletic department's mail carrier, will undergo daily medical check-ins, which includes completing the CDC COVID-19 screening questions, temperature check (anyone with temperature of 100.4 or above will be sent home) and washing their hands.
Those gaining access receive a wristband or stamp that signifies they went through the screening process.
Much of the building remains closed, as employees are still encouraged to work from home. The portions of the Merryman Center that are open — the training rooms and indoor-practice facility — have limited hours.
The document also outlines the policies for staff members who have tested positive for COVID-19 or were exposed to the virus.
Any Tech staff member who tests positive for coronavirus are asked to remain in isolation for at least 14 days and in addition remain fever-free for 72 hours. Sick and exposed employees are permitted to return to work after they have two negative COVID tests (separated by 24 hours).
Tech's athletic department is encouraging staff members to wear face masks when entering the athletic facilities and keeping them on while in any hallways or public areas, and to keep their work areas regularly sanitized. Housekeeping staff will also give spaces that had been occupied additional after-hours cleaning.
The "Back to Work" document doesn't outline specific procedures for coaches at the indoor practice facility, but many of the best practices are in use.
Tech athletic spokesman Pete Moris previously said there would be limited access points to the practice field with social distancing measures in place, workouts are limited to 10 people per group, there is deep cleaning of equipment between each session and the large garage doors are all kept open for air to circulate.
Mike Niziolek is the Virginia Tech football beat writer for The Roanoke Times. Follow him on Facebook and Twitter.
Be the first to know
Get local news delivered to your inbox!