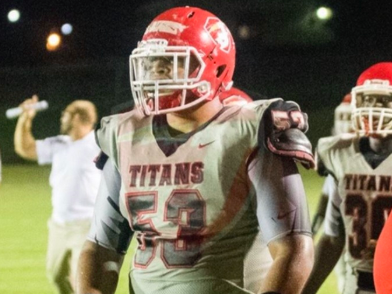 Virginia Tech's recent momentum on the recruiting trail took a hit on Tuesday when defensive tackle Tyas Martin announced he was decommitting.
Martin was the Hokies highest-rate verbal commit in the team's 2021 class with a No. 587 national ranking (No. 3 ranked player in Arkansas), according to 247 Sports composite rankings. He has scholarship offers from from Tennessee, Kansas, North Texas, Southern Miss and Virginia.
The Arkansas native's decision came on the heels of the program adding three pledges — quarterback Tahj Bullock, linebacker Keli Lawson and defensive back Shawn Asbury — in less than a week. 
"I would like to thank Virginia Tech for taking me in with open arms and the amount of support they've showed me," Martin wrote. "I want to make sure I'm making the right decision for me and my family for the next stage in my life. With that being said I will be DE-COMMITTING from Virginia Polytechnic Institute and State University and reopening my recruitment. I will still be taking my official visit to Blacksburg. Respect my decision." 
Martin, who verbally committed on April 10, told The Roanoke Times at the time he was excited to "hop on board early" with Virginia Tech, but the two commits he talked with the most — quarterback Dematrius Davis and wide receiver Latrelle Neville — have since decommitted as well. 
The Jacksonville High School defender was part of Tech's effort to expand its recruiting blueprint. He would have been the first player from Arkansas to sign with the school under coach Justin Fuente.
Defensive tackle was a position of need for Tech in the 2021 class even before Martin decommitted. The team needs to add multiple signees at the spot with DaShawn Crawford and Jarrod Hewitt going into their final year of eligibility. 
The other tackles on the roster are Jaden Cunningham, Mario Kendricks, Norell Pollard and Josh Fuga. Tech's four defensive ends signees from the 2020 class (Derrell Bailey, Justin Beadles, Alec Bryant and Robert Wooten) could also get a look at the position.
Mike Niziolek is the Virginia Tech football beat writer for The Roanoke Times. Follow him on Facebook and Twitter.