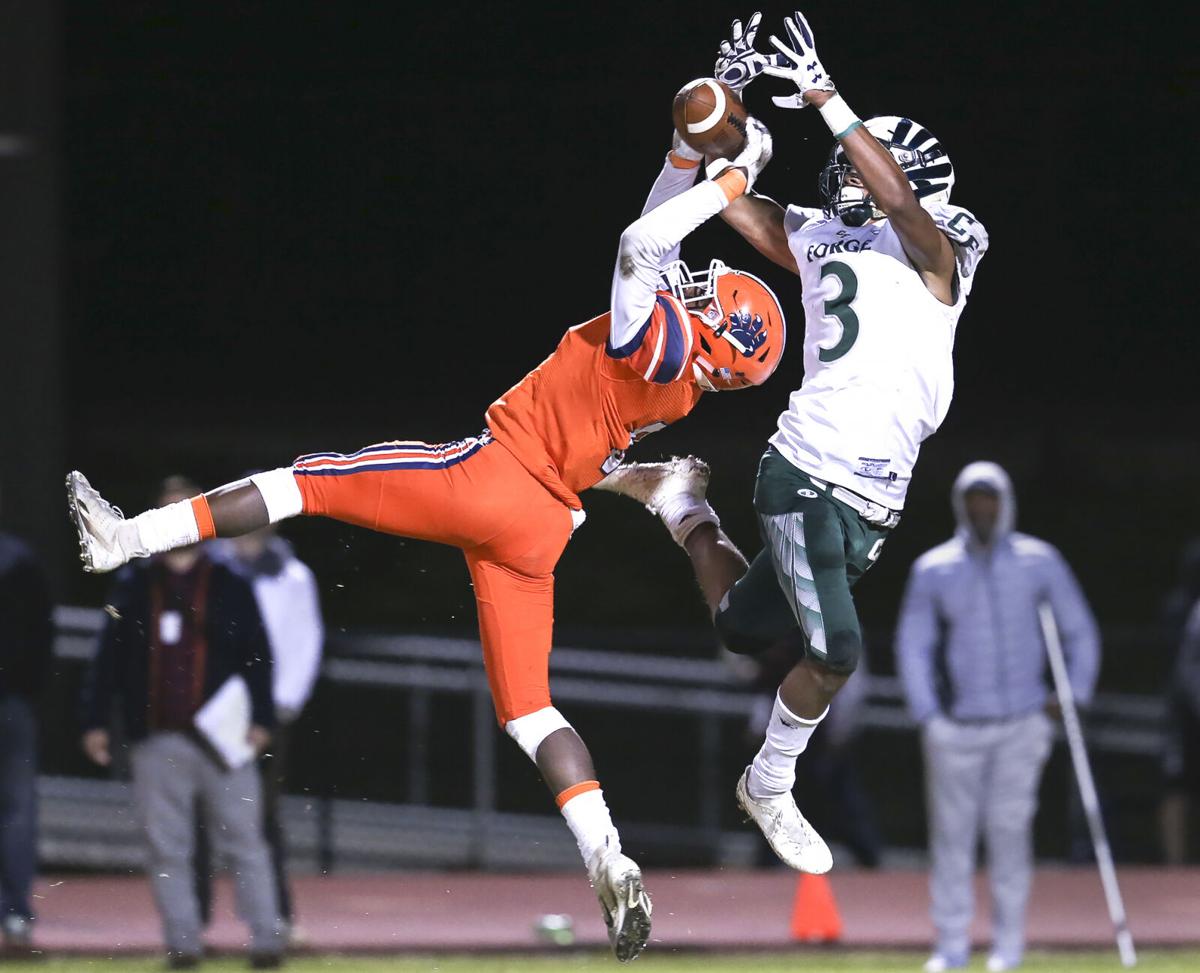 The VHSL's plan for fall sports got the attention of Virginia Tech's in-state football commits.
"In Virginia, I know for sure, a couple of guys have already announced they are going to early enroll or reclassify, I think that's about to be a huge trend going on," North Stafford defensive back Shawn Asbury said. "A lot of seniors don't want to wait until the spring time to go through a whole season then go right to college. That would be very tough on their bodies."
Asbury, who verbally committed to Virginia Tech on June 21, is heavily considering the option himself.
The three-star defender never imagined his shortened-junior season in 2019 would be his last time in a Wolverines' uniform, but acknowledged that's a real possibility in a phone interview with The Roanoke Times earlier this week.
"I'm taking some classes right now," Asbury said. "I'm just trying to see what I can do, if I can early enroll, I'll most likely do that."
The VHSL's decision has all of Virginia Tech's in-state verbal commitments at least considering early enrollment.
Patriot defensive back Jalen Stroman, Cox linebacker Isi Etute, Thomas Jeffersond-Richmond receiver Jaylen Jones and Sherando athlete Keli Lawson are working with their schools to see what they would need to do as students in good academic standing.
On the West Coast, defensive back D.J. Harvey isn't ruling it out either, with California making a similar decision to postpone fall sports to 2021.
There have been 38 early enrollees during Hokies coach Justin Fuente's tenure, with 32 of them coming straight out of high school, but only two (Justin Beadles and Parker Clements) took that path last year. The Hokies will easily surpass that number in 2021, given the uncertainty surrounding fall sports.
West Florence (S.C.) athlete Nykelius Johnson was already planning on enrolling early, as was offensive lineman Danijel Miletic, an offensive line prospect playing in Germany.
They could also be joined by linebacker Will Johnson, who told The Roanoke Times he will be more likely to enroll early if Maryland cancels or postpones its high school football season. Safety Jalen Hoyle, a three-star defender out of Dwight Morrow High School in South Carolina, is "leaning toward" enrolling early given all the uncertainty.
The early enrollment path won't work for all of Tech's signees, particularly for the commits attending private schools that don't typically allow students to leave school early.
"It's tough not really knowing if there will be a football season, why not get that early start? I talked to my coach about it, but it's not something we can really do," defensive end commit Mattheus Carroll said. "Playing football [this fall] would be ideal, but if we don't I'm not going to miss a beat. I'll be working with a trainer to get bigger, stronger and faster."
Carroll attends Gilman High School in Baltimore, Maryland. Three-star quarterback Tahj Bullock, who attends St. Peters Prep in New Jersey, is in the same boat.
"A lot of things are up in the air right now, and if the season gets canceled I'd be really disappointed and hurt especially for those guys who really needed this season to get on some schools' radars," Bullock said.
---
The Hokies have 16 verbal commits for a 2021 signing class that's expected to include the max number of signees allowed (25). They have five in-state verbal commits, two from New Jersey, two from Maryland, two from South Carolina, one from California, one from Tennessee, one from Georgia, one from Texas and one international recruit.
MARYLAND — Maryland schools are scheduled to open fall camp on August 14. The Maryland Public Secondary Schools Athletic Association (MPSSAA) has released detailed guidelines titled "Roadmap for Return to Athletics" for schools to follow.
NEW JERSEY — New Jersey postponed the start of football season to Oct. 2 and shortened the season to six games (instead of the traditional 10) with playoffs, but the New Jersey Interscholastic Athletic Association (NJSIAA) is developing a number of contingency plans in case the health conditions in the state continues to worsen.
TENNESSEE — Tennessee has an emergency order in place through Aug. 29 that prohibits contact practice. The Tennessee Secondary School Athletic Association (TSSAA) is considering a number of proposals for the fall.
Mike Niziolek is the Virginia Tech football beat writer for The Roanoke Times. Follow him on Facebook and Twitter.
Be the first to know
Get local news delivered to your inbox!