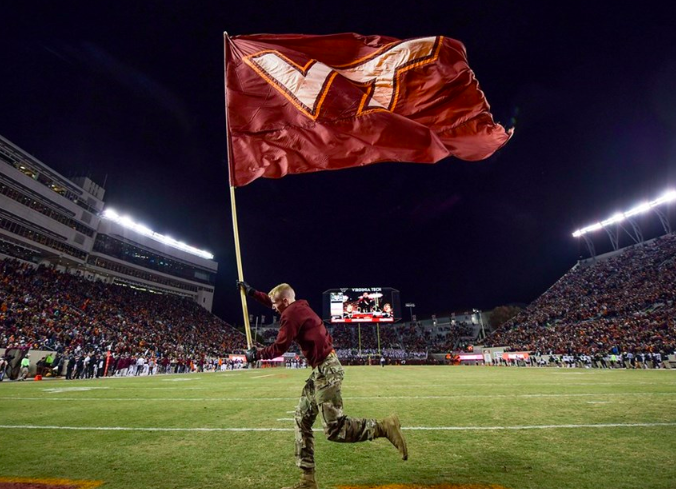 BLACKSBURG — Virginia Tech football is getting back to work. 
The university outlined a series of safety protocols on Monday afternoon that will allow players to return to campus for voluntary workouts. Tech sent the majority of the roster home after the university closed all the athletic facilities in March when it went to essential operations status in response to the COVID-19 outbreak.
Virginia Tech chief medical officer Dr. Mark Rogers is overseeing the effort and following the standards established by public health officials from the state of Virginia and Montgomery County. 
"Our foremost priority continues to be the health and welfare of our student-athletes and staff, as well as the Virginia Tech and surrounding communities," Rogers said in a press release. "We will continue to evaluate our protocols to ensure these workouts are conducted in strict adherence with current health and safety guidelines."
Strength and conditioning coach Ben Hilgart will supervise the small-group (up to 10 players at a time) workouts.  
Student-athletes wishing to participate will undergo screening protocols before being cleared to participate and monitored on a daily basis. Specific details about those protocols including whether players would undergo mandatory COVID-19 testing weren't made available.
The locker room and common football areas including the weight room will remain closed. Student-athletes will be required to wear protective equipment when entering the team facilities. The plan is to have one point of entry and exit in the indoor practice facility and keep the bay doors open to increase air flow. 
"An abundance of caution will be utilized to ensure all equipment is sanitized appropriately between workout groups," Rogers said.
Team spokesperson Pete Moris there isn't a specific date for the first workout as the athletic department works through a number of logistical issues.  
The group of 25 to 30 Tech players that remained in Blacksburg will likely be the first ones back on the field. The program is in the process of determining how many players who returned home in March want to participate. Procedures for their return to campus will be put in place once the coaching staff gets a firm number of students planning on coming back. 
Virginia Tech president Tim Sands endorsed the plan, according to the release. 
"As our leadership team continues to plan for how our student-athletes will return to competition this fall, we recognize the need for them to have the support and facilities offered by the university," Sands said.  "We are pleased to see our football players return in small cohorts and following the required public health guidelines. I have confidence that our Athletic Director Whit Babcock and his team will create the right training opportunity and welcome our student athletes with their safety and the entire community's well-being as a top priority."
Tech coach Justin Fuente told The Roanoke Times in May that his players were increasingly eager to get called back to campus. 
"I think they'd rather be here," Fuente said. "I don't say that in a critical way. We're all to that point where we're all anxious and I think the uncertainty of it all is what weighs on us the heaviest. The kids are doing well, they're staying strong, they're resilient and they're anxious to get back with their teammates."
Mike Niziolek is the Virginia Tech football beat writer for The Roanoke Times. Follow him on Facebook and Twitter.
Be the first to know
Get local news delivered to your inbox!