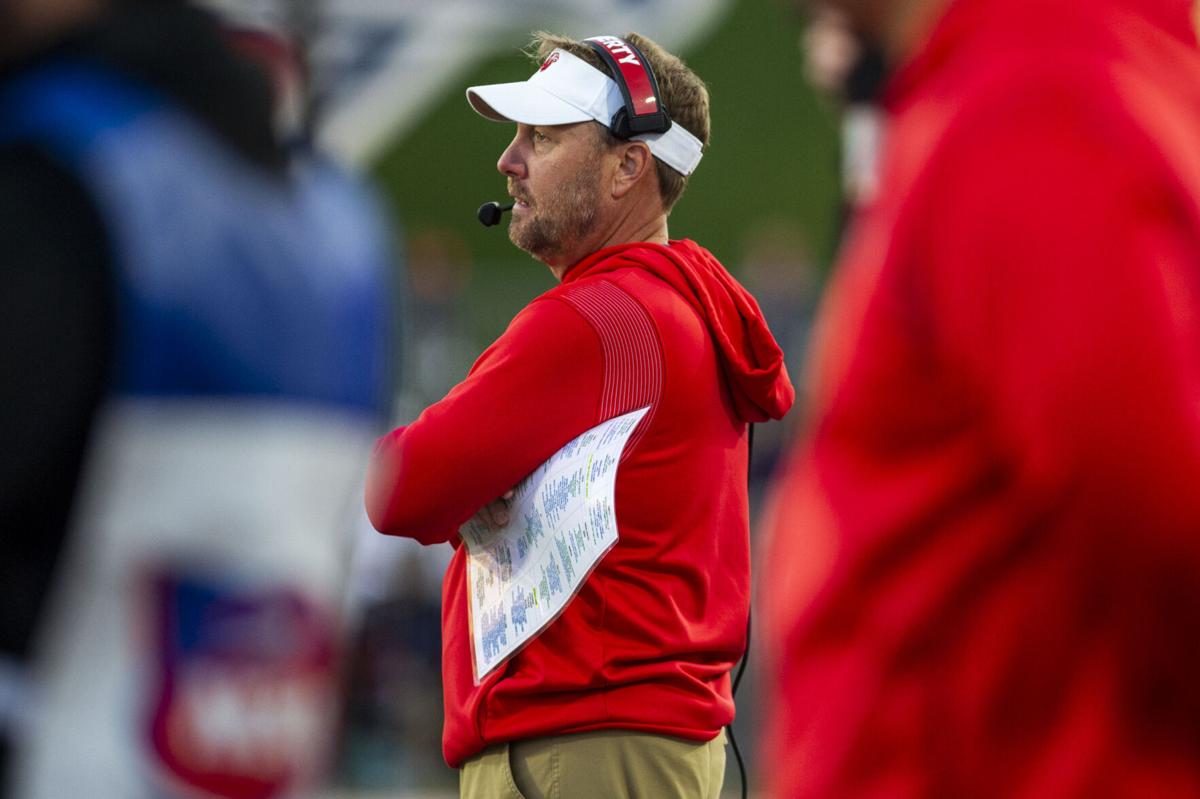 The coaching carousel in college football has been hyperactive for more than one month now. Fourteen programs have announced coaching changes at the FBS level before Thanksgiving, and there are expected to be more once the regular season concludes this weekend.
Hugh Freeze's name has been floated around as a possibility for several openings, including Florida and LSU in the SEC and Virginia Tech in the ACC, despite the Liberty football coach indicating he remained happy in his current position.
He reiterated that point several times in 2020 when his name frequently popped up for openings, and stressed it again during the Flames' open week earlier this month that his family's quality of life had never been better since he took the job in Lynchburg.
"I've said it before and I'll say it again and hopefully people will listen to it," Freeze said Wednesday, "when you have as good a job as I have with as good of people as I have it here on the mountain, and the vision and the commitment level that they continue to show and believe in us, it can't be that many better jobs than this one."
Freeze made that abundantly clear when he and Liberty finalized the terms of a seven-year contract that will extend his time with the Flames to 2028 and make him one of the highest-paid non-Power Five coaches in the country.
The university announced the contract extension Wednesday morning. It is the third contract extension Freeze has signed since he was hired Dec. 7, 2018.
"Coaching stability is especially essential in a program like ours that's in the early stages of playing at the FBS level," athletic director Ian McCaw said in a phone interview. "Obviously, Coach Freeze is an outstanding leader for our program and has us on a great trajectory and we want to continue the momentum forward."
Financial details of the contract extension were not released. Multiple reports and sources confirmed the deal will pay Freeze an average of more than $4 million per season.
The seven-year deal replaces the final five years of the extension he signed one year ago. Freeze said McCaw approached him "three, four weeks ago" regarding the latest contract extension. That is when openings, especially at Power Five schools, started becoming available.
"What we're seeing nationally is a trend to longer-term contracts. You're starting to see some contracts beyond the traditional five years," McCaw said. "I think that certainly speaks to the commitment we're making to Coach Freeze and his staff."
The deal ensures Freeze will lead the Flames from the FBS independent ranks into Conference USA. C-USA officially announced on Nov. 5 that Liberty, New Mexico State, Jacksonville State and Sam Houston State will join the league starting with the 2023-24 season.
"What we've done here in three years, gaining bowl eligibility, winning and being 2-0 in bowls, obviously ranked in the top 20 last year, and being competitive in almost every game we've played in, I think it made Liberty's program here somewhat relevant," Freeze said. "Now, transitioning after next year into Conference USA, I think it just set us up now to be competitive to win a conference championship."
The nine-team conference also features current members Middle Tennessee, Western Kentucky, FIU, Louisiana Tech and UTEP.
According to USA Today's college football coaches salary database, Middle Tennessee's Rick Stockstill would be the second-highest paid coach in the league behind Freeze.
Stockstill's salary is $901,000.
"We're excited that he will lead us into our transition to Conference USA," McCaw said. "That's exciting for us. With the anticipated expansion of the [College Football Playoff], we want to be in a position to compete for a conference championship and in turn a CFP berth."
Freeze will make more than five current coaches in the Southeastern Conference, a league he previously coached in at Ole Miss, and the new pact will make Freeze one of the highest paid non-Power Five coaches in the nation.
Freeze's new salary will rival what the state's two Power Five programs, Virginia and Virginia Tech, pay their respective football coaches.
Bronco Mendenhall's 2021 salary at UVa is $4 million, and he is slated to make $4.45 million in the 2024 season, per a contract signed in 2019.
Former Virginia Tech coach Justin Fuente was the highest-paid coach in the commonwealth prior to mutually parting ways with the Hokies on Nov. 16. His most recent salary figure for the 2020 season was $4.25 million.
"Truthfully, I don't know that it's all deserved, but just really grateful for the confidence that they have in myself and our staff," Freeze said. "Jill [Freeze's wife] and I just rejoiced last night that God has been faithful and good, and the people of Liberty have been incredible to us."
Freeze is 25-10 in his nearly three full seasons at Liberty. The Flames close the 2021 regular season Saturday when Army visits Williams Stadium at noon (ESPN+).
Freeze has led the Flames to two Cure Bowl victories over Georgia Southern (2019) and Coastal Carolina (2020), and he has the Flames bowl eligible this season with a 7-4 record.
His first extension, signed prior to the 2019 Cure Bowl, replaced the final four years of his original five-year contract and added one additional season through 2024.
The second extension added two years to the 2019 extension and placed him among the top five highest-paid Group of Five coaches with a "substantial" buyout.
"It's a compliment to our kids and to our staff and to our administration that people throw my name out there," Freeze said. "What matters to me is just that I'm being as transparent with our kids and our administration and what we're trying to do here. I don't really think I can ever control that. I think it's a compliment to this place and to our commitment to being successful and to what our kids and staff have done here."
Four coaching vacancies have been filled at Texas Tech, Georgia Southern, UConn and UMass.
Power Five positions at Florida, LSU, TCU, Southern Cal, Virginia Tech, Washington and Washington State remain open, as well as Group of Five jobs Akron, FIU and Troy.
"The coaching market is very hot right now with a lot of really attractive jobs open," McCaw said. "It's great to be in a position where we've secured Coach Freeze with a long-term agreement. Obviously when you go 25-10 in the three years transitioning to FBS, that's a great statement of what he's accomplished at Liberty."