When President Donald Trump announced Liberty's future football opponents during his keynote address at the university's 2017 commencement ceremony, there were plenty of names that immediately drew people's attention.
Auburn. Virginia. Army. Ole Miss. Buffalo. Rutgers. Wake Forest.
The list of teams included the entire 2018 schedule, the program's first at the FBS level, and future dates into 2027.
One future opponent, however, stood out the most: Brigham Young.
The Cougars, with a robust college football history, are a fellow FBS independent program and one the Flames want to eventually compete against on a yearly basis.
"It's a huge statement for this university and what Dr. [Jerry] Falwell wanted for this program," Flames redshirt running back Frankie Hickson said.
Liberty at BYU
Where: LaVell Edwards Stadium (63,470), Provo, Utah
When: 7:30 p.m.
TV: ESPNU
Records: Liberty 6-3. BYU 4-4.
Last time out: Liberty won at UMass 63-21. BYU won at Utah State 42-14.
Series: First meeting
Last meeting: N/A
Latest line: BYU by 17
Weather Underground forecast: 50 degrees, clear, 0 percent chance of precipitation, 30 percent humidity, 3 mph wins NNW, sunset at 5:17 p.m.
The matchup to watch
Liberty tight ends vs. BYU secondary: The Cougars have shown this season they will rush three and drop eight into coverage. The premise is to limit the explosive plays to the wide receivers, force the quarterbacks to go through their progressions multiple times, and hope the three-man rush can get to the signal caller. Liberty will want to throw the ball to open up the running attack against the Cougars, and that means the tight ends could find a way to become more prominent in the passing attack. The five tight ends who have been used in games this season (Zac Foutz, Johnny Huntley, Jerome Jackson, Chris Barrett and Michael Bollinger) have combined to catch 16 passes for 214 yards and four touchdowns. Bollinger, however, is out for the remainder of the season. The other four tight ends have stepped up and caught passes, and they all should figure prominently into attacking the BYU defense. Huntley and Barrett have the speed to run routes downfield and win one-on-one battles. Foutz and Jackson are the more physical tight ends, but both have proven to have sure hands and the ability to break tackles this season. If those four can factor into the gameplan and produce, that will open up opportunities for the outside receivers and the running backs, and it only makes the Liberty offense that much more potent.
Keep an eye on these Flames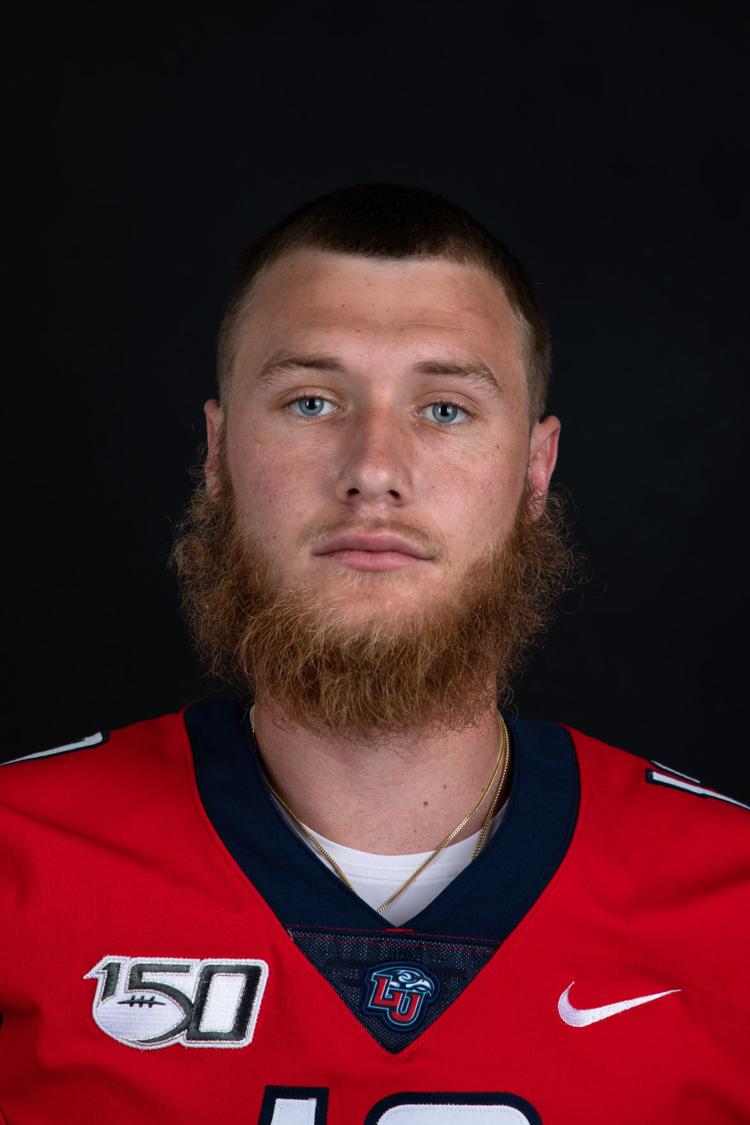 Buckshot Calvert, quarterback: The prolific senior signal caller has transformed his game this season. Long gone are the days of him trying to force throws into tight windows and making something happen out of nothing. He has gone 236 passes since his last interception on the second drive of the first quarter against Louisiana all the way back on Sept. 7, and he is one of two active FBS quarterbacks to throw for at least 11,000 yards. The quality decision-making should allow him to dissect the Cougars' defense when they drop eight into coverage, and could mean he targets running backs and tight ends more frequently. That should open up opportunities for big strikes to the wide receivers.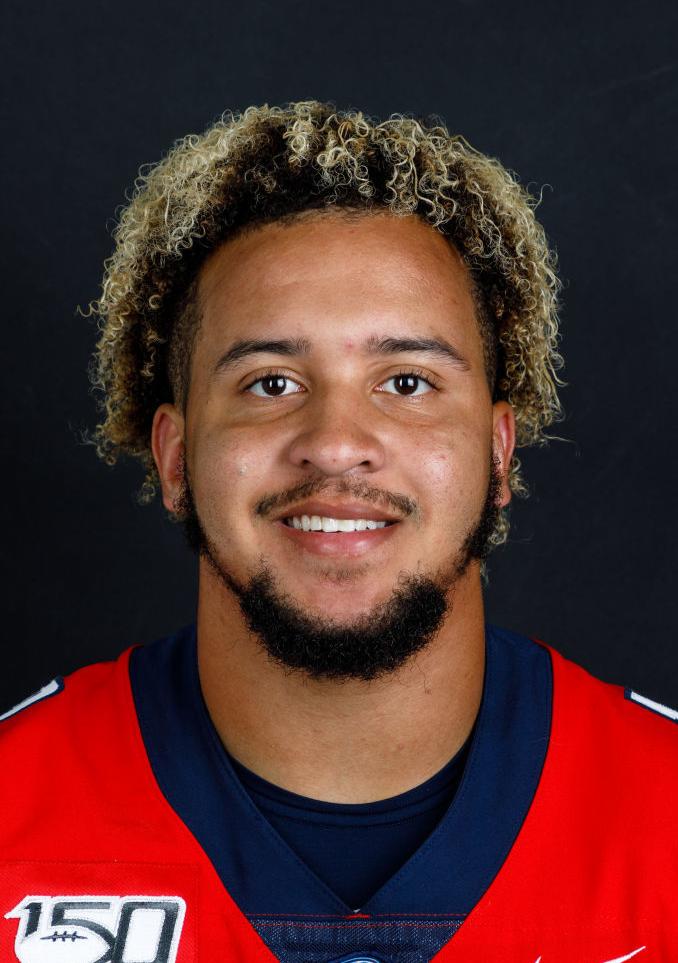 Brandon Tillmon, linebacker: BYU doesn't run the ball often (no running back has reached the 275-yard mark this season), but that doesn't mean the Cougars won't try to establish the run against a defense that has surrendered yards this season. That is where Tillmon comes into play. He did not play at Louisiana or Rutgers, and those teams rushed for 407 and 271 yards, respectively. The senior's presence is felt in the run game, where his frame allows him to fit the run gaps and make plays at the line of scrimmage. Tillmon has the ability to secure tackles and force BYU into second- and third-and-long situations.
Keep an eye on these Cougars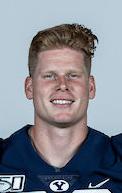 Matt Bushman, tight end: The 6-foot-5, 245-pound Bushman will be utilized more in the passing attack than any tight end the Flames have faced this season. He has 1,429 career receiving yards (seventh-most in BYU history) and has caught 28 passes for 398 yards and three touchdowns this season. Bushman, a junior, is on the Mackey Award watch list and has caught at least one pass in 31 of 34 career games. Bushman has been a safety net in the offense for the three quarterbacks who have seen playing time this season. He posted season highs of 101 receiving yards and two scores from third-string quarterback Baylor Romney in a 28-25 win over Boise State.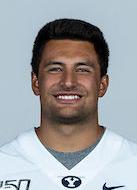 Kavika Fonua, linebacker: The redshirt junior has seen it all in his time at BYU. He began his career as a safety, moved to running back and then shifted to linebacker, where he has enjoyed success this season. The 6-foot, 210-pound Fonua leads the team with 56 tackles to go with one interception, one forced fumble, one tackle for a loss and one pass breakup. While the stats don't necessarily pop off the page, he has come up with big stops in big moments. He had a career-high nine solo tackles (13 total) in the Cougars' 30-27 overtime win over USC and assisted on seven stops in a 29-26 double-overtime triumph at Tennessee.
Flames' Keys to the Game
Keep the offense rolling
The Flames have racked up more than 400 yards of total offense in six of the last seven games, highlighted by a program-record 730-yard performance last weekend at UMass. The triumph over the Minutemen marked the first time this season the Flames went with a tempo attack against an FBS program. BYU hasn't faced a tempo attack this season and that could play into Liberty's strength. The LU players have repeatedly said they play better when the offense is moving faster, and that could be beneficial against a BYU defense that has shown it will rush three and drop eight into coverage.
Repeat third-down success for a second straight week
The Flames are 4-1 this season when allowing teams to convert less than half of their third-down chances. The Liberty defense has been at its best this season when it is able to get off the field and force punts (like it did last week by forcing UMass to go 4 for 17), and that unit will be tested by a BYU offense that ranks 48th in the nation on third-down conversion percentage (41.7). The Cougars, surprisingly, are 3-2 this season when converting less than half of the time on third down, and they have only won the time of possession battle twice.
Win the turnover battle
Liberty committed three turnovers last weekend at UMass while not recording a takeaway, marking the first time in four games the Flames won while losing the turnover battle. The Flames are 3-0 when winning the turnover battle and have won both games when the teams are even in turnover margin. BYU has forced 18 turnovers in eight games this season, which means Liberty will need to take care of the ball and capitalize when it records a takeaway in order to escape Provo with a victory.
Who has the edge?
OFFENSE: Liberty
The Flames don't have any uncertainty under center, while the Cougars could go with one of three quarterbacks in this matchup. LU signal caller Buckshot Calvert has thrown for 2,638 yards this season and not thrown an interception since the first quarter against Louisiana in Week 2. In fact, Calvert has more passing yards than all three BYU quarterbacks combined (2,217). Liberty has two running backs with more than 550 yards, while BYU's leading rusher, Ty'Son Williams, has racked up 264 yards on the ground.
DEFENSE: Liberty
The Flames have racked up 27 sacks this season, led by Jessie Lemonier's 8.5, and that could pose a problem for the Cougars. BYU has allowed 20 sacks, 48 tackles for a loss and 15 quarterback hurries through eight games, which plays into Liberty's strength of getting into the backfield and causing havoc. Fourteen different Liberty players have recorded at least half a sack, while only nine BYU defenders have gotten into the backfield for a sack. Lorenzo Fauatea leads the team with two sacks.
SPECIAL TEAMS: BYU
BYU's Jake Oldroyd doubles as the Cougars' placekicker and punter. He is 13 for 18 on field-goal attempts and has hit both of his attempts from beyond 50 yards this season, and he is averaging 44.3 yards on 27 punts with seven being downed inside the 20. Liberty's Shedro Louis is expected back after missing two games with a groin pull and is among the national leaders with a 27.5 average on 14 kickoff returns.
INTANGIBLES: BYU
The Cougars' schedule has featured three teams from the Pac-12, one from the SEC and a ranked Boise State squad. It is the type of slate BYU faces on a yearly basis. The Cougars are accustomed to playing in high-stakes games, especially when bowl eligibility is on the line. This is the Flames' first try at becoming bowl eligible this season, and it comes in a hostile environment that has seen BYU go 2-2 against ranked team this season (wins over USC and Boise State to go with losses to Utah and Washington).
The final thought
This is a monumental trip to Utah for this young football program. When the late Rev. Jerry Falwell founded Liberty University, he said he wanted it to be to evangelical Christians as Notre Dame is to Catholics and BYU is to Mormons. While Liberty's ultimate goal is to face Notre Dame on the gridiron, this inaugural matchup against BYU is a significant step for the football program to Falwell's vision. BYU is respected nationally with 36 bowl appearances, the 10th-most victories over the last 50 seasons and a national championship campaign in 1984. The Cougars' longevity of success is the blueprint Liberty aims to follow as it builds its program at the FBS level. On the field, though, the Flames haven't faced the type of rigorous schedule the Cougars have faced this season. BYU, thanks to its prominence, routinely plays multiple Power 5 conference programs and has its fair share of success. (Though, Liberty will get there next season with three ACC teams on the schedule.) The Flames have a chance to make a statement and secure a marquee victory that would look appealing for a team that is bowl eligible. BYU, with three games remaining after today's matchup, faces FCS Idaho State and UMass, and should easily secure bowl eligibility regardless of the outcome against the Flames.
Prediction: BYU 32, Liberty 29
Damien Sordelett covers Liberty University athletics and local golf for The News & Advance. Reach him at (434) 385-5550.
Be the first to know
Get local news delivered to your inbox!