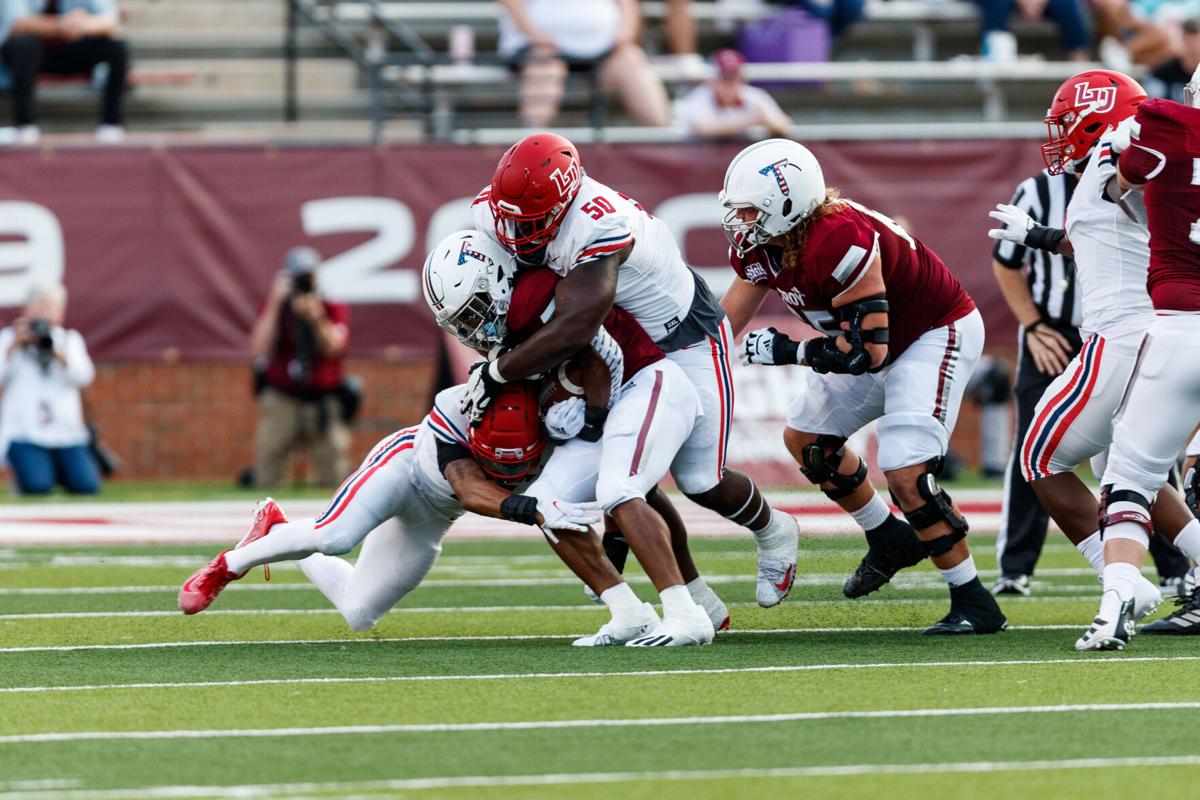 Troy right guard Jake Andrews was instantly defenseless the moment Henry Chibueze pounced from his stance late in the first half Saturday night. The Liberty defensive tackle generated a ferocious push up the middle and, with Andrews holding on, Chibueze used his right hand to bring down Trojans quarterback Taylor Powell.
It is a moment etched into Chibueze's memory. It marked the Woodbridge native's first career sack, an achievement nearly two years in the making. The 6-foot-3 Chibueze had to lose a significant amount of weight when he was moved from the offensive line to the defensive line during the 2019 season, and the coaching staff wanted to see his commitment to taking care of his body before trusting him in the rotation.
The celebration on the sideline with defensive line coach Josh Aldridge after the initial sack was all the evidence needed to prove Chibueze has become one of the most valuable pieces in the Flames' stacked defensive line.
"It feels good. It's been a long time coming. A lot of work put in," Chibueze said Tuesday. "I'm finally here and I've arrived and I'm here to stay. It feels good."
Chibueze has been a force at defensive tackle in the season's first two games. He is tied with strong safety Skyler Thomas for third on the team in tackles with eight, and he has played the most snaps among the defensive tackles and nose guards.
"Henry will play just as many or more snaps than both [super seniors Ralfs Rusins and Elijah James] because Henry's so dynamic," Aldridge said in training camp. "He can play on passing downs; he can play on first down, on second down. That's a guy, in my mind, I've got three starters at those two spots, and they're going to compete every week at practice, and whoever has the best week of practice is going to go out there on the first drive. It doesn't really matter to me who starts if you're rotating a lot guys; it's overrated.
"That's a guy that I want to make sure you're not forgetting about because he is going to have a really good year."
Aldridge's prediction has held up through the season's first two weeks heading into Saturday's 6 p.m. showdown with Old Dominion at Williams Stadium.
Chibueze started the season opener against Campbell while James was recovering from an undisclosed injury, and he is used on most every third-down call regardless of the line to gain.
He has the natural speed and strength to generate enough of a push to beat one or two offensive linemen.
When he arrived on campus prior to the 2018 season as an offensive lineman, he completed 24 reps at the 225-pound bench press test, and he said he can squat more than 600 pounds.
"I've always had the strength portion and I've always been pretty athletic," he said.
Many Liberty fans remember Chibueze being the highest-rated recruit in the 2018 signing class, the first for the program as a member of the Football Bowl Subdivision. Chibueze, a three-star prospect according to recruiting website 247Sports, had reported offers from Virginia, North Carolina and East Carolina, and his signing with Liberty signaled the Flames were now contenders on the recruiting trail against Power Five programs.
Chibueze played only once in 2018, and that came at right guard in the season finale against Norfolk State.
He redshirted that season and spent the majority of the campaign completely healing from a broken fibula he suffered in the VHSL Group 6A semifinals between Woodbridge and Westfield.
Chibueze said he was playing on a bad ankle during that game, and he suffered the broken fibula in the fourth quarter of Woodbridge's 18-7 loss to Westfield in Chantilly.
He played his senior season at Woodbridge at 320 pounds, but he went up to 350 pounds by the time he got on campus.
Chibueze said he weighed in at 365 pounds during that season.
"I got out of shape in that time period," he admitted
The new coaching staff for the 2019 season, led by Hugh Freeze, told Chibueze he needed to slim down to play on the offensive line.
Chibueze worked with strength and conditioning coach Dominic Studzinki and nutritionist Danielle Gillen to develop a plan to lose weight while maintaining his strength.
He was still overweight and not seeing playing time in 2019 when Freeze elected to move him to the defensive line for one practice.
Aldridge showed that day's film to defensive coordinator Scott Symons.
"I remember Coach Aldridge showed me the first day on the sled and him hitting the sled and you see the twitch and the pop and the hands, the athletic ability," Symons recalled.
Chibueze played in three games near the end of the 2019 season, and then flourished in 2020 with 17 tackles (11 solo) as the weight came off.
He maintained his weight loss and checked in this season at 305 pounds, a weight he wants to remain at while continuing to tone his body and gain more muscle.
"I was walking with him at the hotel the other day and I asked him, 'Man, tell me … what has changed since we all got here and started this journey?'" Freeze said. "He just said, 'My whole lifestyle has changed from nutrition to the way I see things to the way I work.' That's rewarding to hear those things, and it's doubly rewarding to hear him say those things but also to have the type of game that he and I think he'll continue to have. It started with him buying into, 'I want to make a change and I'm going to trust someone to help me do that.'"
Chibueze credits Aldridge and Rusins with his development on the defensive line. Rusins, like Chibueze, initially started on the offensive side at Liberty before moving over to the defensive line.
Rusins flourished in 2019 and has been a mainstay at nose guard.
The coaching staff is expecting the same out of Chibueze.
"He's very talented. We've known that all along; it's just wanting to see the consistency and him put it all together," Symons said. "I think we're starting to see that now and I think as he continues to grow and develop, it's just going to get better and better."
"It feels good. It's been a long time coming. A lot of work put in. I'm finally here and I've arrived and I'm here to stay. It feels good."

— Liberty defensive tackle Henry Chibueze, on his first sack last week