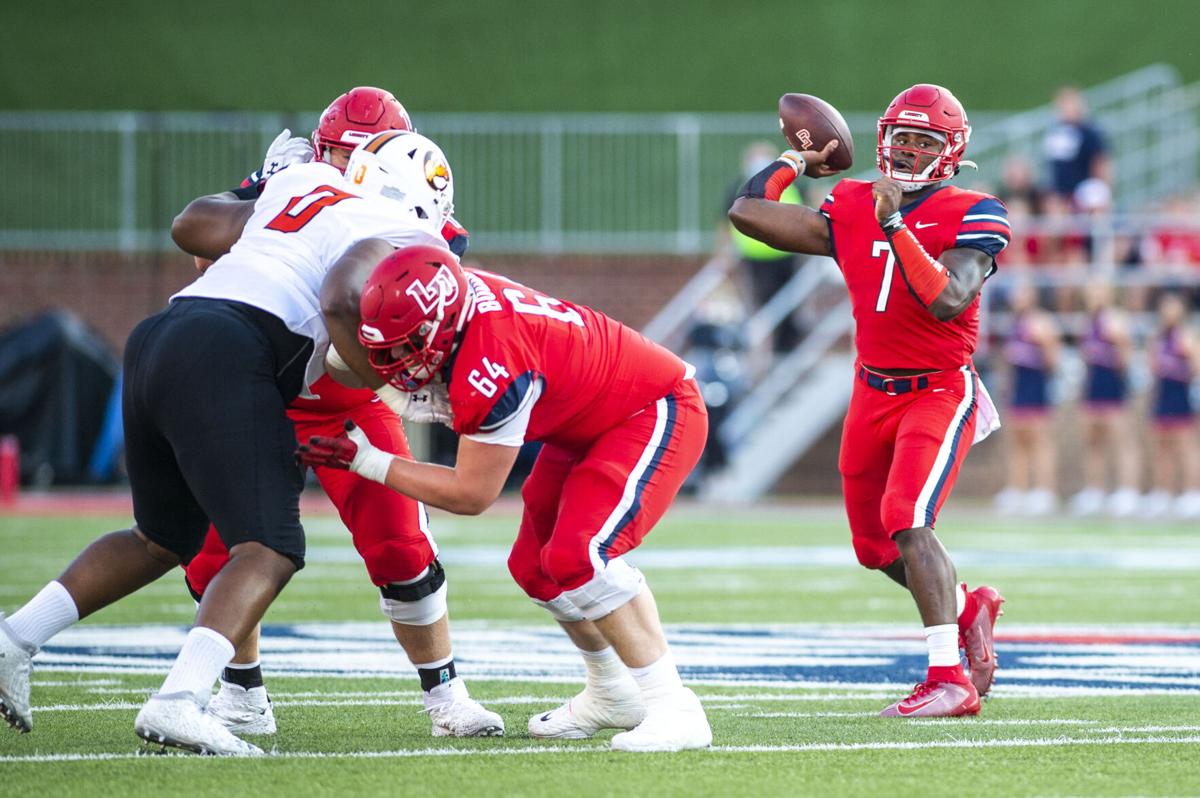 Hugh Freeze got his first look at Liberty's offensive line depth during Monday morning's practice. Familiar faces that have been stalwarts in the trenches during the past few seasons are battling injuries and spending more time in the training room than on the practice field.
That means young linemen who haven't played much are expected to receive extended reps in this week's practices as the Flames prepare to face Old Dominion.
"We're beat up and it's next man up," Freeze said Monday.
The coach was unable to provide updates on the status of left guard Damian Bounds, right tackle Cooper McCaw and backup tackle Jonathan Graham, adding they are day-to-day and "it's a little early in the week to tell."
Liberty entered the season tied with Illinois for ninth among all FBS programs with 131 starts among its returning offensive linemen. The expectation for the 2021 campaign was to capitalize on that experience and allow the younger linemen to mature in the system.
Three of the veteran linemen — left guard Tristan Schultz, center Thomas Sargeant and right guard Brendan Schlittler — played every snap against Troy.
Jacob Bodden, who started four games in 2020, played all but one snap at left guard, as Bounds attempted to give it a go on Liberty's second drive but hobbled off and didn't return. (Bounds suffered a high ankle sprain on the first drive of the Flames' Sept. 4 victory over Campbell.)
The excitement of Jonathan Graham making his first career start at right tackle against Troy was wiped out when his left knee and ankle got rolled up late in the first half.
He returned for the first two series of the second half but was replaced by Bryce Mathews for the final 22 plays spanning three series.
The Ole Miss transfer received spot playing time in five games as McCaw's backup in 2020. He was knocked out of the season opener against Campbell with a knee injury but was able to practice throughout the week to be prepared for his 24 snaps at Troy.
"Heck, we're down Cooper and then we're down Jon and Bryce is not 100%," Freeze said of the depth at right tackle. "I think the thing [Bryce] brings is toughness and experience. He was not at full speed, but man he really gutted it out for us. Will [Buchanan] was the next guy and he's [got] something going on with his lower back. I was really happy for Bryce. He's a tough, tough kid."
The litany of injuries along the offensive line will provide more chances for the likes of Andrew Adair, Harrison Hayes, Chase Mitchell and others to practice with the first and second teams this week.
Hayes, originally projected to play at tackle, has served as Sargeant's backup at center while John Kourtis recovers from a sprained MCL he suffered in training camp.
Mitchell and Adair are the backup left and right guards, respectively.
Schultz is the only tackle on the two-deep depth chart that is not battling an injury.
"We'll start trying to piece the puzzles together," Freeze said.
The offensive line will need to improve on pass protection against the Monarchs after surrendering five sacks against the Trojans.
Quarterback Malik Willis, who Freeze called "the best player on the field" against Troy, was under duress after the Trojans switched from zone to man coverage.
ODU defensive end Marcus Haynes, who has recorded two sacks in the opening two weeks, was described by Freeze as "maybe the best player we've played this year. He's a heck of a player."
"It'll be a challenge for us to do that with the young offensive linemen we're going to have to be playing," Freeze added.
Offensive line depth was a focal point for Freeze when he was hired in December 2018, and he said Monday the Flames have offensive linemen "that we think have potential to be solid players."
However, those players weren't expected to be major contributors for at least another season with four super seniors among the top 10 linemen.