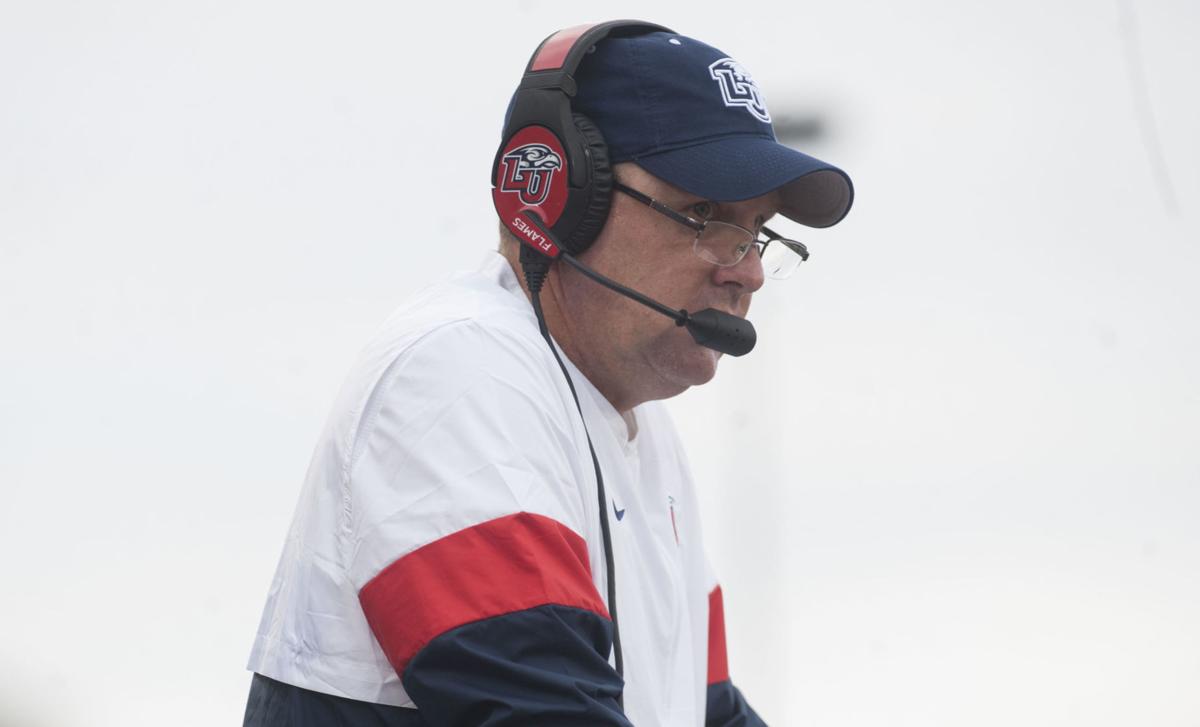 A myriad of ideas were floated around the past several weeks of ways to get Liberty football coach Hugh Freeze on the sideline to coach his team. One setup that stood out was what Detroit Lions coach Matt Patricia used during the preseason: A raised podium behind the bench so he could see the entire field.
Liberty set up a raised podium behind the bench, allowing Freeze to coach from the sideline for the first time this season Saturday in the Flames' 35-17 win over Buffalo. He needed two unusual setups in the season's first two weeks in the coaches' booth.
"That's where it kind of came to my attention," Freeze said, adding it was a team effort to get the plan in motion. "I said I'm game for anything that helps me get down there. Just thankful. I could see the game a lot better than I thought I was going to be able to."
Freeze coached the season opener against Syracuse from a hospital bed in the home coaches' booth. The unique setup was necessary after he underwent an MRI three days before that game and the results revealed an extreme amount of fluid near the area where he underwent back surgery Aug. 16.
He then coached from a medical chair in the Flames' road contest at Louisiana.
Patricia utilized the raised podium during the Lions' preseason games after he underwent surgery for a left Achilles injury during the summer. He coached with crutches two weekends ago in the Lions' season opener at Arizona.
Both coaches have needed assistance to be at practices.
Freeze, forced to watch a live feed of practices from a nearby hotel room after his surgery, recently was cleared to return to practices and coached from a golf cart.
Patricia used an ATV to get around during preseason practices.
Back to Buckshot
Flames senior quarterback Buckshot Calvert met with Freeze on Friday and the two spent several hours going over the plan for the matchup with the Bulls.
The meeting served as a way for Freeze to work one-on-one with Calvert on his eye discipline and develop a simplified game plan that would serve the signal caller well.
It paid off in a big way to get Calvert back to his old self.
Calvert completed 23 of 30 passes for 325 yards and four touchdowns. He hadn't thrown that many touchdown passes in a game since the 2018 season opener against Old Dominion, and that game marked the last time Calvert did not throw an interception.
"We kind of simplified it," Calvert said. "We kind of picked our top plays that we loved in practice that we've been running really good for this whole season and we kind of stuck with those plays."
The right push up front
Liberty was burned two Saturdays ago by Louisiana as the Ragin' Cajuns racked up 407 rushing yards and methodically wore down the Flames' defensive front.
The unit was reminded of the paltry defensive numbers, particularly the one where Liberty was ranked dead last in the nation in rushing yards allowed per game, and took a different mindset into the season's third week.
The Flames got a consistent push up front and forced the Bulls to earn all of their 206 rushing yards on 44 attempts.
"We had to fix a lot of things. We knew coming in that 400 yards, teams would want to expose us off of that," senior defensive end Jessie Lemonier said. "Two hundred is not good either, but it's a step forward from 400 to 200. We're just going to work even harder every single week just to get that number down and become a dominant defense all around."
Linebacker Brandon Tillmon, who made his first start of the season and led the team with 11 tackles, credited the defensive front for creating a push to limit many of the Bulls runs, particularly in short-yardage situations.
Buffalo picked up 23 yards on nine carries on second and third downs when the Bulls had to gain three yards or less for a first down.
"That's really where it started," Tillmon said. "Our D-line is great and played a great game."
Productive Sunday
Freeze said his Sunday was predominantly going to be spent off his feet, but he still would tend to his duties of meeting with recruits on official visits and go through the weekly film study.
The morning visit with recruits paid off with the 21st verbal commitment in the recruiting class of 2020.
Rashad Whitehead, a senior at Best Academy in Atlanta who is rated a three-star prospect by 247Sports' composite rankings, made his commitment Sunday on social media.
The 6-foot-4, 235-pound athlete is projected to play as a defensive end in college and had 19 other offers from programs, including Arizona, Army, Navy, Rutgers and South Florida.
Damien Sordelett covers Liberty University athletics and local golf for The News & Advance. Reach him at (434) 385-5550.
Damien Sordelett covers Liberty University athletics and local golf for The News & Advance. Reach him at (434) 385-5550.
Be the first to know
Get local news delivered to your inbox!