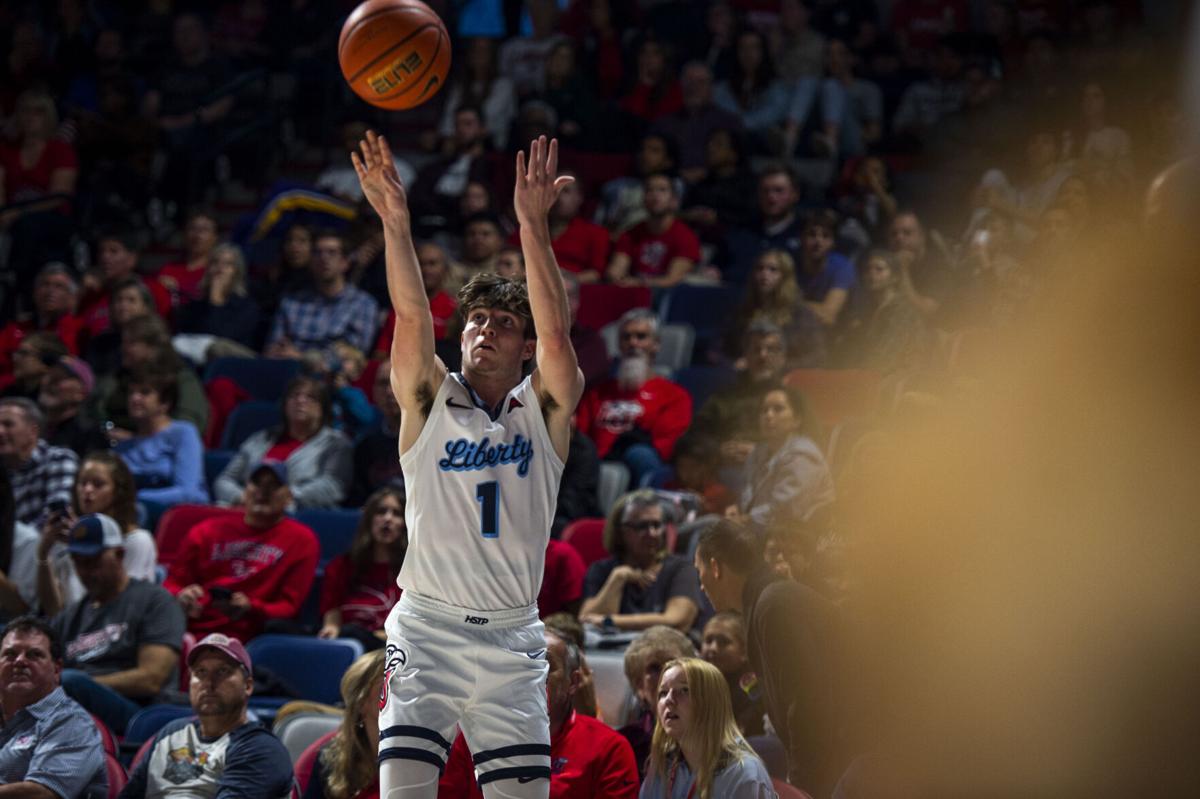 For a stretch of 1 minute, 41 seconds Monday night, Brody Peebles was the hottest player on the Pete Maravich Assembly Center court. The Liberty guard made a trio of 3-pointers in a four-possession stretch that helped give the Flames a lead against LSU.
Not bad for a freshman in only his second career game.
Peebles and Joseph Venzant are two of four freshmen on the roster and the only ones expected to play this season. They give the Flames an instant scorer (Peebles) and a tenacious defender (Venzant) off the bench heading into the ASUN/MAAC Challenge.
Liberty faces Iona at 5 p.m. Friday and Manhattan at 6 p.m. Saturday. Both games will be played at the ESPN Wide World of Sports Complex in Orlando, Florida.
"They're good enough to play. I think they'll get better each time out," Liberty coach Ritchie McKay said. "There's a learning curve at this level, especially when you play a really talented and athletic team like LSU that you have to go through. Those guys are good players and they're confident in themselves."
Peebles is second on the team in scoring at 11 points per game after pouring in 12 points against LSU. He scored 10 in his college debut last week against Regent.
The Hartselle, Alabama, native is shooting 47.1% from the field and is 4 of 8 from 3-point range.
"I have a lot to learn," Peebles said. "Watching the film, just being out there, feeling comfortable and now have a game under my belt will be really good going forward. Just got to watch it, learn from it, move on and apply what you've learned."
Peebles and Venzant are being asked to produce this season on a roster that only features five players (two seniors, one redshirt junior and two juniors) with extended experience.
The freshmen, coupled with four sophomores, fill out a rotation that will undoubtedly learn how to play together as the season progresses.
Peebles and Venzant are both averaging more than 18 minutes per game
Peebles got more playing time against LSU with his shooting ability giving the Flames (1-1) a surge early in the second half.
"I think the more he plays, the more confident he's going to get," McKay said of Peebles. "He's a good player. He's a freshman. … That excitement has only increased since he's been here."
The ASUN/MAAC Challenge features Liberty and Iona, the respective league's representatives in last season's NCAA Tournament. The marquee matchup of the challenge will be broadcast on ESPNU.
The three games this week against LSU, Iona and Manhattan are expected to help shape the young Liberty roster. The Tigers' ability to use their length and athleticism to disrupt the Flames' offensive rhythm, and Iona and Manhattan have physical attributes that will test Liberty in a way it won't see in ASUN play.
"If you want to play significant games, you're going to need to be able to combat that against opponents like that," McKay said. "We've got another great test against a really good Iona team that's really physical, really athletic and coached by one of the all-time greats [Rick Pitino], and then turn around and play Manhattan who's really good, too. We've got our work cut out for us."
This will likely be the Flames' only appearance in the ASUN/MAAC Challenge. The series began in 2019 and is resuming this weekend after it was canceled in 2020 because of the coronavirus pandemic.
Liberty is departing for Conference USA and will play in that league beginning with the 2023-24 athletic season.