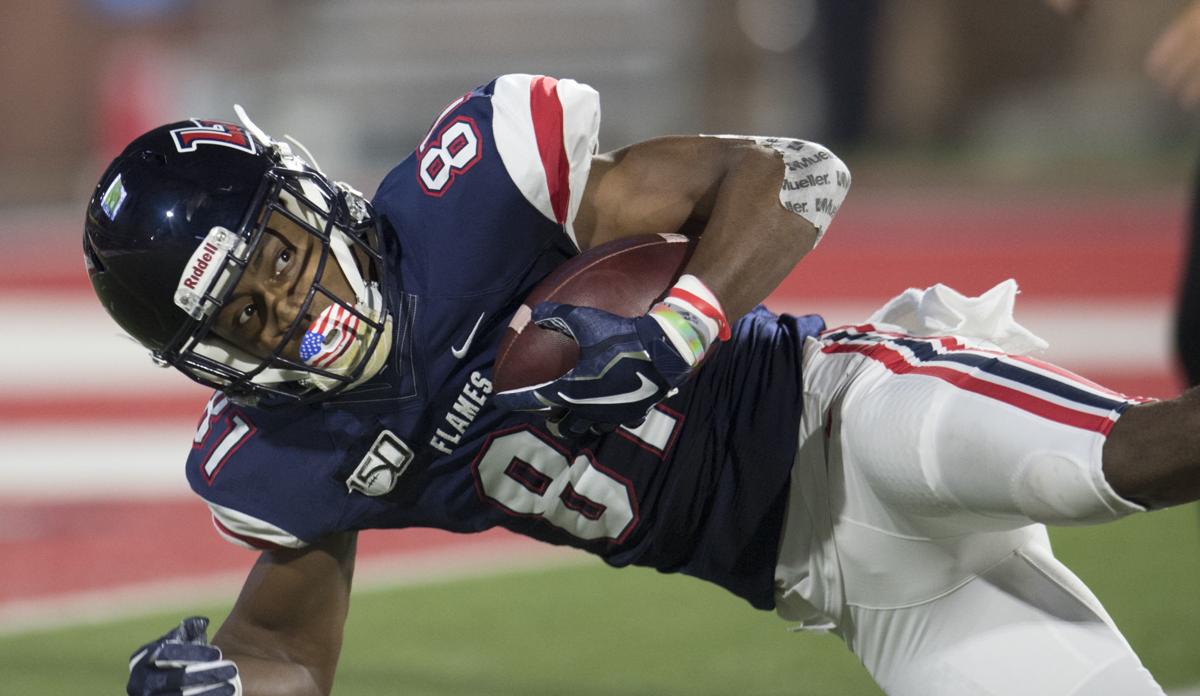 Liberty quarterback Buckshot Calvert didn't waste much time getting Noah Frith involved in the offense Saturday night against New Mexico.
Frith, the wide receiver who missed the majority of training camp and the first four weeks of the season recovering from a fracture in his left foot, got behind the Lobos defense and hauled in a 53-yard reception that set up the Flames' late second-quarter touchdown to take an 11-point halftime lead.
It was a play Liberty expected the dynamic 6-foot-4 redshirt freshman to make this season, especially after a spring practice session in which he thrived opposite of senior Antonio Gandy-Golden and was projected to be a starter before the injury.
"It felt great to be back on the field," Frith said Monday. "I was pretty happy to be back out there with all my brothers. It was great to see everyone back on the field."
Frith, at 180 pounds, has the speed to get behind defenses and be a big-play threat for the Flames (3-2). They have featured Gandy-Golden as the primary deep threat, while utilizing the smaller receivers on shorter routes in hopes they can use their shiftiness to elude defenders for yards after the catch.
"I just hope that I can come out there and just make as many plays as everyone else makes," Frith said, "and hopefully as a team effort we can just go out there and make our offense back at the normal speed it was at at first and just keep making plays."
The long layoff wasn't a deterrent for Frith, who remained in game shape through the guidance of strength and conditioning coach Dominic Studzinski. Frith was required to work on the stationary bicycle during his recovery and had to put in the same distance on the bike as the players did in their daily workouts.
He was out of the walking boot before the matchup against Hampton two weekends ago, and was able to go through full practices leading up to his first appearance of the season against Hampton.
"He adds that extra sense of depth in our room. He brings a lot to the table, a very talented kid," Gandy-Golden said. "We've just got to find ways to get him the ball."
Frith shined in the spring opposite of Gandy-Golden, which allowed Kevin Shaa to split time between slot and outside receiver. Shaa, at 5-foot-10, is arguably the fastest player on the team, and being able to shift him inside allows for the possibility of him being matched up against a safety or linebacker.
The Flames were able to show that look on occasion against the Lobos.
"I think it expands our outside receivers because Shaa is more of a fast, quick, explosive guy, and AGG's all-around," Calvert said. "But when we have another tall outside receiver that can be a deep threat down the field and handle all the outside routes, [Frith] definitely plays a big part. Once you start looking and double-teaming AGG, then they come up and press him or they leave him one-on-one on a shorter cornerback, then we can start using him to attack the other parts of leverages of the field. I just think having another big body out there is the key to success for our offense."
Frith's return gives the Flames three tall outside receivers who have collegiate experience and can open up passing possibilities for Calvert.
The third is Khaleb Coleman, a 6-foot-2 redshirt sophomore who emerged last season when both Gandy-Golden and B.J. Farrow dealt with injuries. Coleman, however, was bitten by the injury bug in training camp with a left knee injury but has played in all five games this season. He caught five passes for 47 yards through the first three weeks but has not been targeted in the passing attack each of the past two games.
Coleman's role has expanded to be a strong special teams contributor, while Frith's sole responsibility is getting back to the role he had in the spring as a dynamic option opposite Gandy-Golden to force defenses to defend both sides of the field.
"Since he's been here, he's worked so hard. It's been kind of easy for me to bring him in and just talk to him because he does whatever he needs to to succeed," Gandy-Golden said.
"It was exciting to be able to get him back on the field. It was good to see. I'm excited for him, and I can't wait for him to be full stride."
Damien Sordelett covers Liberty University athletics and local golf for The News & Advance. Reach him at (434) 385-5550.
Damien Sordelett covers Liberty University athletics and local golf for The News & Advance. Reach him at (434) 385-5550.
Be the first to know
Get local news delivered to your inbox!