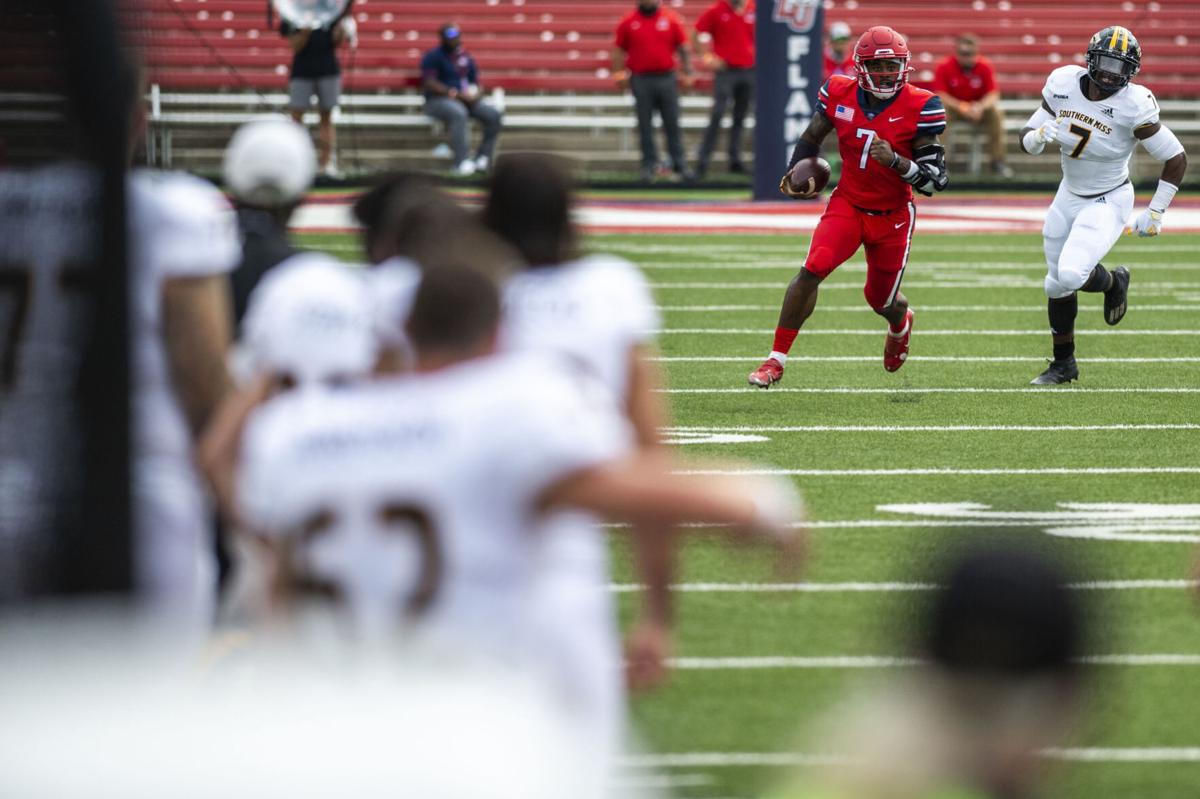 Football was already the most visible sport at Liberty prior to 2020. Then a magical season moved the program to a national stage as Hugh Freeze led the Flames to back-to-back Cure Bowl victories.
The program has quickly become a viable contender entering its third full season at the FBS ranks, and many preseason publications are projecting Liberty to potentially match the 10 wins it racked up in 2020.
The second of this five-part Q&A with athletic director Ian McCaw focuses on the university's most visible sport — football.
N&A: Football coach Hugh Freeze said in a recent radio interview he feels the program is ahead of schedule. How do you feel about the football team and its progress through two full seasons under Freeze as a full FBS member?
IM: The phrase I've been using is that Liberty is the fast-rising football program in the country. If you look back three years ago, we're playing at the FCS level. Now to have a team that won 10 games, back-to-back bowl games, and finished the season ranked 17th in the country, we just have unprecedented momentum. It's really exciting. We're looking forward to continuing to have a program that's nationally ranked, that's getting national television exposure and competing at a very high level.
N&A: The football program has benefitted from facility upgrades over the past five years with the indoor practice facility, the expansion of Williams Stadium and the expansion of the Liberty Football Center. Have we seen the last of those projects for the time being?
IM: The LFC renovation was enormous in terms of day-to-day operations of the football program, so that gives them a great recruiting asset and a great operational environment. In terms of what we're doing right now, we're renovating the third floor and the fifth floor of the west tower, and those renovations will be complete by the start of the season. That will be great for our donors, our suite holders to really have an elevated experience there. Looking ahead, we're planning for '22 to make some changes to the berm area. We're looking to terrace the berm area to make that a better seating environment for our fans. We think that'll be a really attractive place to watch games, and then we're also looking at some additional premium seating enhancements on the west side of the stadium. The 2022 season with Virginia Tech coming here, BYU coming here, we think there will be extremely high demand for both season tickets and individual game tickets, if there are any. We think that will be the year where we want to maximize our capacity.
N&A: Freeze has mentioned multiple times that success for the 2021 season could be a 7-5 record and bowl berth. As an athletic director, how do you balance the program's status? It doesn't seem like 10-1 seasons will always be feasible?
IM: Again, things went extremely well for us in 2020 despite the COVID challenges. We were really able to thrive through that. Wins and losses don't always measure the success of the program. Based on what I saw this spring, this will be a better football team, has more depth, I think there's more team speed than we had in 2020, but it's a very different schedule. How we end up at the end of the season remains to be seen, but I'm certainly encouraged by the progress that we're continuing to make under Coach Freeze.
N&A: The first three years at FBS have featured games against New Mexico State (twice) and UMass to close the regular season at home. Now, Liberty faces two of the better Group of Five programs to close the home schedule in Louisiana-Lafayette on Nov. 20 and Army on Nov. 27. That sounds like a win for the program?
IM: We think certainly that there's a great chance this season that momentum will build as we go through the season, and certainly those games — Lafayette's going to be a team that maybe ranked, Army's coming off a great season — so those will be two very anticipated games and there could also be some television that could play into that, as well.
N&A: How is football scheduling looking for the second half of the 2020s?
IM: Our football schedules are pretty much set through 2026; '27 through '29, I would say, they are about half to 60% done. With that we're really in a good position from a scheduling standpoint and we've been fortunate we're really able to schedule strategically at this point. Early on it was just anybody who's available, we need to play them, and now we're at the point where we can really be thoughtful in terms of the games we put on our schedule.
N&A: How much input does Freeze have on future scheduling? Or is it mainly you and Mickey Guridy?
IM: Mickey's the point person, and we run all the series past Coach Freeze. Again, we're in pretty good shape. We haven't added games recently. I think we'll probably get back and focus in a little bit more here later in the summer to try and get some additional series added. We always kind of run by him who he thinks will be good games for us, and we've been able to put some really good series together.
N&A: Many universities are announcing beer and wine sales at football games. Liberty, obviously, doesn't condone the consumption of alcohol on campus, but will there be any changes to concessions at Williams Stadium?
IM: I think the changes fans will notice is we'll be using a Liberty transaction mobile app for fans this year, so there will be mobile ordering. I think that'll make it a lot more convenient for our fans. We expect the restrictions to be lifted, so that will allow us to bring back the kettle corn, the funnel cakes, the Domino's pizzas in the stands, as well as there's going to be a new Philly cheesesteak station as well. I think we'll be able to broaden our offerings, even beyond what they were in 2019.