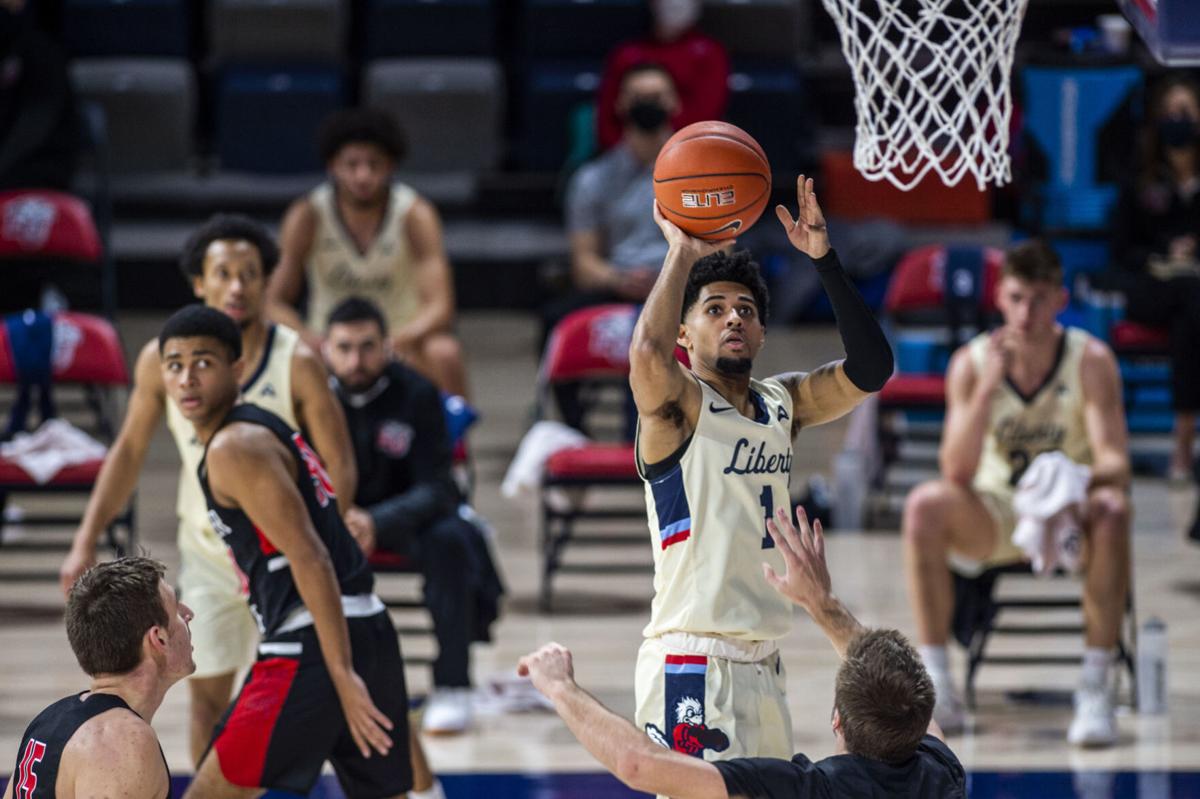 Ritchie McKay, like most every men's basketball coach, likes having a sense of control throughout a season. He can dictate when practices take place and how Liberty prepares for an opponent that has been predetermined on a schedule set before the season began.
All of that control and ability to navigate through a normal campaign has been thrown out the window in a 2020-21 season dominated by the coronavirus pandemic. McKay, and his Flames, have needed to adjust on a moment's notice, and that has left McKay with very little under his control as March Madness inches closer.
"There's just none of that this year when it comes to when you're going to play," McKay said Friday, as Liberty waited to see if it will potentially play North Alabama early next week or need to seek out a nonconference game to avoid a lengthy layoff.
"The reward of staying safe, being bubbled or being in isolation or limiting your freedom of movement seemingly has no rewards sometimes because you're so dependent upon things that are outside of your control. It's been taxing, real talk.
"Man, I can quickly flip that coin and look at the other side of it. We have our health and we work at a great institution. We have a tremendously healthy family in our program and I feel like that's the reward in times of maybe a little frustration or discouragement."
The Flames (17-5, 8-2 ASUN Conference) are hopeful North Alabama (10-8, 6-6) can get out of the snow and ice that have blanketed the Shoals area and potentially play Monday and Tuesday at Liberty Arena.
There is no guarantee the Lions will be able to play. UNA has not practiced and, more importantly, not administered COVID-19 tests to its student-athletes.
ASUN protocols require men's basketball players to be tested Monday and Wednesday on game week, and UNA would need to test as soon as possible to be cleared to play against the Flames early next week.
"I hope it happens, but we've heard a lot of things and it took a different turn," McKay said.
"It's just this season," senior guard Elijah Cuffee said.
"You've got to be expecting COVID and now the storm; you've just got to be ready for it. That's just kind of what this season has brought."
Bellarmine, tied with Liberty in the loss column for first place in the ASUN standings, announced Thursday it was pausing competitive activity because of an inconclusive testing result. That means the Knights' two road games against North Florida this weekend will not be played.
The program also stated its games against Liberty "were still on at this point."
"With Bellarmine on pause, I have no idea how long they'll be out," McKay said. "North Florida was out a week, but [Florida] Gulf Coast was out two weeks — same state, different counties. I'm not sure what it would be for Bellarmine. That one I couldn't speculate on."
There is the possibility Bellarmine's inconclusive test results could return a positive result, and force the Knights (13-5, 10-2) to pause their program longer than this weekend's games. That could force Liberty to not play its final four league games with the conference tournament scheduled to start March 3 in Jacksonville, Florida.
The quarterfinals are slated for March 4.
"That's a real possibility," McKay said. "We can do nothing but take care of ourselves and our own preparations. No sense in worrying about an unborn tomorrow."
McKay said his primary goal is to play the remaining league games on the schedule, especially with the No. 1 seed on the line.
"We would like to play and are trying everything," McKay said. "I know Ian McCaw, our athletic director, has been on numerous phone calls with the commissioner [Ted Gumbart] and other member institution athletic directors and administration trying to work something out."
The secondary option is to schedule a nonconference game or two to keep the team game-ready. However, that is becoming increasingly more difficult as each day passes and conference tournaments inch closer.
Teams on the NCAA Tournament bubble will not play Liberty, even with the Flames' NET ranking of 94. A victory would look good on a bubble team's resume, but a loss could potentially be detrimental.
"It's really hard to schedule a game," McKay said.
A third choice could be a closed-door scrimmage against any opponent. It would not count on the schedule, yet it would provide vital game-like minutes against a team in a different uniform with the most important week on the schedule — the first week of March — on the horizon.
"It's definitely key because it's the most important time of the year going into the tournament, hopefully two tournaments," senior guard Chris Parker said, referencing the ASUN Tournament and a potential berth into the NCAA Tournament. "We need to be hitting on all cylinders. It's really a key for us to start coming along now. I think we've had a good year and stuff, but like everybody said, once you get to that tournament, it's a whole new year.
"I think we need to go into this end of the year on all cylinders."