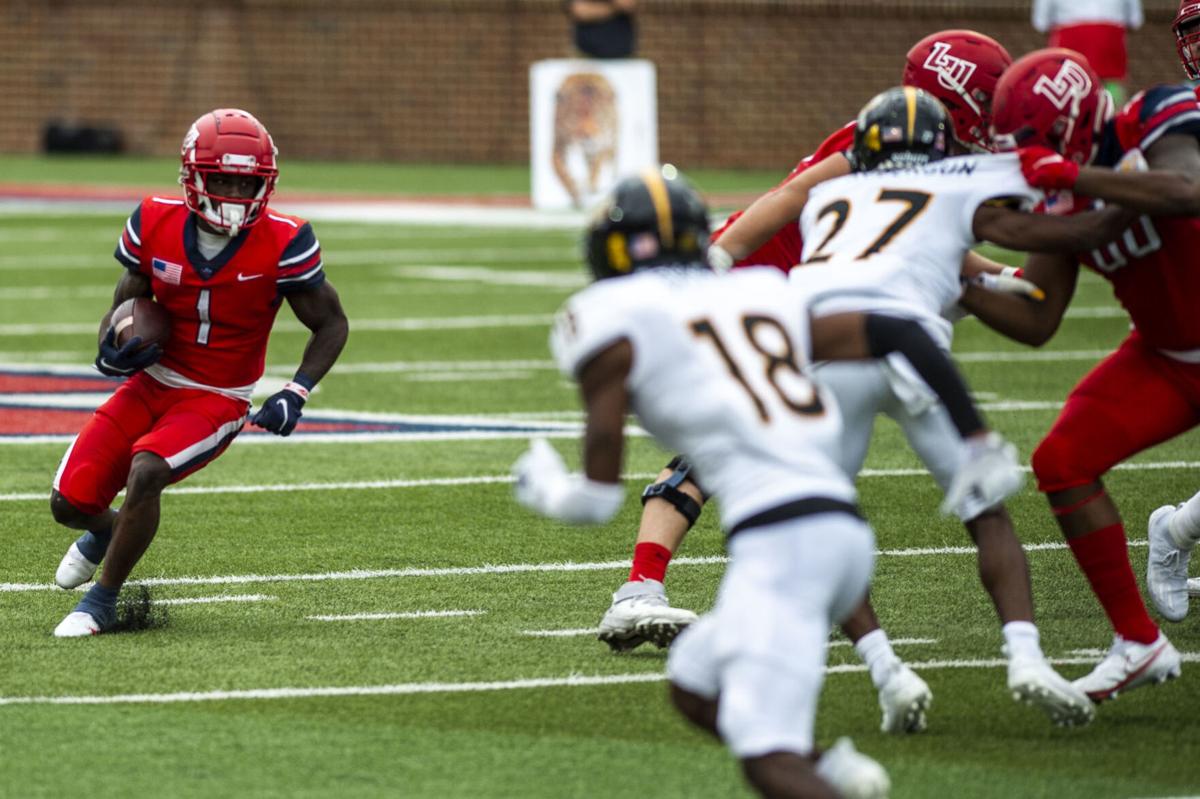 When Liberty signed its first exclusive media rights deal with ESPN in 2018, the network carried the option of moving one of the Flames' home games to a linear network, such as ESPN, ESPN2 or ESPNU. There were no guarantees any of Liberty's six home games in a given season would be televised on one of ESPN's premier channels.
That is changing with a contract extension between the newest Football Subdivision Program and the nation's largest sports network.
Liberty announced Monday morning ESPN will continue to carry the exclusive media rights to the Flames' home football games through the 2025 season. The extension guarantees at least one of Liberty's six home games each season will be broadcast on a linear network.
"We're excited about the guaranteed linear coverage," Liberty athletic director Ian McCaw said in a phone interview.
The new television deal runs concurrently with Liberty's six-year secondary bowl agreement with ESPN Events, which also ends in the 2025 bowl season.
"We are pleased to continue to showcase Liberty home football games exclusively on ESPN platforms in the years ahead through this multi-year extension of our rights agreement which began in 2018. The recent success of the Flames has made them one of the more intriguing programs in college football the past few seasons." Dan Margulis, ESPN's senior director of programming and acquisitions, said in a press release.
The secondary bowl agreement allows ESPN to place the Flames in one of six of its bowl games if a conference contractually tied to a specific bowl can't fill its slot.
"We're very fortunate to have a strong relationship with ESPN," McCaw said. " … This was an opportunity to again expand our reach."
The Flames' deal with ESPN comes amid a changing landscape in college athletics. Texas and Oklahoma announced Monday morning the two programs will not renew their grant of media rights with the Big 12 Conference at the conclusion of the 2025 season, potentially opening up a move to the powerhouse Southeastern Conference.
"We are closely monitoring the changing landscape in college athletics to best position our athletics program for the future," McCaw said.
McCaw said Liberty and ESPN entered negotiations on the contract extension in February. The initial deal Liberty signed with ESPN in 2018 was for four years, and the 2021 season was going to be the final year of that deal.
The contract extension also gives ESPN the right to choose a non-traditional day for a second linear network telecast. McCaw said that non-traditional day likely would be a Thursday or Friday night game.
"That would be more in line of what we would be looking for," he said.
Three of Liberty's 18 home games in the past three seasons were moved to a linear network, and all three came in the coronavirus pandemic-altered 2020 season.
ESPN moved Liberty's home game against Louisiana-Monroe to ESPN2, and contests against FIU and Western Carolina were on ESPNU.
The game against ULM marked the first time a Liberty football game was on ESPN2.
Liberty's six-game 2021 home schedule features Campbell (Sept. 4), Old Dominion (Sept. 18), Middle Tennessee (Oct. 9), UMass (Oct. 30), Louisiana (Nov. 20) and Army (Nov. 27).
The games against Campbell and ODU are slated for 6 p.m. kickoffs and will be streamed on ESPN3.
The network has not announced the kickoff times or broadcast network for the other four home games.
"We're excited," McCaw said.