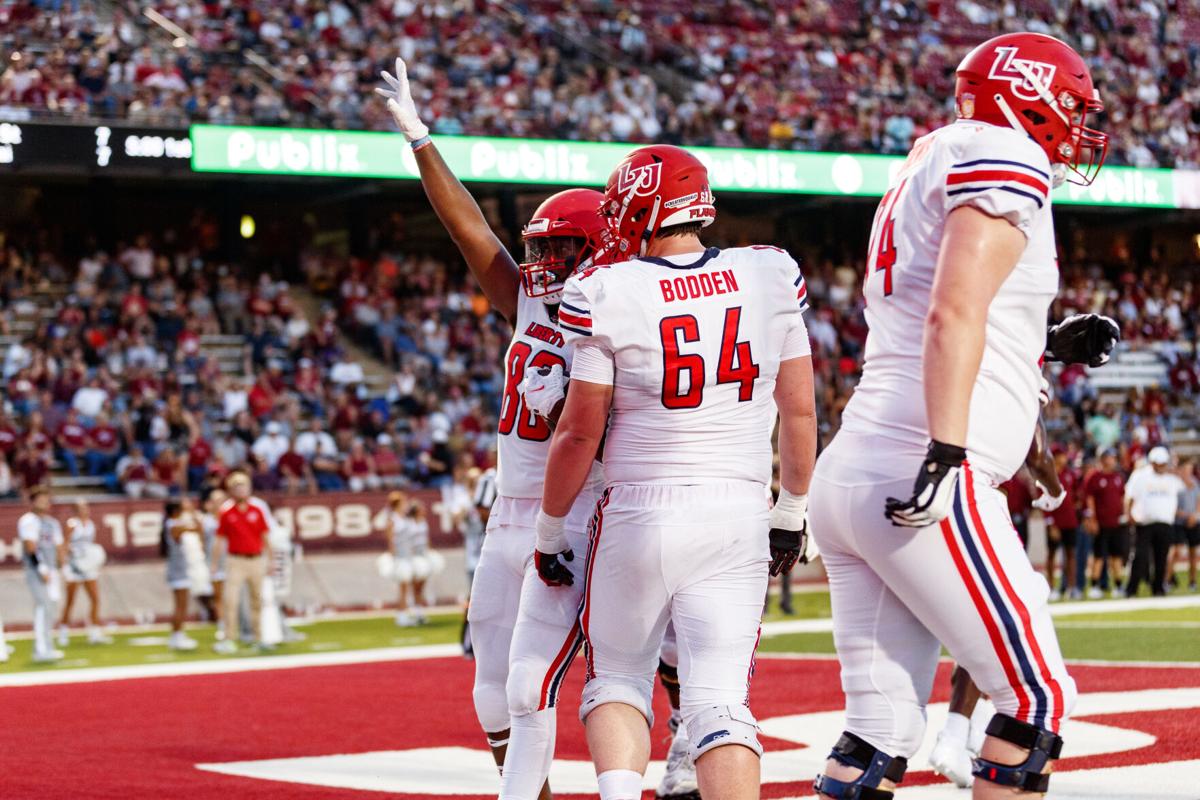 TROY, Ala. — Jacob Bodden fulfilled a childhood dream in 2018 when he played in his first collegiate game in his home state. The Liberty left guard, a freshman in that season, played in mop-up duty in the Flames' loss at Auburn.
Bodden — getting a chance to play within a short driving distance of his hometown of Hoover, Alabama — cherished every snap.
He got a chance to play in front of his friends and family again in Liberty's first of two trips to Alabama this season.
Bodden started at left guard Saturday night in the Flames' matchup with Troy.
Veterans Memorial Stadium is less than three hours from Hoover, and Bodden said earlier in the week most of his family from Alabama was traveling to the game.
"It's always special going back home," he said. "It's easy for my parents to make the drive to the games and everything and have all the family there to support us and everything. It's nice."
The Flames' Oct. 2 matchup will be more of a true homecoming for Bodden. Hoover is 25 minutes south of Birmingham, and Liberty will face UAB in Protective Stadium's opener.
"That will be a close game," Bodden said.
Bodden started in place of Damian Bounds, who suffered a high ankle sprain on the first drive of the Flames' season opener against Campbell.
"Coach [Hugh] Freeze said it best: next man up," Bodden, who made his fifth career start, said. "Whoever goes down, we've got to make sure the next man in there knows what he's doing and can get the job done for us."
Bounds returned for one play to open the second drive but hobbled off the field and was replaced by Bodden.
The 6-foot-3, 310-pound Bodden made four starts last season and played the most snaps a left guard against the Camels.
"Definitely last year that experience of playing and stuff definitely helped for that scenario that happened," he said. "I was ready to go in there and help the team out."
Bodden wasn't the only new offensive lineman in the starting lineup.
Right tackle Cooper McCaw was ruled out prior to kickoff, and Jonathan Graham made his first career start. Graham spent last season as Brendan Schlittler's backup at right guard, and he transitioned to tackle for this season.
Speaking of injuries
Liberty missed some explosiveness off the edge against Troy with defensive ends Durrell Johnson and Khristian Zachary being ruled out.
Johnson, who led the team with 8.5 sacks in 2020, had four tackles in the opener. Zachary, the top-rated prospect, finished with three sacks and 1.5 tackles for a loss against the Camels.
Cornerback Marcus Haskins (hamstring) and wide receiver Jaivian Lofton (right knee) did not play after participating in the season opener.
Center John Kourtis, running back Frank Boyd, wide receiver Khaleb Coleman and defensive tackle Micaiah Overton also were ruled out for the second straight week.
No sacks in the opener? No problem
Defensive coordinator Scott Symons admitted the game plan against Campbell limited the amount of pressure the defensive line was able to create against quarterback Hajj-Malik Williams.
The Flames didn't have any limitations in the first half against Troy signal caller Taylor Powell.
Liberty recorded four first-half sacks Saturday after not recording a single sack against Campbell.
Henry Chibueze, the backup do-it-all defensive tackle, recorded his first career sack. In fact, the former offensive lineman hadn't posted a tackle for a loss prior to the matchup against the Trojans.
Kendy Charles, another backup defensive tackle, recorded his first career sack, while Elijah James and TreShaun Clark combined to post the Flames' first sack of the season.
News and notes
Johnson's injury allowed Aakil Washington to make his first career start at bandit. … Cornerback Daijahn Anthony made his Liberty debut on the Trojans' fourth drive of the game. Anthony underwent surgery for a meniscus injury, and he tweeted Wednesday that he had been cleared to fully participate. He was the third cornerback used behind starters Chris Megginson (Heritage High) and Duron Lowe.