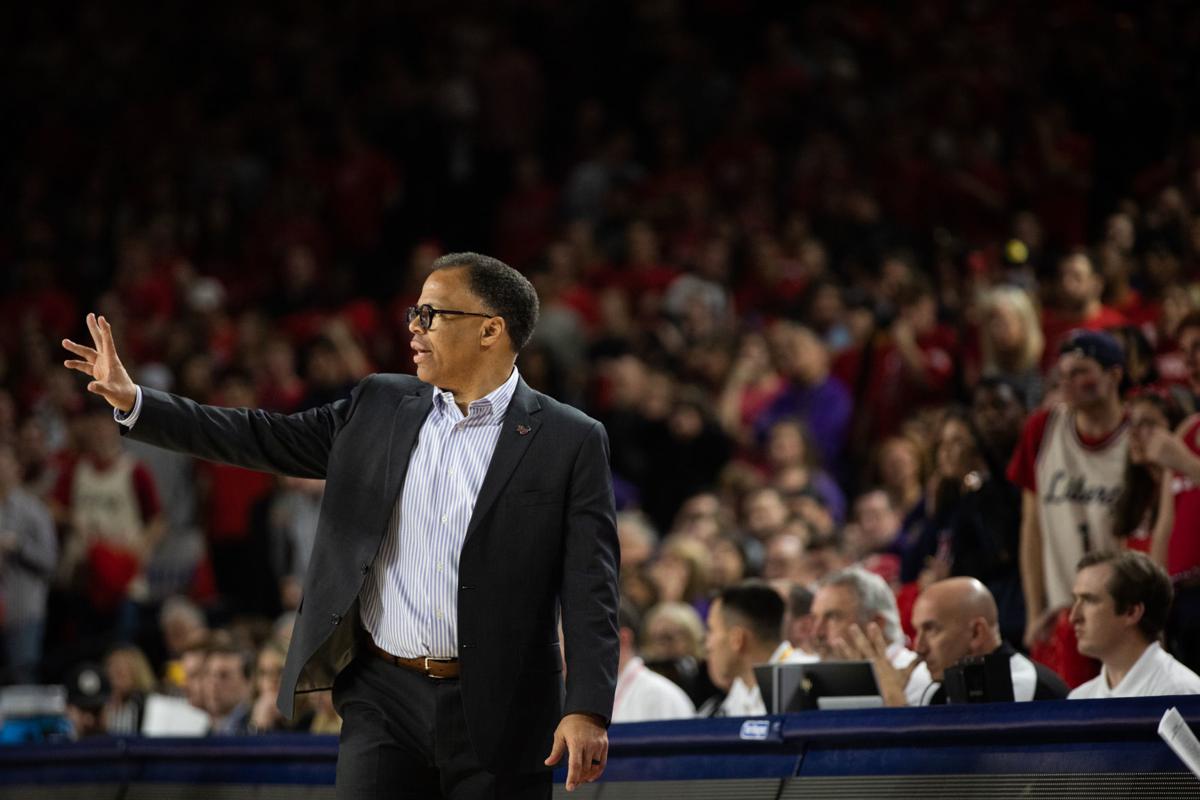 Ritchie McKay was spoiled the past two seasons with a veteran-laden roster. So the Liberty men's basketball coach dove head first into the summer's opening practices with high-intensity, laser- focused sessions that immediately tested the group's mettle.
McKay and his staff have opted to take "baby steps" through the opening three practices of the 2020-21 season.
The Flames graduated four players who were integral in the program's back-to-back ASUN Conference Tournament titles. And the coronavirus pandemic prevented the players from maintaining a consistent workout schedule before returning to campus in early June.
"We've tried to keep it fairly condensed, just trying to be sensitive," McKay said Wednesday during a virtual press conference. "You never want someone who's been out for a while to get injured and it be a lingering injury that affects their regular season. We're still in evaluation mode."
McKay said none of the 16 players on the roster has tested positive for COVID-19 as the Flames continue the first week of practice for the 2020-21 season.
The NCAA allowed college basketball coaches to begin conducting workouts and practices with their players Monday. Liberty welcomed its players back on campus June 1 for voluntary workouts. The entire basketball roster was in Lynchburg by June 15.
McKay said the players were required to quarantine before the staff gained "access to them this summer."
"The biggest adjustment is the creative, self-containment, manufactured bubble we've asked them to live in. We don't do much outside of ourselves," McKay added. "For young people, they want to hang out or whatever. I do think our guys are really committed to having an appreciation for being able to do this.
"We're sending our guys home the first week of August so they get a little bit of time before school starts. Some are choosing to go home, and they'll have to quarantine when school starts, and we'll have to adhere to the government and university policies as to the restart. We're certainly very protective and appreciative of the time that we're getting together."
The voluntary workouts in June featured individual work with the strength and conditioning staff and Zoom calls with the coaching staff. Those virtual meetings, according to McKay, were geared more toward culture building so the team could enter this week's practices without missing a beat.
"Really, we're just trying to get to know our new guys in terms of what they do on the court and where their strengths lie and kind of develop a chemistry, because every team is different from season to season," McKay said. "Even our 29-win team was different than last year's team. As a coaching staff, we're just trying to figure some of those things out and keep it fun, but productive."
The Flames, who rank second in the nation behind Gonzaga with 59 wins during the past two seasons, graduated Caleb Homesley, Scottie James, Georgie Pacheco-Ortiz and Myo Baxter-Bell. McKay has credited the quartet with helping establish the culture and winning mentality that has seen the program win at least 20 games in four straight seasons.
This season's roster features three seniors (guard Elijah Cuffee is the only one who has started in the past three campaigns), three juniors and 10 sophomores and freshmen.
"We have new players, but we also have a lot of guys that are familiar with our verbiage, the atmosphere that's in the room, and I think those guys because of their character have done a great job of just kind of promoting the way we do things," McKay said.
"Not that it's right, but it's the atmosphere for our room. I think obviously there will be some concessions we as coaches need to make in terms of our patience and some of the luxuries we had the opportunity to reside under when you had Myo, Scottie, Caleb, Georgie."
Damien Sordelett covers Liberty University athletics and local golf for The News & Advance. Reach him at (434) 385-5550.
Damien Sordelett covers Liberty University athletics and local golf for The News & Advance. Reach him at (434) 385-5550.
Be the first to know
Get local news delivered to your inbox!