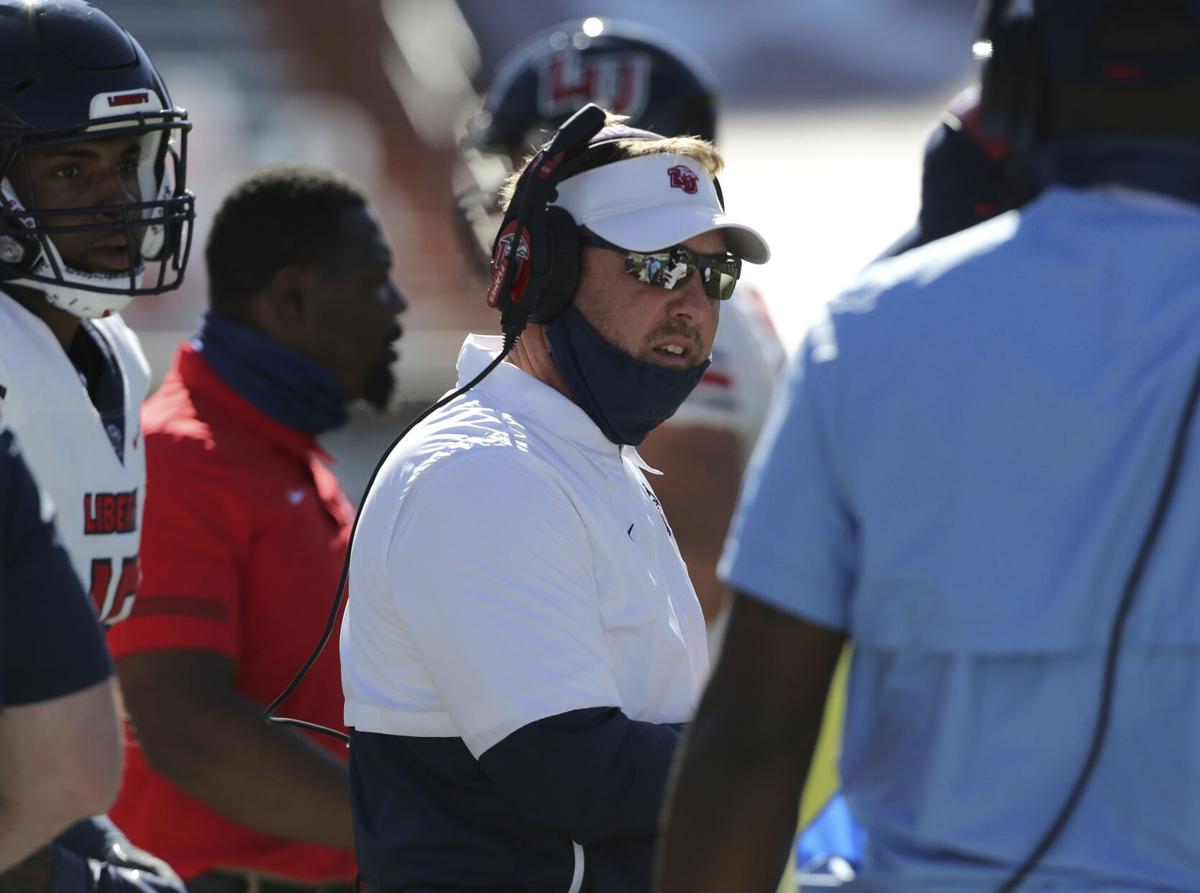 The Liberty football coaching staff hit the ground running June 1 when the recruiting dead period was finally lifted after more than 14 months. The first two weekends of the month featured prospect camps on campus, and the staff also made the trip to SMU for the Dallas Showcase.
The early stages of the live period have paid off for the Flames.
Liberty picked up two verbal commitments Friday morning to give the recruiting class of 2022 three verbal commitments this week.
Hugh Freeze and his staff have prioritized the offensive and defensive lines since his arrival in December 2018, and the Flames picked up a commitment Friday morning from defensive end Miyon Conaway, a rising senior from Jeff Davis High School in Hazlehurst, Georgia.
Conaway, a three-star prospect according to Rivals, had reported offers from Mississippi State, Missouri, TCU, Marshall, Coastal Carolina and others.
Conaway's commitment was followed a few hours later by a pledge from 6-foot-5 wide receiver Markel Fortenberry from Maryville High School in Tennessee.
Fortenberry had 12 other offers, including Coastal Carolina, Marshall and Georgia State.
The first prospect to verbally commit was wide receiver Josh Dallas from Trinity Christian School in Sharpsburg, Georgia. He announced his commitment late Wednesday afternoon on social media and chose the Flames over 16 other offers from 11 FBS programs and five FCS programs.
Dallas had offers from the three service academies (Air Force, Army and Navy) in addition to Buffalo, East Carolina, UAB and others.
Kandie, Mitchell nab All-America honors
Liberty juniors Felix Kandie and Kyle Mitchell claimed second-team All-America honors in the NCAA Division I outdoor track & field championships held at Hayward Field in Eugene, Oregon.
Kandie finished ninth in the men's 3,000 steeplechase with a time of 8:34.15. His finish, which was one spot shy of being named a first-team All-American, is the best finish ever by a Liberty athlete in the steeplechase.
Mitchell posted a mark of 61 feet, 1 1/2 inches in the shot put to finish 14th and claim second-team All-America honors. Mitchell became the first shot putter (men's or women's) in Liberty or ASUN Conference history to become an NCAA Division I All-American.
Chelsea Igberaese will conclude Liberty's stay in Eugene by competing in the women's discus final at 5:35 p.m. Saturday.
Gibson named to freshman All-America team
Right-hander Trey Gibson was named to the Collegiate Baseball freshman All-America team by the newspaper earlier in the week.
Gibson, the ASUN Conference freshman of the year, finished the season with a 7-4 record and 3.32 ERA over 65 innings. He struck out 70, walked 21 and held opponents to a .223 batting average in 13 starts.
The Yorktown native joins Trevor DeLaite as All-Americans. Collegiate Baseball tabbed DeLaite as a third-team All-American after the southpaw recorded a program-record 12 victories. He also is one of six finalists for the National Pitcher of the Year Award.
Field hockey duo claim top state honors
Liberty forward Jill Bolton and goalkeeper Azul Irixity-Irigoyen claimed two of the major field hockey awards handed out by the Virginia Sports Information Directors (VaSID).
Bolton was named the player of the year, while Irixity-Irigoyen claimed defensive player of the year and was named co-rookie of the year.
Bolton, a senior, is the second player in program history to be named VaSID player of the year, joining Agueda Moroni in 2018. Bolton ranked third in the nation in assists per game (0.81), fifth in points per game (2.56) and 10th in goals per game (0.88).
Irixity-Irigoyen claimed her second defensive player of the year honor after previously being selected as the Big East defensive player of the year. She also was the Big East's co-freshman of the year.
Former LU standout Ballengee claims bronze in decathlon
Arkansas junior Markus Ballengee claimed the bronze medal in the decathlon at the NCAA Division I outdoor track & field championships.