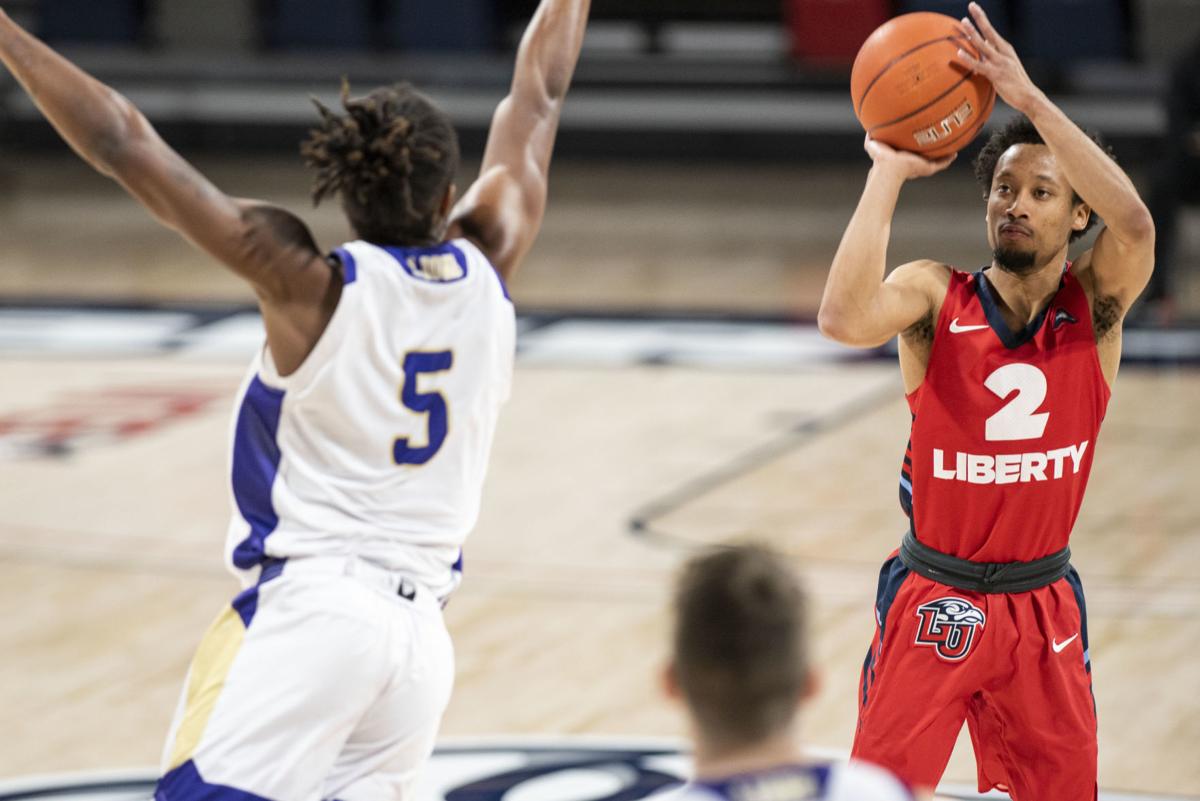 Oklahoma State star freshman Cade Cunningham spent what little free time he had March 7 flipping through the channels on his television and stopped on ESPN to watch the ASUN Conference championship game. Liberty held off North Alabama's frantic second-half comeback, and Cunningham was impressed with how well the Flames played to secure their third consecutive league tournament title.
One week later, mere seconds after the Cowboys began a jubilant celebration upon receiving an at-large bid as a No. 4 seed in the Midwest Region, Cunningham saw the reveal of Liberty as Oklahoma State's first-round opponent in the NCAA Tournament.
"They probably got underseeded," Cunningham said of the Flames.
Truth be told, Liberty coach Ritchie McKay has echoed those same sentiments about the No. 11 Cowboys (20-8), who played one of the toughest schedules this season and recorded the most victories over teams ranked in the Associated Press Top 25 poll.
"I'm not sure we've played anyone as good as them, but we tried to test ourselves in the nonconference with our schedule and we'll see on Friday if it prepared us well," McKay said. "They're really legitimately one of the best teams in the country."
Liberty (23-5) opened the season playing five power conference teams in its first seven games. Two of those teams, Purdue and Missouri, are in the NCAA Tournament, while Mississippi State is in the NIT.
"We're at a stage or point in our program where we want to test ourselves against the best. The little bit of success we've had makes it harder and harder to schedule in the nonconference," McKay said.
"I don't think our guys will be afraid of the moment or whatever jersey name would have been on our line against us. I just think we've got to focus on how difficult of a task it is to defend Oklahoma State and then trying to get a good shot on the other end."
This first-round matchup, scheduled for a 6:25 p.m. tip and broadcast on TBS, features two teams with drastically different styles.
Liberty features one of the nation's slowest offensive tempos with an emphasis on the pack-line defense as the backbone of the team's success. The Flames boast the nation's third-best scoring defense (58.9 points allowed per game) and have allowed more than 70 points twice during their 12-game winning streak.
Liberty ranked second in the nation in scoring defense last season.
"The pack's a good system," Liberty senior guard Elijah Cuffee said. "Virginia, they don't change it night-in and night-out. I feel like we're the next closest thing to Virginia, so we're not going to change it night-in and night-out. It's the same."
Liberty has coupled its strong defensive play with an efficient offense. The Flames rank in the top 10 in three major offensive categories (fourth in assist-to-turnover ratio at 1.65, sixth in 3-point field-goal percentage at 39.1%, and eighth in 3-pointers made per game at 10.3), and the play of guards Chris Parker and Darius McGhee has aided in the efficiency.
"They play at a slow pace, but they're really intentional on playing the right way, making the right plays and things like that," Cunningham said. "That's one of those teams where you have to start the game off well, because getting the lead back against them will probably take two or three minutes. They dictate the pace. You have to start out well and make them play catch up. We have to be on our 'A' game, for sure."
McGhee, the ASUN player of the year, leads the team in scoring at 15.6 points per game and is shooting 41.3% from 3-point range. Parker is second on the team in scoring and leads the team in assists in his first season with Liberty after transferring from Division II Henderson State.
"I know it's going to be a fight. I know they're going to make it really hard on us to get good shots, they're going to try to limit us to one shot as much as possible, and they're not going to foul us," Oklahoma State coach Mike Boynton said. "They don't foul, they don't turn it over, and they're highly efficient. We've got to do a really good job of being disciplined in our assignments and not allowing Liberty to totally dictate the tempo of the game, which I think will be a critical factor in how this game plays out."
Oklahoma State, led by first-team All-American Cunningham, averages 15.8 seconds per offensive possession, which ranks fifth among the 68 teams in the NCAA Tournament.
The Cowboys' style features Cunningham and the slew of Oklahoma State guards penetrating and trying to get to the rim. OSU ranks 11th in free throws made and 12th in free throws attempted.
"They do what they do at a very high level and that's what makes them so good and that's what makes them so different," McGhee said, "and they have talented individuals."
However, there is a setback to those frequent attacks to the basket. Oklahoma State turns it over nearly 16 times per game. Liberty, for instance, ranks fifth in the nation with only 9.7 turnovers per game.
"[Liberty is] really good. They're extremely efficient with super low possessions," Boynton said. "What we've got to do is not get overly concerned about their lack of turnovers and not try to continue to push the tempo. I don't want to have a ton of turnovers, but I don't want our guys' attention to be concerned and worried about it. We've got to be really cognizant that we try to impose our tempo onto this game in what will be certainly a contrast in styles."
Cunningham is one of five players averaging more than nine points per game for Oklahoma State. He is averaging 20.2 points and 6.3 rebounds per game, has dished out 90 assists, and is shooting 45.4% from the field.
"They present a lot of challenges. If you've watched them, they have some kid named Cunningham who is a really special player," McKay said. "They're really talented, really athletic, have a great downhill tempo to their offense."