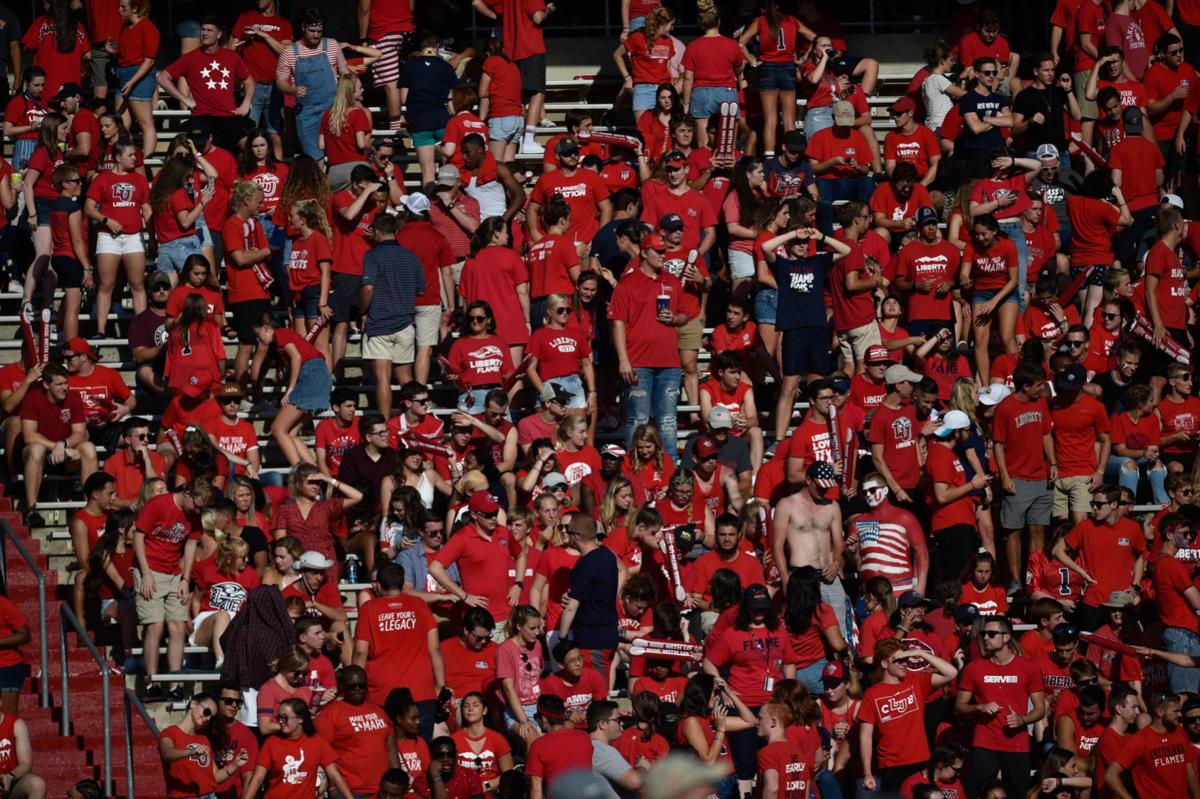 The 1,000 fans who were allowed admittance to Liberty's home football games in 2020 were spread out in both the east and west grandstands. Those spectators consisted of players' families, a few diehard fans and a handful of lucky students in an otherwise muted section behind the visitors' sideline.
The atmosphere at Williams Stadium will return to normal in less than three months for the Flames' Sept. 4 season opener against Campbell.
Liberty athletic director Ian McCaw said Wednesday the university plans on operating Williams Stadium at 100% capacity for the 2021 season. The Flames have six home games on the 12-game docket, with matchups against Old Dominion on Sept. 18 and back-to-back contests against Louisiana and Army on Nov. 20 and 27, respectively, to highlight the slate.
"We're planning on 100% capacity this year, and obviously we'll continue to follow the state and local health guidelines," McCaw said. "At this point, we don't expect any restrictions related to masking or vaccination, either. We're looking forward to energized crowds and full stadiums for the upcoming season, and we're really excited for the 2021-22 year."
Gov. Ralph Northam lifted mask mandates and ended COVID-19 mitigation measures May 28. As of June 16, Virginia had administered more than 8.7 million doses of the COVID-19 vaccine. More than 57% of the population had received at least one dose and 48.3% of the population is fully vaccinated, according to the Virginia Department of Health's COVID-19 vaccine dashboard.
Virginia and Virginia Tech previously announced full capacity for their home games at Scott Stadium and Lane Stadium, respectively. Old Dominion has not officially announced it will have full capacity at S.B. Ballard Stadium, but the Monarchs are preparing for capacity crowds.
"I think the biggest trigger for us was when the governor lifted the restrictions back at the end of May," McCaw said. "Obviously I think from there we've seen a number of schools come forward and make announcements that they're planning on full capacity. We're just excited about that trend."
Liberty averaged 875 fans for its six home games in 2020. One thousand fans were allowed for the first five games, and only 250 were admitted for the Black Friday matchup with UMass because of tightening COVID restrictions.
The Flames averaged 18,272 fans in 2019 and 16,282 in 2018. Those two seasons were the program's first at the FBS level.
McCaw and Liberty are projecting larger crowds for the 2021 season. Most fans were unable to watch in person as the Flames enjoyed their most successful campaign to date with 10 victories, a Cure Bowl triumph over Coastal Carolina, and a finish of 17th in the Associated Press Top 25 poll.
"Season ticket sales are obviously outpacing where we've been any previous years. I think a lot of that has to do with the success of the team last season and the fact that fans are really eager to get back in the stands," McCaw said.
"We're right now about 30% ahead of where we were in 2019. We're really encouraged by that. A lot of demand for premium seats, a lot of people trying to upgrade or making donations to the Flames Club to improve their seats. Those are all really good signs for us, and we're looking forward to great crowds this season."