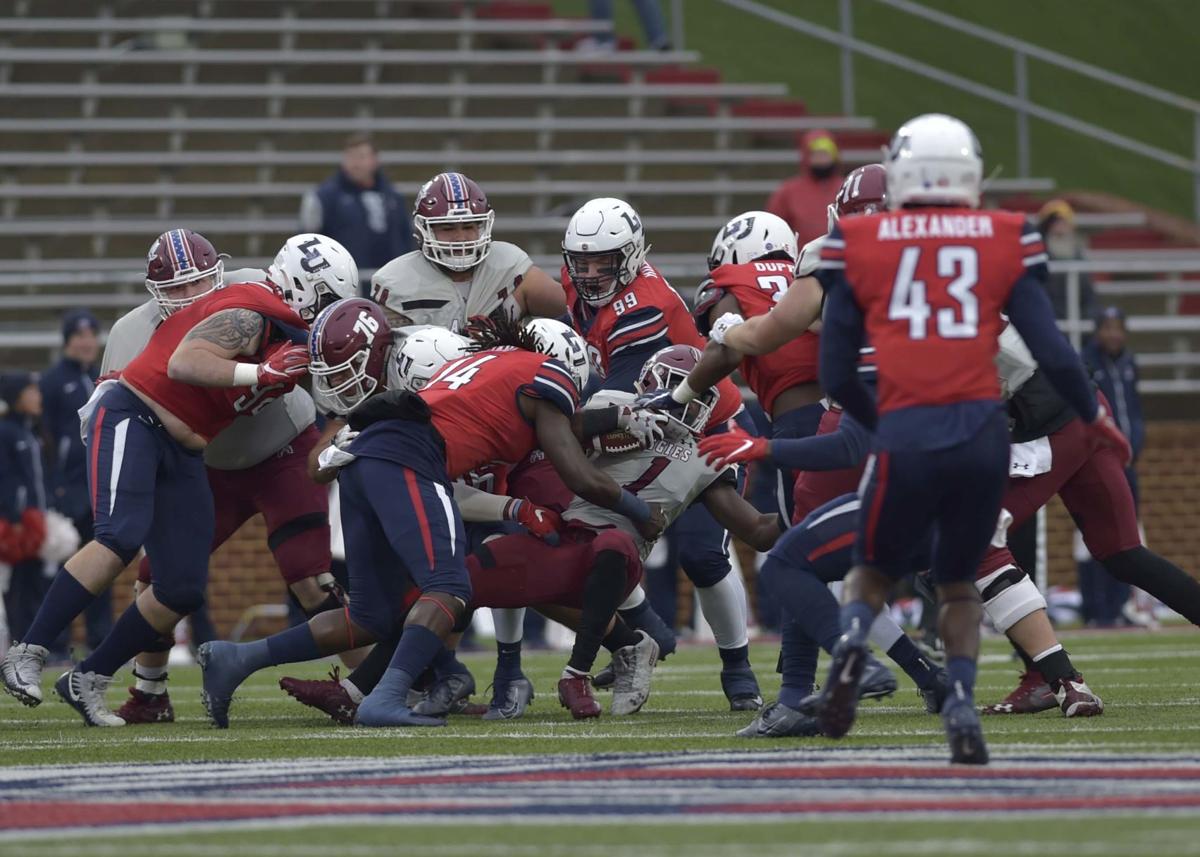 Liberty first sought an invitation from a Football Bowl Subdivision conference back in 2013.
More than eight years later, the Flames have finally been offered a spot in a league.
Liberty was one of four schools to receive an invitation Wednesday from Conference USA, sources confirmed to The News & Advance. The other schools are New Mexico State, Jacksonville State and Sam Houston State.
The invitation was first reported by Pete Thamel of Yahoo! Sports.
Jacksonville State athletic director Greg Seitz told The Anniston Star on Tuesday that Conference USA officials visited that campus.
"I'm interested and intrigued by all of it for sure," Liberty football coach Hugh Freeze said last week when asked about conference realignment. "I just really choose to kind of lean on Ian [McCaw, Liberty's athletic director] and those guys who know a lot more than I do about what's best for us, what's best for the university, what makes sense financially."
Thamel also reported the last major issue appears to be the "potential of paying a $2 million entrance fee."
The C-USA's outgoing teams owe a $3 million exit fee, and the $27 million to $33 million the league would get from the departing institutions could help pay for the entry fees of the four new members.
Liberty entered discussions with the Sun Belt Conference and Conference USA in 2013 and 2014, respectively, as the Flames were looking to move to the FBS from the Football Championship Subdivision ranks.
Both of those leagues turned down Liberty. The Flames in February 2017 announced they received a waiver from the NCAA to reclassify to the FBS as an independent without a conference invitation.
However, as conferences have grown bigger and bigger during this wave of conference realignment, the prospects of filling out a 12-game schedule on a yearly basis would become more challenging with fewer nonconference slots available.
The American Athletic Conference and Sun Belt are expanding to 14 teams by the 2023-24 season.
Being included in an FBS league would alleviate those concerns.
"I think if we just keep winning football games, we'll all probably be happier, whether we're in a conference or not," Freeze said.
Liberty, NMSU, JSU and SHSU would be full members in a new-look Conference USA that would feature Lynchburg as the northern-most destination, Miami as the southern-most destination and Las Cruces, New Mexico as the western-most destination.
The Flames already charter their athletic teams for league games in the ASUN Conference, and that wouldn't change in C-USA.
"I have great trust in Ian. I know that he has the best interest for our program as the other programs here," Freeze said. "Whatever he sees as options, I think he will definitely communicate those to me and get my opinion, and I'm sure Ritchie [McKay, men's basketball coach] and Scott [Jackson, baseball coach] and all the other coaches, and then make a decision if we have options like that."
The invitations come as C-USA tries to remain afloat in this wave of conference realignment.
The league, made up of 14 members entering this athletic season, is down to five members as of Wednesday, and it could lose two more if another Group of Five conference elects to expand.
Conference USA's five remaining members are Middle Tennessee, Western Kentucky, Florida International, Louisiana Tech and Texas-El Paso, and that number could be down to three by the week's end.
The Murfreesboro Daily News Journal reported the Mid-American Conference could add MTSU and WKU by the end of this week following meetings of the university presidents and athletic directors.
Conferences need eight full members at the FBS level, and the invitations sent to Liberty, NMSU, JSU and SHSU would give C-USA seven full members, if MTSU and WKU depart for the MAC.
Previous reports from The Athletic and Yahoo! Sports tied UConn and UMass as football-only members to the new-look Conference USA. The league would still need to get one more member to be a full member to comply with FBS standards.
This realignment cycle, which began with Texas and Oklahoma announcing a move from the Big 12 Conference to the Southeastern Conference, has seen three G5 leagues dramatically change.
The AAC lost Cincinnati, Central Florida and Houston to the Big 12, and then seized six teams from C-USA (Charlotte, Florida Atlantic, Alabama-Birmingham, Texas-San Antonio, Rice and North Texas) to fill the void.
The Sun Belt announced in the past two weeks it is adding Southern Mississippi, Old Dominion and Marshall from C-USA, and the G5 league is awaiting James Madison to receive approval from the Virginia General Assembly's Intercollegiate Athletics Review Commission to transition from the Colonial Athletic Association in the FCS to the FBS league.
Liberty and New Mexico State are current FBS independents and have played four times since 2018, and they are scheduled to play each other eight times between 2022 and 2029.
Jacksonville State is in its first season as a member of the ASUN. Liberty has been a member of that league since the 2018-19 season.