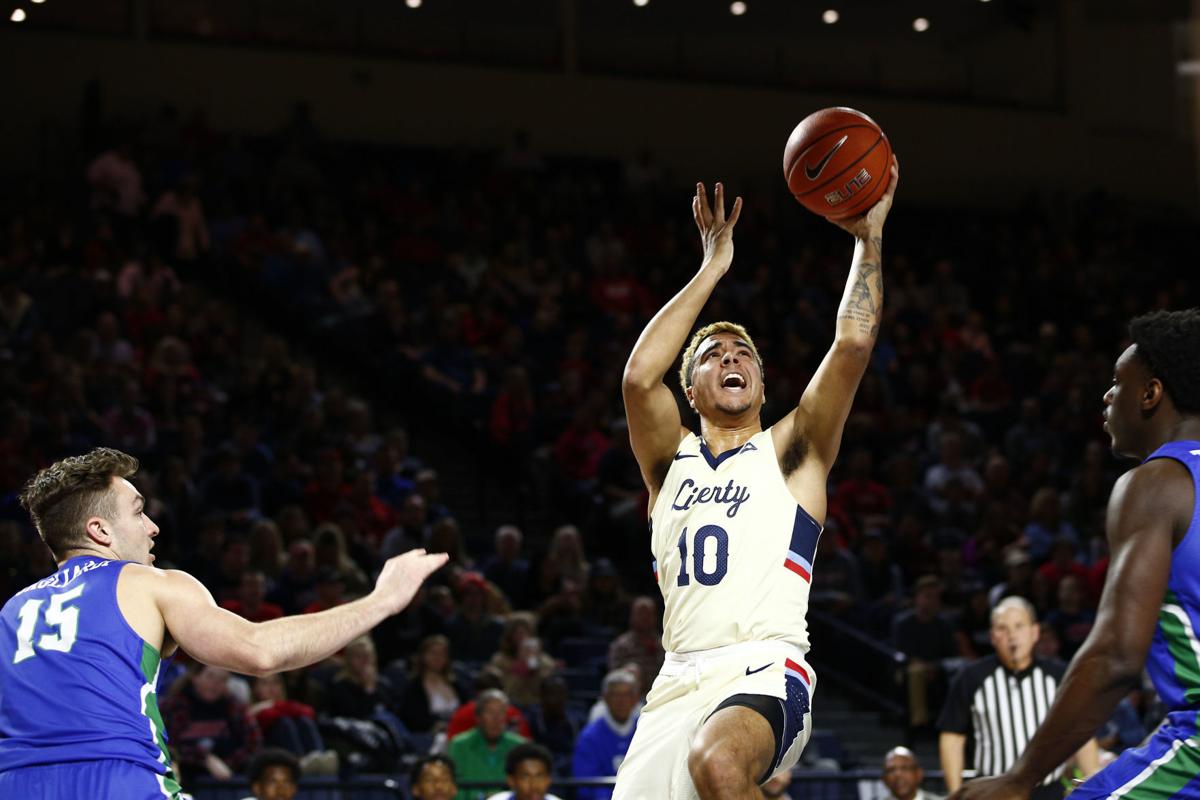 It's easy to glance at the final statistics from Liberty's three games against NJIT over the past two seasons and notice one glaring thing: Zach Cooks' scoring production.
Cooks, who leads the ASUN Conference and ranks 41st in the nation in scoring this season, has not been a factor offensively in those games, and that lack of production has generated the headlines from those matchups. What's lost, though, is how Liberty also clamped down defensively on Cooks' supporting cast and limited what the Highlanders did as a team.
That is the main reason the Flames (23-3, 9-2 ASUN) have been so successful in their brief history against the Highlanders (7-17, 4-7), and they look to continue that trend when the teams meet at 7 p.m. today at the Vines Center.
"I think it's just we're a good defensive team all around," Liberty junior guard Elijah Cuffee said earlier this week. "I think we take pride in defense, and I know that we really focus on taking what the other team does and trying to limit that. It just happens to be that we've done well against [Cooks] the past couple of times we've played him."
Cooks, a speedy 5-foot-9 guard who has terrorized most teams he's played the past two seasons, hasn't been able to use his quick first step to either get to the rim or create separation for open perimeter shots against the Flames.
He has tallied 11 points on 3-of-34 shooting in three games against the Flames. Those are paltry numbers that pale in comparison to the production he has put up against the other seven conference foes.
Cooks, a second-team all-conference selection last season, is averaging 16.7 points against the rest of the ASUN since the beginning of the 2018-19 campaign.
"I don't think we change the way we guard anybody or any person," Cuffee said. "We've just done well and played well against them by forcing tough shots."
Liberty neutralized Cooks with Cuffee earlier this season and Lovell Cabbil in the two matchups last season, and the rest of the team followed suit in limiting what the rest of the Highlanders were able to accomplish.
NJIT shot 37% from the field in the two games last season and was limited to 38 points on 23.5% shooting in the Flames' 27-point triumph Jan. 4 at the Wellness & Events Center in Newark, New Jersey.
The Flames held Cooks without a field goal. He finished with a season-low three points on 0-of-12 shooting.
"That was seemingly eons ago," Liberty coach Ritchie McKay said of that last matchup against the Highlanders. "We try and take each game for what it is. I think Brian [Kennedy, NJIT coach] does a great job with his group. They run an offense that really promotes the strength of their individual parts, and Zach Cooks in space is one of those components. We'll have to do a really good job on him; he's a really good player."
The only Highlanders to score in double figures in both games last season — forward Abdul Lewis and guard Diandre Wilson — both graduated.
Shyquan Gibbs and San Antonio Brinson scored 13 and 12 points, respectively, in the first matchup this season, but they each shot 4 of 10 from the field.
Brinson, who averages 11.4 points per game this season, had a program-record 37 points in the Highlanders' upset victory at North Florida on Jan. 11.
"They have other players, too, and we've been hurt by some of those guys like Brinson and Gibbs," McKay added. "So again, we have a team defensive effort. We don't change what we do — this is who we are — and hopefully we'll execute it at a high level."
Cooks is averaging 19.4 points per game this season thanks to a current eight-game stretch in which he hasn't scored fewer than 15 points and topped the 20-point mark four times.
He also has played in 198 of 200 minutes in the Highlanders' past five games
Liberty enters this game ranked second in the nation in scoring defense (52.2), sixth in field-goal percentage defense (37.3) and fourth in 3-point field-goal defense (27.8).
Those stingy numbers are reflections of the cohesive manner in which the Flames play in the pack-line defense, and the performance on that end of the court is beginning to trickle down to the offensive side.
The Flames are averaging 17.5 points off turnovers in their current four-game winning streak. They have held an advantage in points off turnovers in nine of the 11 conference games this season.
"I think that we're definitely better than we were at the beginning of the year, but also I would say that we definitely have a lot of room to grow and we could get a lot better," Cuffee said. "I feel like we can be really good defensively by the time March comes around."
Damien Sordelett covers Liberty University athletics and local golf for The News & Advance. Reach him at (434) 385-5550.
Damien Sordelett covers Liberty University athletics and local golf for The News & Advance. Reach him at (434) 385-5550.
Be the first to know
Get local news delivered to your inbox!