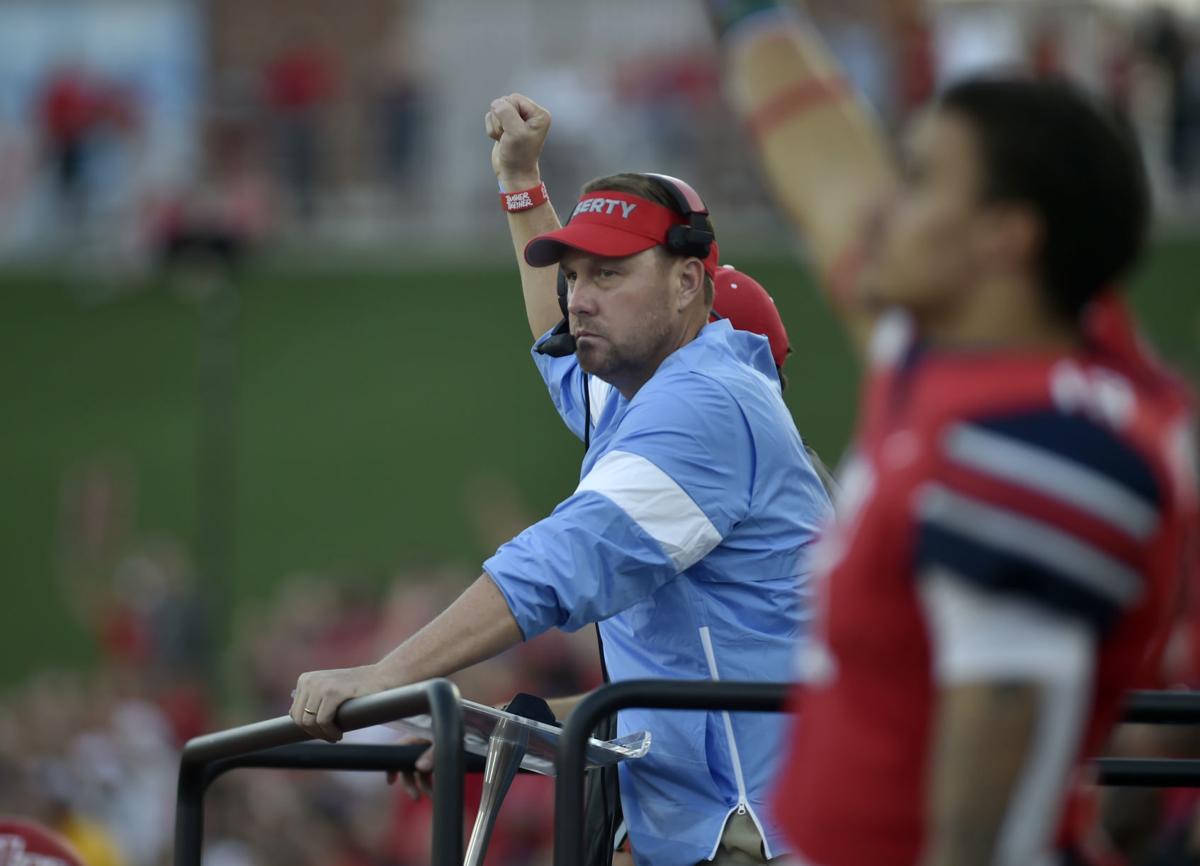 Frank Hickson served as Liberty's running backs coach for five seasons from 2004 through 2008, and during that time, his son, Frankie, got to meet and know the late Rev. Jerry Falwell.
The younger Hickson heard Falwell's vision for the university to be for evangelical Christians what Notre Dame is for Catholics and BYU is for Mormons.
It has been 15 years since Hickson got his first look at Liberty's campus. It has drastically changed in that time, and the football program has evolved dramatically in the past two seasons with the move to the Football Bowl Subdivision as an independent unaffiliated with any conference.
The transition to college football's top tier allowed Liberty to schedule one of the two opponents Falwell dreamed of facing on the gridiron to expand the university's mission — BYU.
The monumental matchup for the Flames is scheduled for 7:30 p.m. today at scenic LaVell Edwards Stadium in Provo, Utah, and will be televised on ESPNU.
"It's a culmination of everything that we've gotten since we've been here, and for me personally, something that I've seen on this campus ... growing for the past 15 years," Hickson said earlier this week. "I actually got a chance to be around Dr. Falwell before he passed away and you think, yeah, it will happen, the vision will happen, but to be around to see it and for it to come full circle, it's amazing. I know that will be a driving force for us this week and on Saturday."
The Flames (6-3) are the new kids on the FBS block, while the Cougars (4-4) have been mainstays among college football's elite since their inaugural season in 1922.
BYU has won 579 games, posted 16 10-win seasons, made 36 bowl appearances, owns the 10th-most victories over the last 50 seasons, spent four of its 244 weeks at No. 1 in the Associated Press Top 25 poll, secured 23 conference titles before becoming an independent, and claimed a national championship in 1984 with a 13-0 record.
Quarterback Ty Detmer won the Heisman Trophy in 1990 and was a finalist for the award in 1989 and 1991. Steve Young, the MVP of Super Bowl XXIX with the San Francisco 49ers, was the Heisman runner-up in 1983.
The Cougars' long record of success and national recognition are major factors in the blueprint Liberty aims to follow as it builds its program.
The Flames' first football season came in 1973 at the NAIA level. They have 241 victories, one 10-win season and eight conference championships.
"It's really cool that [Falwell's] dream basically came true," Flames redshirt junior safety Isaac Steele said. "We're going to go there and represent Christ like always and play for the man upstairs, and it should be a really good game. It's very monumental, and we're going to cherish this moment."
Liberty, in its second season at the FBS level, is one victory away from becoming bowl eligible for the first time in program history. A key to building the program into the equivalent of BYU and Notre Dame is playing in bowl games on a yearly basis to increase the university's exposure in mid- to late-December when all eyes are on the college football world.
It is a goal the Flames are actively chasing over the final month of the season. This matchup, while serving as the first opportunity to become bowl eligible, also marks Liberty's first appearance on national television since transitioning to the FBS.
"It's a huge opportunity, and one that we talked about [Sunday], and we'll embrace it," Flames coach Hugh Freeze said. "I think we've got to put ourselves in a position to where we can get on national TV and play some of the traditional powers that be in college football and be competitive. This is probably our first one that's really on national TV, I guess, and what a great opportunity.
"I think our kids understand that. They understand where we are in the spectrum of kind of what the end of the season could look like. We've got difficult games [against Virginia and New Mexico State to end the season]. It sure would be nice to find a way to win a couple of them."
Damien Sordelett covers Liberty University athletics and local golf for The News & Advance. Reach him at (434) 385-5550.
Damien Sordelett covers Liberty University athletics and local golf for The News & Advance. Reach him at (434) 385-5550.
Be the first to know
Get local news delivered to your inbox!