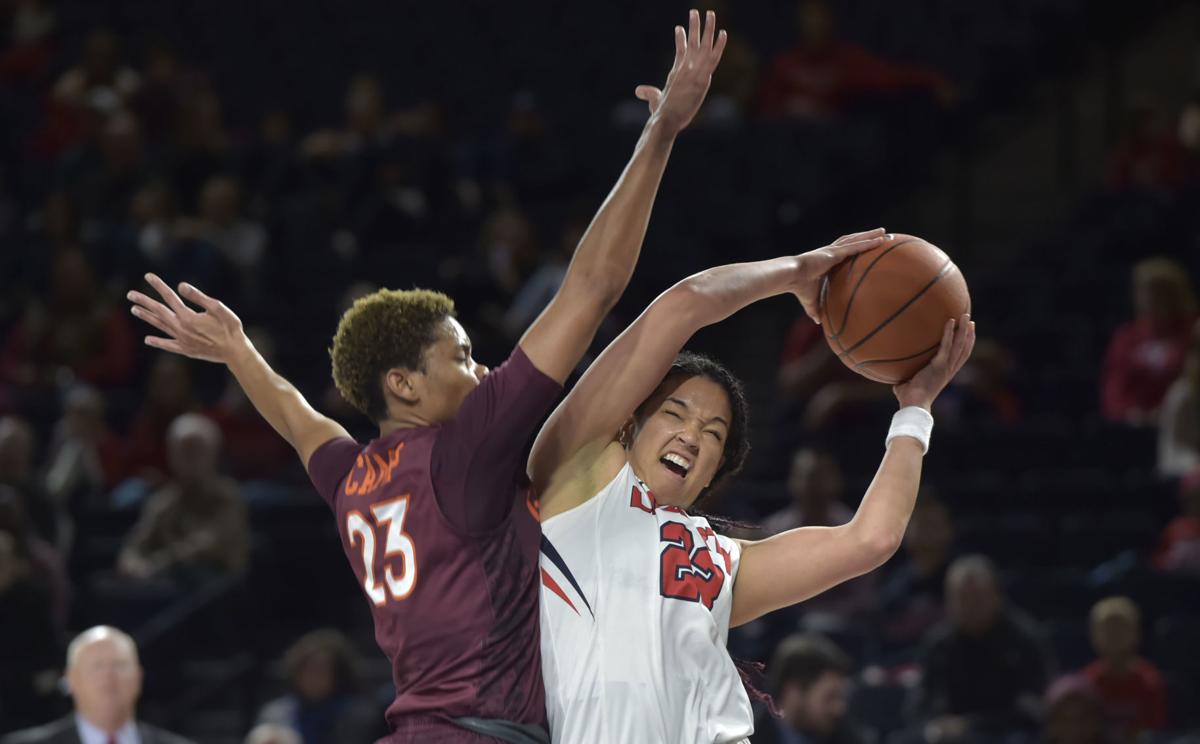 Liberty women's basketball coach Carey Green traditionally has scheduled regional games throughout the nonconference portion of the Flames' schedule. It isn't surprising to see opponents from Virginia, North Carolina and Tennessee littered throughout the slate, with at least two trips for holiday tournaments sprinkled in as well.
This season's field of opponents, though, will feature a much more local flavor as Green aims to reduce the travel budget during the nonconference schedule because of the coronavirus pandemic.
"Scheduling for everyone across the country is going to be unique and different this particular year," Green said Tuesday in a phone interview. "A lot of programs, a lot of universities, a lot of athletic programs are being impacted financially, and we're not immune to that either."
Liberty announced Wednesday morning it will open its road nonconference schedule Nov. 15 with a trip to Blacksburg to play Virginia Tech at Cassell Coliseum.
The game against the Hokies will help to save the travel budget for an ASUN Conference schedule that features trips to New Jersey (NJIT), Tennessee (Lipscomb), Kentucky (Bellarmine), Georgia (Kennesaw State), Alabama (North Alabama) and Florida (Jacksonville, North Florida, Stetson and Florida Gulf Coast).
"We're reaching out and trying to stay closer to home because once we get into conference play, that's a lot of traveling right there," Green said. "We've just got to be sensitive to our university and the opportunities we have and certainly help out as much as we can.
"It's unique. We're navigating through the COVID-19 scenario like everyone else."
Green said Liberty has games scheduled against Norfolk State and Hampton, two in-state opponents the Flames played on the road and defeated last season.
He did not say whether those would be home or road games this upcoming season.
"It would have been good to stay even closer," Green added. "It would be ideal for us, I think, if we had Radford and Longwood on the schedule being close, but they've got to navigate through their situations as well."
Green said Liberty has accepted an invitation to play in the annual Navy Classic, a two-game, four-team event held around Thanksgiving in Annapolis, Maryland. The Flames will make their third appearance in the Navy Classic (2009 and 2016).
The trip continues a trend of Liberty playing in Thanksgiving tournaments on the East Coast. The lone exception came in 2015, when the Flames participated in the South Point Thanksgiving Shootout in Las Vegas with games against No. 11 Ohio State and No. 16 California.
"We're trying to focus by saving our travel budget by playing much closer home-and-home games with maybe even Big South opponents or others that are in-state," Green said, "and not necessarily taking off to California to play in a tournament or things like that."
The Flames announced last week they scheduled road games against Ohio on Nov. 24 and Memphis on Dec. 6. Those games will give seniors Bridgette Rettstatt, Emily Lytle and Ashtyn Baker a chance to play close to home in their final seasons.
Green said he ideally wanted to play at Ohio State for Rettstatt, who grew up about 25 minutes north of Columbus, Ohio, in Galena, but was unable to secure a game with the Buckeyes.
Lytle grew up in Memphis, and Baker was raised 20 minutes south of the city in Nesbit, Mississippi.
"We would always try to schedule hometown ball games if we can," Green said. "We look forward to those games. Those are good quality teams, too. Really good quality teams."
Green said the Flames have to fill two games to complete the nonconference schedule. He said he would like to play locally or in a nearby Christmas tournament to round out the slate.
"We're farther along than we normally have been at this time of year," Green said. "… Scheduling is tough across the country because of budget limitations, and we're no exception to that."
Damien Sordelett covers Liberty University athletics and local golf for The News & Advance. Reach him at (434) 385-5550.
Damien Sordelett covers Liberty University athletics and local golf for The News & Advance. Reach him at (434) 385-5550.