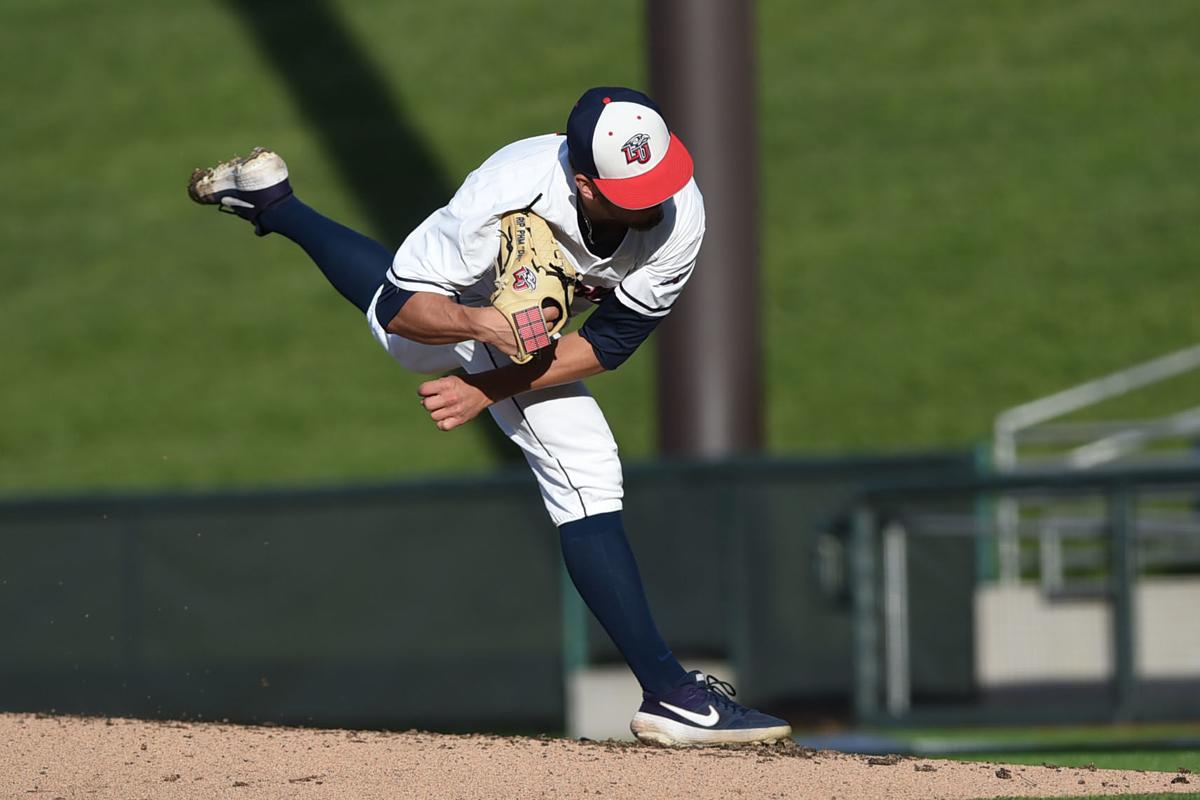 Scott Jackson and Matt Williams spent the majority of the untraditional college baseball offseason looking for ways to improve Liberty's roster. Specifically, the two eyed potential pieces to fill out the pitching rotation. Williams, entering his second season as the pitching coach, wanted to find experience in the transfer portal to add valuable depth and give the Flames more options than they've enjoyed in recent seasons.
Jackson and Williams didn't just hit home runs in the names they found circulating in the transfer portal. They filled out a weekend rotation and back end of the bullpen that should give Liberty plenty of options to be successful in a daunting 2021 season.
"Pitching is what separates a lot of teams," Jackson said earlier this week as he and the Flames open the season Friday in a weekend series at Campbell. "We wanted to be in a situation where we felt like we had a bunch of different options, not to mention the fact these kids are older and their heart rates probably a little lower, and they're experienced.
"When you add those things and stir them all together, I think it really gives us a chance to have a formidable staff that can go out and do some different things with some different looks."
The Flames, the 2019 ASUN Conference tournament champions, remade their weekend rotation with the additions of Maine transfer Trevor Delaite and freshman Trey Gibson.
Those two, in addition to junior Mason Meyer, are expected to toe the rubber this weekend against the Camels.
"He's just as talented as any true freshman I've ever been around," Jackson said of Gibson, "and he's shown unbelievable work ethic and routine and just the discipline that it takes to be able to have that success as a freshman."
Dylan Cumming, a transfer from Chicago State, also could see the weekend rotation when he's not starting midweek games.
The additions of Delaite and Cumming help fill the voids of Noah Skirrow and Joe Adametz. Skirrow signed as an undrafted free agent with the Philadelphia Phillies, and Adametz is out for the 2021 season after undergoing Tommy John surgery in the fall.
"We were fortunate to have an unbelievable recruiting class that has given us a lot of options on the mound," Jackson said. "With COVID and the transfer portal, we were able to get some older, veteran type arms that have really allowed us, I think, to have more depth and more looks and more of a bullpen that really gives us a chance I think to shorten the game more so than we've ever had here. I'm excited about the look of our pitching staff."
With the starters lined up, Jackson found a way to shore up a bullpen that has been predominantly reliant on one or two arms the past few seasons. Garret Price and Evan Brabrand were the frequent pitchers used out of the bullpen in 2019, and before that it was Price and Jackson Bertsch.
Lander transfer Fraser Ellard and Polk State transfer Tyler Germanowski join holdovers Mason Fluharty, Cole Garrett, Landon Riley, David Erickson and Mason Hand to give the Flames eight options with different looks from the mound.
Ellard and Fluharty are left-handed options. Germanowski is the big power right-hander to go with the likes of Garrett, Riley, Erickson and Hand, who each have developed since the 2019 season.
"It's a good look on paper. You've got to go out there and get them in the right roles and we've got to use them the right way and certainly keep them fresh and keep them rested," Jackson said. "On paper, the look is good. From what we've seen in the scrimmages, I really like our depth."
The top-notch pitching should help the Flames with a daunting schedule that features 10 games against five teams from the Atlantic Coast Conference (Virginia, Virginia Tech, North Carolina, Duke and Wake Forest), road weekend series against teams ranked in at least one of the four preseason polls (TCU and Central Florida), and a home series against former Big South Conference rival Coastal Carolina.
"Definitely the level of competition is very appealing this year, because if you want to beat the best, you have to play the best," sophomore Gray Betts said. Betts is expected to share catching responsibilities with Brady Gulakowski and play in the outfield. "I really like the way we're matched up. The amount of Top 25 teams we have on our schedule this year is unbelievable. It's going to be fun to see what we're made of early, especially when we go down to TCU and UCF."
Jackson was adamant the pitching will benefit from a stellar defense all across the diamond.
Logan Mathieu, who missed the 2020 campaign with a knee injury, returns to man first base. Second baseman Will Wagner and shortstop Cam Locklear are solid options in the middle of the infield, and third baseman Trey McDyre was described by Jackson as "probably the most improved player for us defensively since 2019."
Jaylen Guy, Bowling Green transfer Jake Wilson and Flagler transfer Aaron Anderson are expected to patrol the outfield.
"We're complete. I think defensively we're going to be rock solid," Locklear said.
Liberty, when it takes the field for Friday's 5 p.m. first pitch, will be playing for the first time in 345 days. The Flames found out the 2020 season was canceled on a bus trip to play Ohio State, and Jackson has reiterated to his group just how special the chance to play again is for a roster that features a wealth of upperclassmen.
"Excited is definitely an understatement," Betts said. "I'm just really ready to go this weekend and just be out with these guys on the field and be able to compete again against someone that is not in the same locker room as us because, as much as intersquading is fun, it definitely gets a little bit old when you're doing it day-in and day-out for almost a year now."