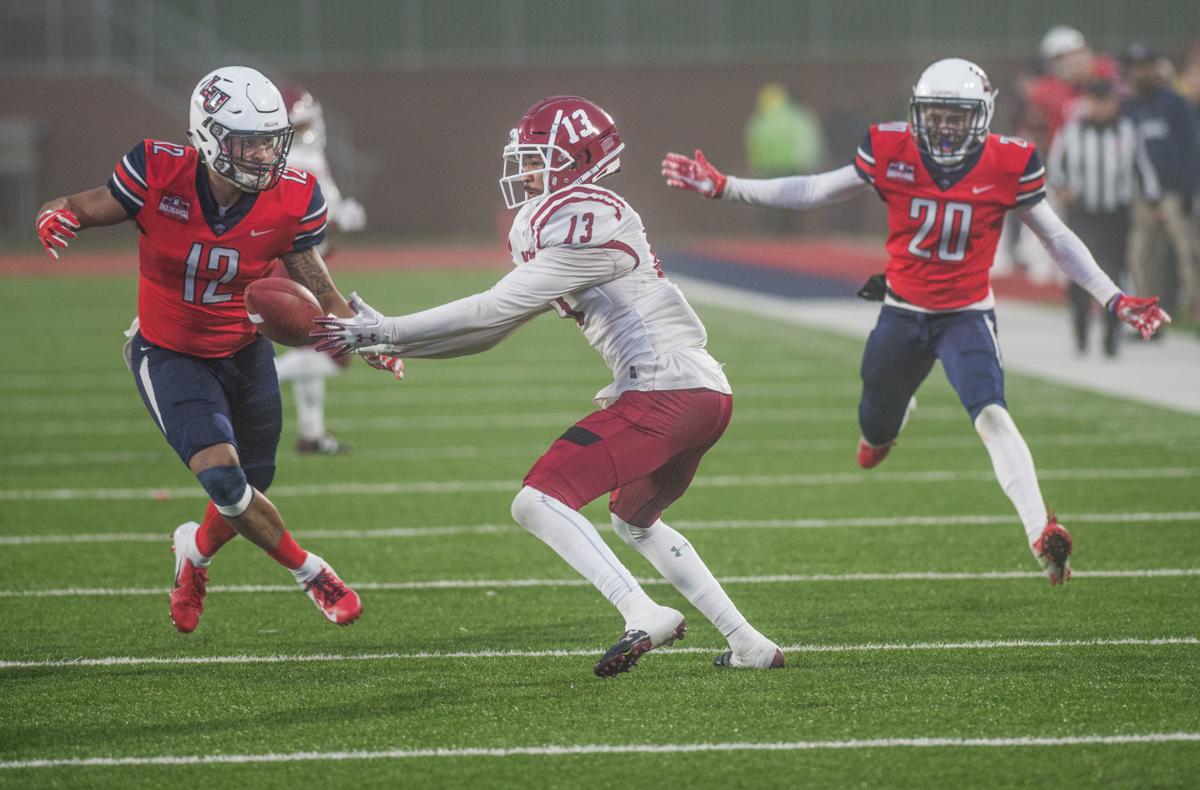 Liberty defensive linemen Jessie Lemonier and Ralfs Rusins temporarily forgot they were on the dais for the Flames' weekly press conference Monday and entered their own discussion on facing New Mexico State for the fourth time in two seasons.
"It's just another game, basically," Rusins said as both chuckled.
"You try to make it into something because I know we're about to be scheduled with them for like, sheesh, for the next 10 years, however many years?" Lemonier wondered aloud as he turned to his right to face Rusins.
"We even play them next year? I don't know?" Rusins retorted with a shrug.
"I don't know. What do you think?" Lemonier quickly asked.
"I just like one game at time," Rusins simply stated. "If we have to play the same team again, OK, let's play them. I just go like that."
The banter lasted roughly 10 seconds before the two returned to answering questions about the Aggies, who visit Williams Stadium in Saturday's 2 p.m. regular-season finale.
The pair will take part in the fourth matchup between the Football Bowl Subdivision programs dating back to the inaugural meeting Oct. 6, 2018.
The unique in-season home-and-home series in back-to-back seasons was necessitated by both programs becoming independent at the same time — Liberty through transitioning from the second-tier Football Championship Subdivision and New Mexico State entering the independent realm after its affiliation as a football-only member of the Sun Belt Conference ended.
The Flames and the Aggies both needed games to fill both the 2018 and 2019 seasons, and the opportunity presented itself for the teams to meet twice in the same campaign to prevent more than two FCS teams from appearing on Liberty's schedule.
The teams split the two meetings last season — both winning at home — and the Flames claimed a 20-13 victory earlier this season to take a 2-1 edge in the series.
Liberty (6-5) needs to complete the season sweep to become bowl eligible.
"A lot of people say it's a disadvantage because it's hard to beat a team that's fairly equal to you twice in one season," Flames coach Hugh Freeze said earlier this week. "You could look at it from the other aspect and say we're very familiar, so we have a good knowledge of the gameplan and the ones we have to stop. I think it just depends on who you talk to, whether it's an advantage or disadvantage. I think it will come down to which team prepares the best and makes the fewest mistakes today."
Freeze is completing his first season in Lynchburg, and this marks the first time he is facing a team twice in the same regular season.
"Certainly it's unique," he said.
The players who have been on the field twice in the same season against NMSU, like Lemonier and Rusins, have an understanding of how to mentally and physically prepare for the common opponent.
"Anything can happen on a Saturday, so you can't look at the past," Flames redshirt senior running back Frankie Hickson said. "You can look at some things that they did from film to see if we can't get the same looks offensively and defensively and special teams."
Running back Joshua Mack's performance highlighted the Flames' Oct. 5 victory. He rushed for a game-high 113 yards and scored the go-ahead 4-yard touchdown with a little more than six minutes remaining.
The game-winning score came one play after he turned a screen pass into a 54-yard gain.
"I remember those two plays specifically because it kind of helped us get the win," Mack said. "We know they're going to fight. We know they have nothing to lose, … but we have to continue to play our football and stick to what we know."
Quarterback Buckshot Calvert threw for 172 yards to mark the only time this season he has thrown for less than 200 yards.
"They did a good job of mixing their coverages up, sometimes clouding to the boundary or sometimes even clouding both sides of the field, rush three and drop everybody else," Calvert said. "They mixed up their scheme a little bit. We expect for them to come out and try to play us the same way, just try to stop the pass game, and once they see that the ball is handed off, they're going to try to run to the ball as fast as possible and make tackles."
The Aggies (2-9) enter riding a two-game winning streak with victories over FCS program Incarnate Word and Texas-El Paso.
NMSU's season ends after this matchup, and the Aggies will have to wait until Nov. 26, 2022 to play the Flames again. The teams have a two-year respite from each other before closing the 2022 season in Lynchburg and completing the 2023 campaign in Las Cruces.
Damien Sordelett covers Liberty University athletics and local golf for The News & Advance. Reach him at (434) 385-5550.
Damien Sordelett covers Liberty University athletics and local golf for The News & Advance. Reach him at (434) 385-5550.
Be the first to know
Get local news delivered to your inbox!