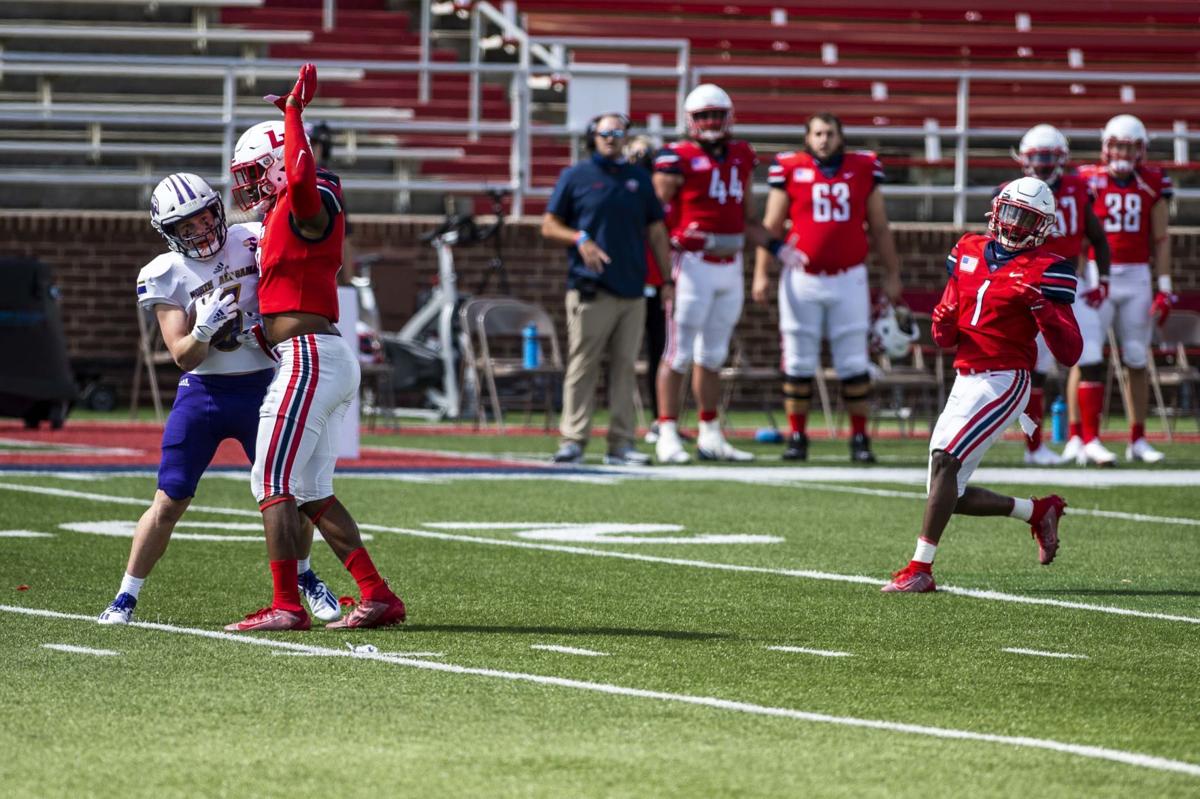 Former Liberty Christian Academy standout Michael Strachan and ex-Liberty University linebacker Anthony Butler are both heading to the same franchise following Saturday's third day of the NFL Draft.
Strachan was selected by the Indianapolis Colts in the seventh round with the 229th pick. Then it didn't take long following the draft's conclusion for Butler to be signed as an undrafted free agent with the AFC South team.
The 6-foot-5 Strachan played at Division II Charleston and caught 127 passes for 2,332 yards and 27 touchdowns in his three seasons with the program. He claimed second-team All-America honors in 2019.
Butler shined in his one season with the Flames. He became an anchor for the defense at middle linebacker with 67 tackles, four tackles for a loss, six passes defended and two interceptions.
Lynchburg 5, Randolph-Macon 0: The second-seeded Hornets (14-2) only dropped three points and swept the seventh-seeded Yellow Jackets (6-6) in the Old Dominion Athletic Conference quarterfinals at Lynchburg Tennis Courts.
Christina Harris and Elizabeth Teefey won 6-0, 6-0 at Nos. 1 and 2 singles, respectively. Alissa Anderson and Lauren Pascadlo (Jefferson Forest) won 8-0 at No. 2 doubles.
UL hosts Sweet Briar in Wednesday's semifinals.
Sweet Briar 5, Emory & Henry 2: In Sweet Briar, Ruth deSouza's 6-1, 6-2 victory over Payton Holt at No. 1 singles allowed the third-seeded Vixens (14-5) to defeat the sixth-seeded Wasps (8-6) in the ODAC quarterfinals at Van Der Meer Tennis Center.
Allison Wandling, who won in straight sets at No. 2 singles, teamed with de Souza to win at No. 1 doubles.
Kate Kotany won at No. 3 singles and teamed up with Isabella Guilarte to win at No. 2 doubles.
Lynchburg 4-6, Guilford 1-0: Emily Charlton pitched a five-hitter in the opener, and Angela Sperandeo followed with a four-hit shutout in the nightcap as the Hornets swept the Quakers in the ODAC quarterfinals at Moon Field.
The No. 3 seed Hornets (27-15) play either Emory & Henry or Ferrum in Wednesday's semifinals. The Wasps host the Panthers in a doubleheader Sunday.
Sperandeo recorded her first career shutout with the victory.
Bri Hodges' two-run first-inning double highlighted a four-run frame that gave Sperandeo all the run support she needed.
Hodges also drove in two runs in the opener as UL scored four unanswered runs to back up Charlton, who did not allow an earned run and struck out two.
Grace Calus went 2 for 3 in the opener for the Quakers (10-13-1).
Liberty 5-1, Kennesaw State 0-0: In Kennesaw, Georgia, Karlie Kenney and Emily Kirby each tossed shutouts at Bailey Park as the Flames (36-12, 15-2 ASUN) secured the No. 1 seed in the ASUN North Division for the upcoming conference tournament.
Liberty will host Lipscomb in a best-of-three quarterfinal series.
Keeney (14-4) allowed five hits, walked two and struck out one in the opener.
Autumn Bishop drove in three runs and Emily Sweat homered to prove Kenney plenty of run support.
Kirby (11-4) threw her seventh shutout of the season. She struck out nine and allowed four hits.
Blake Gibson scored the game' lone run on a throwing error.
Liberty 8, Bellarmine 7: Brady Gulakowski went 3 for 4 and hit the go-ahead home run in the seventh inning as the Flames (29-11, 13-1 ASUN) outlasted the Knights (12-26, 7-13) at Liberty Baseball Stadium.
David Erickson (8-1) pitched three scoreless innings to record the victory. Fraser Ellard struck out two in a perfect ninth to pick up his fourth save.
The Flames led 7-6 after the third inning thanks to three of Gulakowski's four RBIs.
Gray Betts and Will Wagner each had two hits. Betts has reached safely in 29 straight games.
Lynchburg 11, Hampden-Sydney 9: Bretty Rogers and Chris Darmininio scored in the final 2½ minutes to give the No. 4 Hornets (14-2, 8-1 ODAC) a thrilling victory over the No. 16 Tigers (11-2, 8-1) at Shellenberger Field.
The victory gave UL the No. 2 seed in the upcoming ODAC tournament. It will host a semifinal game Thursday.
Grayson Ackaway scored off an assist from Nick Morgan with 3:01 remaining to tie the game at 9-all.
Rogers scored unassisted 35 seconds later to put UL ahead for good, and Darminio tallied the insurance goal off an assist from Ryan Kenney with 32 seconds remaining.
Colin Dean scored four goals and Kenney added three goals for the Hornets.
Jared Medwar scored three times for H-SC.
Roanoke 30, Randolph 0: Quinn Evans scored five goals, Matt Hemmert added four, and the Maroons (7-3, 5-2) blasted the WildCats (1-13, 0-10) at WildCat Stadium.