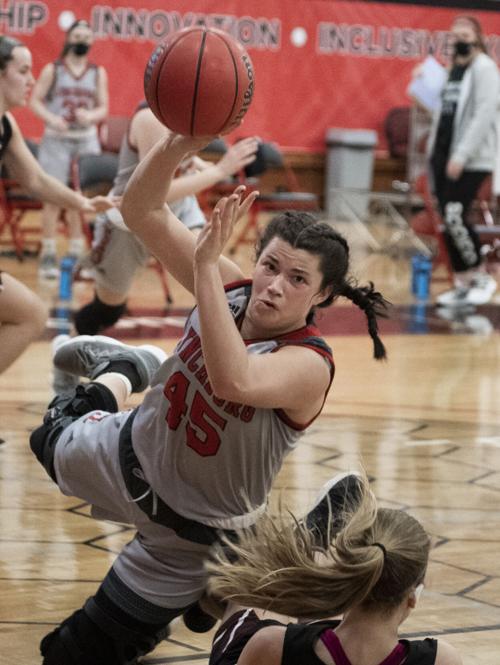 The awards rolled in for Lynchburg forward Abby Oguich.
The junior was named to a pair of All-America women's basketball teams Thursday. She was named to D3hoops.com's second team and was an honorable mention selection by the Women's Basketball Coaches Association.
Oguich, the Old Dominion Athletic Conference player of the year, also was named the College Division All-State player of the year Virginia Sports Information Directors (VaSID).
She led the Hornets to their second ODAC championship by averaging 14.9 points and 9.5 rebounds per game while shooting 57.5% from the field.
D3hoops.com previously named Oguich a second-team All-South Region selection.
Erin Green, Oguich's teammate, was named the VaSID defensive player of the year and is the first Lynchburg player to earn that distinction. Katie Crump, who served in an interim role this season, was tabbed the VaSID coach of the year after collecting the same honor from the ODAC.
Randolph's Kyle Stark, a Lynchburg native, was named the VaSID rookie of the year. The Brookville High graduate is the first player in program history to claim the award after averaging 17.4 points in 38.8 minutes per game. She led the ODAC in both assists (33) and steals (32).
UL's Mullins claims national award
Lynchburg graduate student Colton Mullins, an Appomattox County High product, was named the Intercollegiate Tennis Association's Universal Tennis Rating Division III men's player of the week.
The honor is awarded to the player who makes the biggest change in UTR rating over the past week. Mullins teamed with Vincent Oliver to win at No. 1 doubles over Randolph-Macon's Max Hammond and Inigo Suescun, and then defeated Hammock at No. 1 singles.
Those victories helped Mullins increase his mark 0.38 points to 7.85.
Liberty claims four major ASUN honors
ASUN Conference champion Liberty secured four of the major league postseason awards Thursday.
Nicaise Muamba was named the ASUN player of the year for the second time, Deji Thomas-Smith and Christiaan Worst were selected as the ASUN doubles pair of the year, Derek Schwandt was tabbed the ASUN coach of the year, and Josh Wilson was named the ASUN scholar-athlete of the year.
WOMEN'S OUTDOOR TRACK & FIELD
Liberty secures 3 major VaSID awards
Liberty's Lance Bingham, Adelyn Ackley and Meredith Engle were honored by the VaSID in its University Division women's indoor track & field honors.