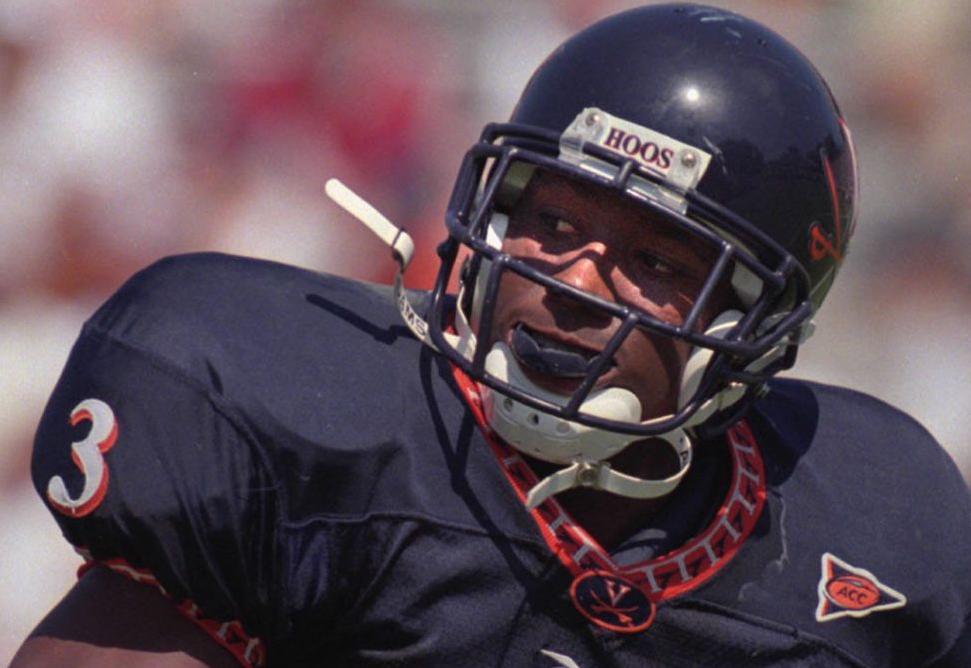 Anthony Poindexter, who has been elected to the 2020 College Football Hall of Fame, will be honored by the University of Virginia and The National Football Foundation (NFF) & College Hall of Fame during Saturday's game at Scott Stadium between UVa and Duke.
The NFF Hall of Fame on-campus salute will take place during the game that kicks off at 12:30 p.m. Poindexter will accept a Hall of Fame plaque that will stay on permanent display at UVa.
The Forest native will be inducted officially into the College Football Hall of Fame during the 63rd NFF Annual Awards Dinner on Dec. 7 at the ARIA Resort & Casino Las Vegas.
"Regarded as one of the fiercest hitters in the game during his career, Anthony Poindexter ranks among the best defensive backs in Virginia history," NFF President & CEO Steve Hatchell said in a release. "We are thrilled to honor him at Scott Stadium."
Poindexter is just the second player in UVa history to be a two-time first-team All-American. He also was the 1998 ACC Defensive Player of the Year and was a finalist for both the Thorpe and Nagurski Awards while playing for College Football Hall of Fame coach George Welsh.
Poindexter is being honored during Penn State's off week. He is in his first season as the Nittany Lions' co-defensive coordinator and safeties coach.
Liberty 9, VMI 1
Shane Geisler and Michael Huss scored two goals apiece as the Flames (6-4) blasted the Keydets (1-12) at Osborne Stadium.
Liberty led 6-0 at the half, and Geisler scored both of his goals in the final 12 minutes.
Noah Holmes, Luke Eberle, Gabe Findley, Gora Gora, Huss and Brandt Betts scored in the first half for Liberty.
Grant Martin scored in the 61st minute for VMI's lone goal.
SBC's Narang finishes second at Knights Invitational
Sweet Briar freshman Amani Narang finished the two-day Knights Invitational with a score of 1-under par for second place on the individual leaderboard at Vista Links in Buena Vista.
Narang finished three shots behind Bridgewater's Sophia Martone.
The Eagles shot 45 over to win the team title.
The Vixens finished fourth at 135 over.