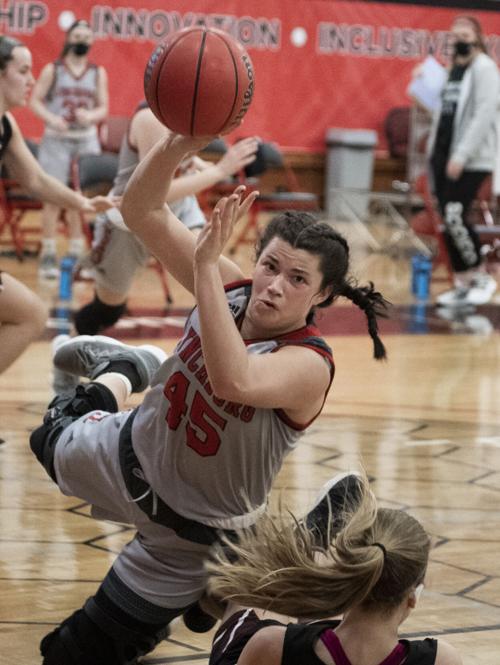 Randolph guard Kylie Stark made the most indelible impression among the women's basketball freshmen in the Old Dominion Athletic Conference. Lynchburg forward Abby Oguich was the best player on the team that won the league's tournament title.
They hauled in two of the ODAC's top honors Tuesday.
Stark, a Lynchburg native and Brookville High grad, was named the conference's rookie of the year, and Oguich was tabbed the league's player of the year.
UL's Katie Crump was named the coach of the year after leading the Hornets to an 11-1 record and a 67-61 victory over Roanoke in the ODAC tournament title game.
"I had a great team, great coaching staff. It was really a great freshman experience," Stark said, "and although it wasn't the outcome I wanted it to be, we wanted it to be, it was still a great starting season to really set the foundation for the next three years."
Stark led the ODAC in minutes per game (38.8), assists (33) and steals (32). She ranked third in scoring at 17.4 points per game, and her 45 free throws were second in the conference.
"I feel like I brought an energy to the team. I just went out there and worked as hard as I could every game, did everything I could," Stark said. "… I wanted to play my role and do everything I could to get the win."
Oguich averaged 14.9 points and 9.5 rebounds per game, shot 57.5% from the field, and posted her sixth double-double of the season in the ODAC title game triumph over the Maroons.
The Midlothian native was named the 2020 ODAC rookie of the year.
Stark is the second player from Randolph to earn rookie of the year honors, joining Tara Carleton in 1997. Stark also is the first Randolph player to garner all-conference accolades since Abigail Bullins in 2015.
"I don't expect anything given to me," Stark said, "so I just go out there and work as hard as I can."
Lynchburg wins Greenbrier Collegiate Invite
In White Sulphur Springs, West Virginia, freshman Emily Brubaker claimed medalist honors and Lynchburg cruised to the team title in the Greenbrier Collegiate Invite held at the Meadows Course.
Brubaker shot even par in Tuesday's second round and finished at 1-under 143 for her second medalist honor of the campaign. She also won the rain-shortened Johnson & Wales University Spring Invitational in March, an event the Hornets won.
Lynchburg finished with a team score of 46 over and was 43 shots ahead of second-place Southern Virginia.
Ivy Foran finished in a tie for fourth at 12 over. Emily Erickson finished seventh and Gracie Cannon came in ninth.
Sweet Briar finished eighth at 224 over. Annika Kuleba finished in a tie for 14th.
Virginia Wesleyan 1, Lynchburg 0
In Virginia Beach, Carleigh Van Reenen scored off an assist from Kennedi Anders in the 23rd minute as the fourth-seeded Marlins (5-2-1) edged the fifth-seeded Hornets (5-4) in the ODAC tournament quarterfinals at Foster Field.
Katie Pierson recorded five saves for UL. VWC's Rachel Quigley stopped the only shot she faced.
Lynchburg 4, Greensboro 1
Garrett Jackson delivered a pair of two-run doubles to lift the Hornets (16-8) to a pair of victories over the Pride (8-9) at Fox Field.
Jackson's two-run, walk-off double in the 10th inning of the first game gave UL a 13-11 victory in a game that was originally suspended April 1 because of darkness.
The Hornets' designated hitter rattled off his second two-run double in a three-run fifth inning to give UL a 4-0 lead.
Michael Reiskind (2-0) picked up the victory in the nightcap by allowing only one hit in five scoreless innings. Santiago Meneses recorded the save with a scoreless ninth inning.
Liberty 12, Virginia 3
In Charlottesville, three Liberty players drove in three runs apiece, and the Flames (23-12) scored five times in the top of the sixth to rout the Cavaliers (11-19) at Palmer Park.
Autumn Bishop (2 for 3) hit a three-run homer in the top of the fourth that put LU ahead 7-1, and her twin sister Amber Bishop-Riley (2 for 3) rattled off a bases-clearing triple in the top of the sixth that sparked the five-run frame.
Denay Griffin went 2 for 3 with three RBIs. Kara Canetto went 3 for 4 with a double, triple and two RBIs.
UVa first baseman Ashley Jennings (Jefferson Forest) went 0 for 3. Madison Harris (Brookville) allowed five runs (three earned) on four hits in 1 1/3 innings of relief.
Lynchburg 9-8, Randolph 4-0
Kayley Cox and Cassie Powell combined on a one-hitter in the nightcap; Bri Hodges drove in three runs, and the Hornets (13-9, 5-1 ODAC) swept a doubleheader against the WildCats (5-9, 0-2) at Moon Field.
Cox (4-1) allowed one hit and struck out three in four innings, and Powell struck out two in a perfect fifth as UL won the nightcap in five innings.
Kayla Hugate's two-run triple capped UL's three-run second inning for a 4-0 lead.
Dominique Irving (Amherst County High) had RC's only hit in the nightcap.
In the opener, Paige Naples (Liberty High) had a bases-clearing double to give RC a 3-0 lead.
UL scored six times on four hits in the fourth inning to take the lead for good, highlighted by Sophie Talley's two-run single that chased RC starter Braelyn Cooper (Amherst).
Cooper (2-1) allowed six runs (five earned) on three hits in 3 1/3 innings.
Emily Charlton (2-1) allowed one unearned run on two hits and struck out three in 6 1/3 innings of scoreless relief to record the victory.
Eastern Mennonite 3, Sweet Briar 0
In Amherst, Morgan Tricarico and Brandy Troutman each scored a goal, Ann Gally recorded five saves, and the Royals (3-3, 3-3 ODAC) defeated the Vixens (1-3, 1-3) at Amherst County High School.
Lynchburg 5, Sweet Briar 4
In Sweet Briar, Christina Harris rallied to defeat Ruth de Souza 2-6, 7-5, 6-3 at No. 1 singles to secure the victory for the Hornets (8-1, 5-0 ODAC) over the Vixens (8-5, 4-2) at Van Der Meer Tennis Center.