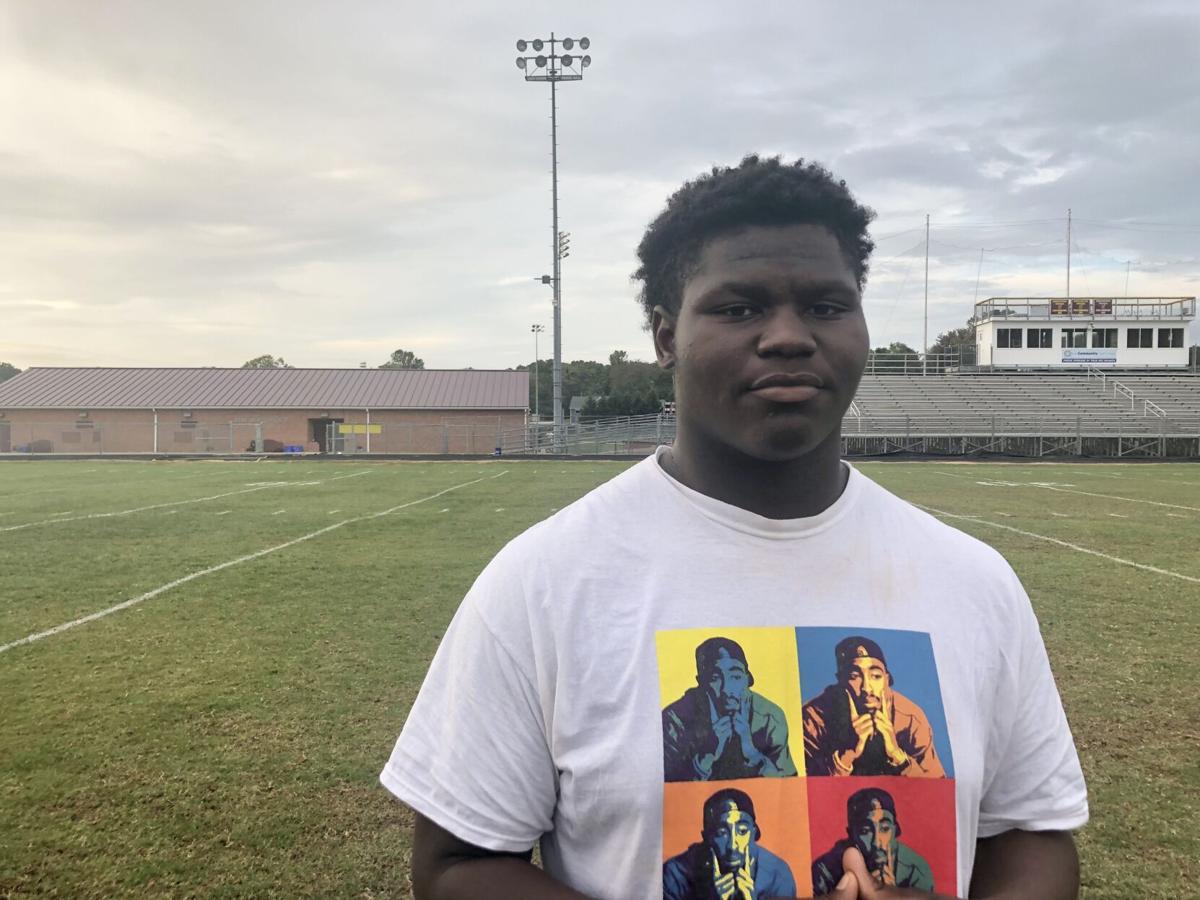 It's Thursday, the day before Brookville is slated to take on Heritage, and Jaylan Pannell looks down at his right knee. 
"You see it?" he asks. "Looks like I got two kneecaps. Crazy." 
The 15-year-old sophomore lineman is referring to a condition he began suffering from in middle school. By the time he reached seventh grade "My leg was completely bowed out," he adds. 
Football, a sport he'd loved playing since age 6, was out of the question. 
Somehow, he's playing football again. Somehow he's earned a starting role and now stands on the field at Stinger Stadium, where his hopes of making blocks and tackles once seemed like just a far-away dream. It's the afternoon before a big game and, somehow, he's smiling as he recalls the long journey back to the gridiron that seems like a sort of minor miracle. 
The big guy at offensive guard wearing No. 44 for the Bees endured numerous surgeries to repair his right leg. Pannell remembers another kid falling on his leg when he played in a travel football league years ago. It hurt, but he played through it. A couple years later, he said, his leg began to bow. 
"It was some growth plate thing," Brookville coach Jon Meeks said. "He never broke it, never did anything wrong. It just kind of did it on its own."
Pannell and his mother, Kesha, went to get a doctor's opinion, and it felt like a crippling blow to the youngster. 
"He said I would never play football again," Pannell said. "When he said that to me and my mom, at first I wasn't cryin' but as soon as I got to the car I fell on the ground ad starting bawling."
Another doctor told Pannell he had growth plate problems. He underwent surgery to have two screws and a plate inserted into his knee. But that procedure didn't work well, Pannell said, and his knee still bowed out. He underwent another surgery, after which his leg became infected. 
As a freshman back in the spring, he stood around on the field just so he could hang around the team. That's how much Pannell loves football.
"He came out every day, even knowing he might not have a shot to play," Meeks said. 
On game nights, he'd stand on the sideline, hoping his leg would heal and he'd one day hit the gridiron. 
"If players needed something, I'd go get it," he said. "It made me kind jealous. One game I came out here and shed a couple tears and went back inside because I really wanted to play."
He watched the team go 6-0 in the abbreviated season. Was inspired by his friends and the way Meeks coached them. And Pannell kept working out however he could, with pushups and leg presses, determined to get back on the field. 
Meeks remembers seeing Pannell play years ago. He was excited for the burly lineman's future. 
"I remember thinking, 'This kid's really good," Meeks said. "But his leg got progressively worse. I mean, it's a blatant bow out. And it just doesn't look right. It looks painful when he runs. He's dominating, and I remember thinking if we can ever get that fixed, he gonna be a monster on the field. ...
"After surgery after surgery and all the things they did, it didn't look like he was gonna get to play. But they gave it one last shot about a year ago, and whatever they did, you would never know. Watch him play and you'll never know. He's taken a starting role as a 10th grader, and this is a kid two years ago I didn't know if I would be lucky enough to coach."
Pannell also rotates in on the defensive line for Brookville. 
Even after he was cleared to play, Meeks and his staff were nervous about using him. They didn't want to throw him in the fire immediately. But Pannell kept improving in practices and earned a starting slot after impressing coaches in Brookville's two 2021 scrimmages. 
Meeks was glad to see it. All Pannell's hard work had paid off. 
"He's one of the neatest kids," Meeks said. "He's everybody's favorite. He's a live personality, and you just can't help but love the kid."
Pannell stands off to the side as Meeks says this, well out of ear shot. He's changed out of his uniform and sports a Tupac T-shirt. And it was Tupac who said, "I know it seems hard sometimes but remember one thing: through every night there's a brighter day after that. So no matter how hard it gets, stick your chest out, keep your head up and handle it."
Pannell stands tall on the turf at Stinger Stadium and smiles. "Feels like I made it," he says when asked about earning a starting spot. "But still not to where my goal is. My goal is to go Division I in college. But I'm one step closer to actually doing it."