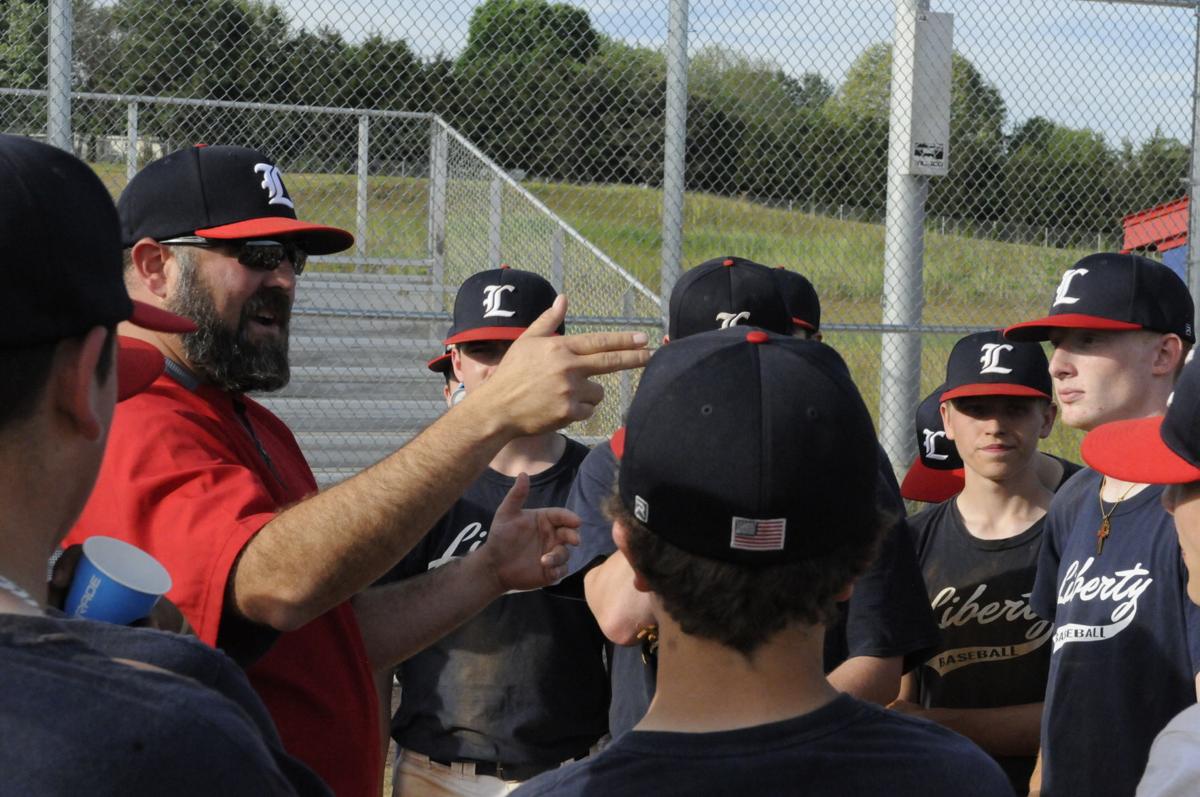 When Jeremy Sink was growing up in Buchanan, volunteering wasn't a flippant, occasional act. It was an expectation, something to be taken seriously.
His father was a volunteer firefighter, and the son eventually joined ranks as a junior firefighter. In high school, Sink headed several student-led organizations, reported his school's news and played three sports every year.
He was always on the go. Still is.
The 39-year-old Liberty High baseball coach recently began mulling over ways he could become more involved in his community. The Liberty football program needed an extra assistant to bounce between the JV and varsity squads, so Sink stepped aboard. The girls basketball team was short handed, so he plugged that spot, too.
The guy with a wife and two young kids, who hosts baseball clinics throughout the year, has served as PA announcer for basketball games and helped out the track & field team in addition to his full-time teaching gig at LHS, just kept piling on extra duties.
Not for attention, of course. There are other, flashier ways to get that. Sink just wanted to go all in. Wanted to pass along some of the lessons he'd been taught.
For instance: care for your neighbors — that's another lesson Sink learned early in life. He grew up hearing stories about his grandfather, Charlie Sink, who owned a general store, Sunset Grocery, in Buchanan. Charlie, people said, would do just about anything for anyone in town. Sunset Grocery was a place people could open a line of credit of sorts to get by until their next paycheck arrived. But the store was swept down the James River in the Flood of 1985, one of the deadliest natural disasters in this state's history.
"That's when you saw the best in people," Sink recalled. "Everybody was helping everybody," pumping out basements, helping each other save family relics, storing clean water for people who didn't have access to it.
He was 5 at the time, but Sink has never forgotten watching everyone come together.
So when he arrived in Bedford in 2018 after recent coaching stints at E.C. Glass and the University of Lynchburg, Sink felt right at home. This, he told himself, was the place he'd set down his roots, the community to which he'd give his all. His family had always been involved in the goings-on of Buchanan. Heck, people had even joked that Sink would become mayor of the tiny town someday. Bedford, he decided, could be a place like that for his own growing family.
He started with the baseball team. The goal wouldn't be just to win but to "bring kids together to do amazing things in the community."
The first season, in 2019, was like a roller coaster. Liberty got thrashed more than a few times and also strung together a respectable winning streak near the season's end. But again, it's not always about victories.
One day, Sink took his players to Smith Mountain Lake, where they took in a picturesque view of the Peaks of Otter.
This is your community, Sink told them. A place you can be proud of. A place where you can make a difference.
Another time, the Minutemen took a trip over to the old Green's Drug Store, which houses a tribute center to the Bedford Boys.
They listened to stories about wartime and sacrifice, heartbreak and healing.
This is the town you get to play for, Sink told them. One that's steeped in tradition. A place that's produced heroes.
There are people like Sink all around this area. Folks who toil in the trenches.
They give of their time so schools can function properly. Do their best to keep students from getting left behind. And they hope that maybe, just maybe, those kids will learn values like commitment, hard work and sacrifice.
If we do our best to keep passing along those virtues, they have a chance to last forever.
Get in the game with our Prep Sports Newsletter
Sent weekly directly to your inbox!