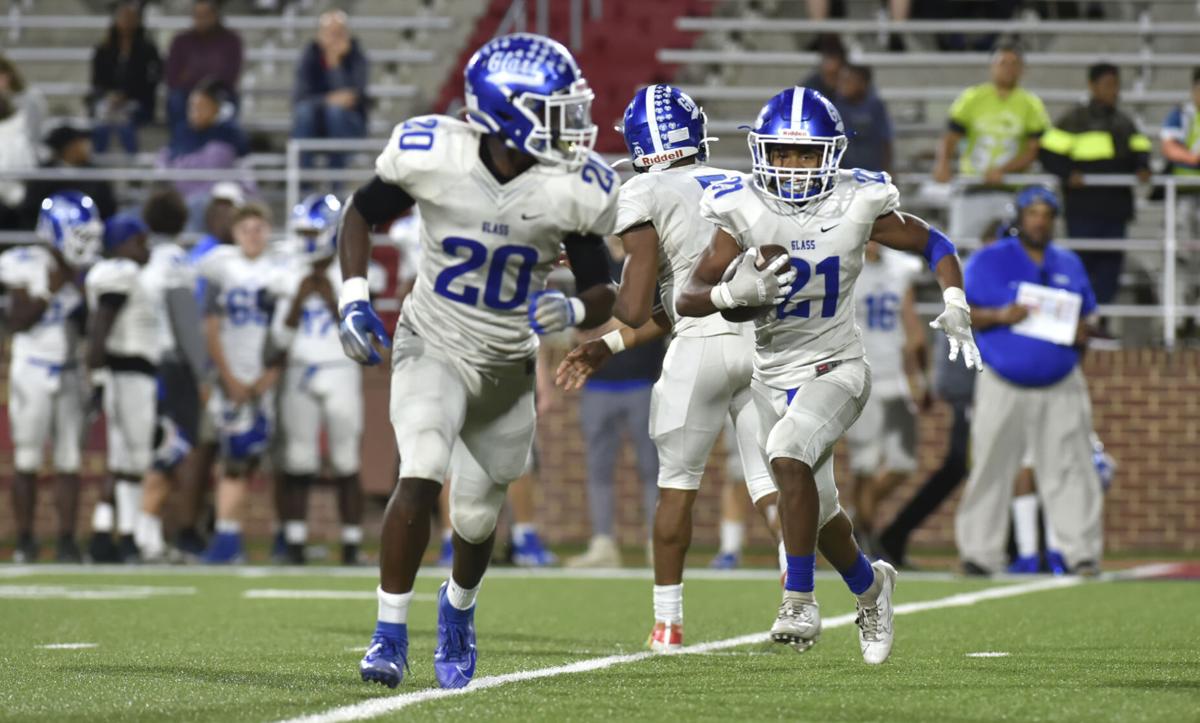 Last week, the Lynchburg Beacon of Hope announced it had received a rare gift: a $20,000 pledge from a group of anonymous donors, to be distributed over a four-year period and aiding E.C. Glass football players whose goal is to play at the collegiate level.
Guidelines for the funds, named the Hilltopper Football Alumni Scholarship, state that $5,000 will be made available annually, beginning in 2022, and awarded to one or two Glass seniors each year who may lack the necessary funds to attend college.
The goal, according to Beacon of Hope's executive director Laura Hamilton, is to "help foster a culture of hard work, perseverance, and hope among current and future Hilltopper football players and families."
Here's the thing about poverty: it is suffocating in nature, affecting not only how you see the world but how the world judges you. It is a stain, one so difficult to scrub off that you'll wear yourself down just trying to remove it. A scent so powerful that it follows you, unrelenting, everywhere.
E.C. Glass football coach Jeff Woody estimates that, on average, 65 to 70% of players who make up his roster each year live below the poverty line. That's a shocking, shameful statistic, and my guess is the group of donors who have bonded together would agree.
To grow up so poor means you aren't sure where your next meal will come from, or where you'll be living next month. It means you might not be able to afford cleats that are a necessity if you're gonna run your way from the bottom to the top.
It means you might grow up on the lower end of Rivermont Avenue, a street that displays both immense wealth and extreme poverty all within the span of a few miles.
It means you learn to live without — even without the small treasures that would make every day bearable.
And it means that, while you're forced to focus on simply surviving each day, you also have to plan for your future, not knowing where the money to attend college will come from, unsure of how you'll pay for textbooks or food or sheets to sleep under or new clothes for a new life.
And it means, as Hamilton noted, that a $1,000 bill appears so insurmountable "it may as well be $1 million."
The new effort — one of three new multi-year scholarships totaling more than $270,000 for Lynchburg City Schools students that will be unveiled by Beacon via a press conference scheduled for 11 a.m. Tuesday at the Lynchburg Regional Business Alliance — is aimed at closing the wealth gap at E.C. Glass. Alone, it will not lift a student out of poverty. But it can set them on the path to a brighter future. (It's worth noting here that very few athletes receive all-expenses-paid Division I scholarships. Most athletes who play at the next level will do so in Division II or III, where there is often little money available from colleges.)
The donation, which Hamilton said is a rare gift, will give "players hope and a reason to come out and continue playing." Beacon of Hope, she added, is already receiving indicators that other E.C. Glass alums are interesting in matching the donation or adding to it.
To receive the scholarship, students first will be nominated and then selected. "We're not giving this out for free," Woody said. "They have to earn this."
In addition, the Bryan-Wade Trust Fund — which began in the 1980s by providing basketball shoes to underprivileged players and has since far outgrown that goal — has money left over this year and will use it for a wide variety of athletic aids — such as helping students purchase equipment or attend camps or prep for the SAT. It is, Hamilton said, an example of the community wrapping its arms around those less fortunate.
I want to tell you that so many poor kids across Lynchburg hope sports will serve as their ticket to an education, and that an education may be their ticket out of poverty.
I need you to believe that they sacrifice their bodies for this idea every week, that they are willing to go through all sorts of injuries to accomplish their goal.
I need you to know that they look up into the stands each night and point to their mothers and say "I got you," and by that they mean they'll find a way to provide for the woman who has given so much.
I need you to understand what they believe: that there's a path forward. That the light that once seemed so distant and dim may now appear a little brighter. That someone cares. That the streets will not win.