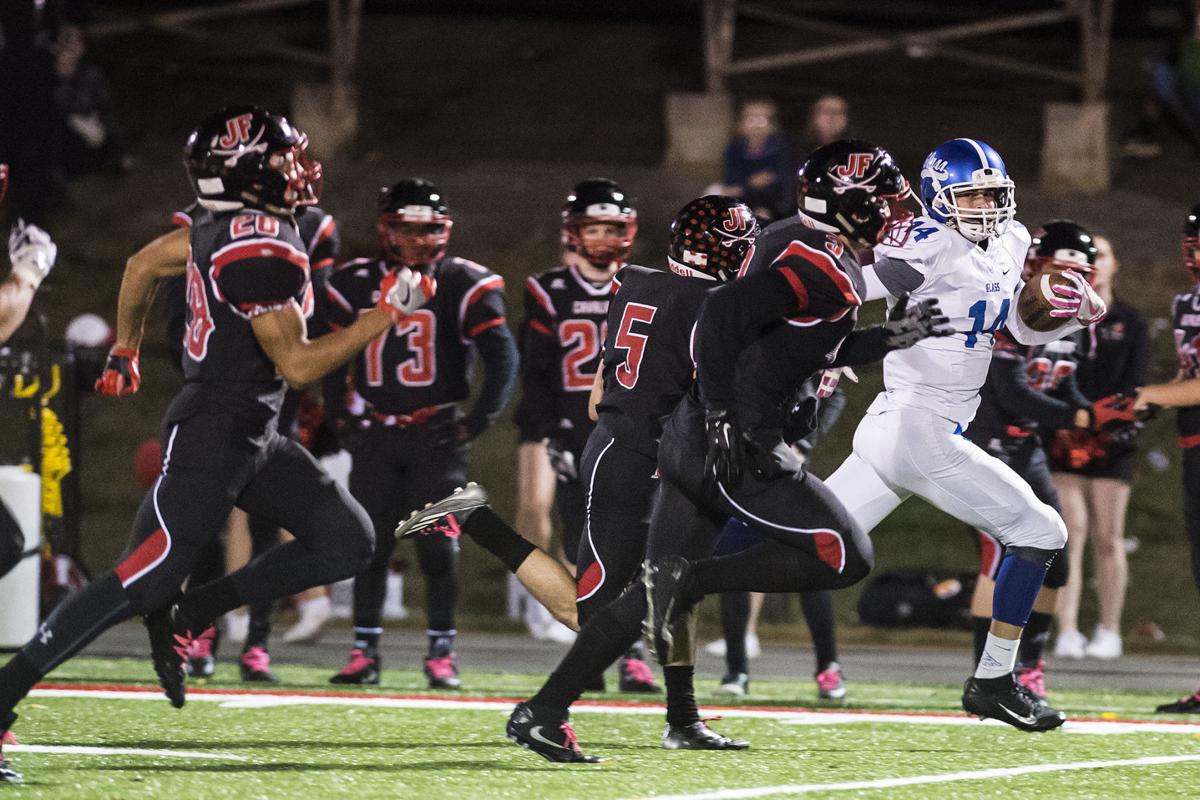 In a sense, Sackett Wood's work is only beginning.
But consider how far the E.C. Glass graduate has already come in his quest to once again play the sport he loves.
We tend to view second chances as rather remarkable feats, simply because they don't come around too often. Careers, promising or not, are often snuffed out quickly, without do-overs. Idols dim, politicians fail, celebrities fade, athletes grow old — common occurrences, every one. Redemption is more of a rarity in our society, which led F. Scott Fitzgerald to once write "there are no second acts in American life."
But there are second chances. Washington quarterback Alex Smith can tell you all about that. He suffered a leg injury two years ago that was among the most gruesome in NFL history. He nearly lost his leg and ended up fighting for his life because of an infection. Now, at the age of 36, he's Washington's starting quarterback again.
We also heard about Liberty kicker Alex Barbir last week and his journey back to football. After beginning a promising college career at Penn State, Barbir gave up the sport, transferred to Liberty, and only decided to give football one more try at the behest of his parents. Last week, he won the game for LU with a 51-yard field goal against Virginia Tech that radiated across the airwaves and social media platforms.
And then there's Wood. A basketball, lacrosse and football standout at Glass, he passed on football offers from smaller institutions to attend UVa, where he's a history major.
His own history, though, wouldn't let him go. The 2018 Glass grad could think back to his glory days under the lights, where he filled in at numerous positions, but mostly served as a tall, durable receiver.
He could think about his brother Hugh, a lacrosse and basketball standout who graduated this year. He could think about his younger brother Eli, who is slated to make waves for the Hilltoppers football team.
Or his grandfather, Mosby Perrow, who played at both Glass and UVa. Or his other grandfather, Robin Wood, a longtime ACC head football referee.
Perhaps all that history was calling out to Wood and telling him his playing days weren't over yet, guiding him toward a new team and back to the old game.
"I realized last year that if I didn't at least give it a shot, I would definitely regret it in the future," Wood told me Friday.
So he started working last November. All winter and then through the pandemic, lifting weights, running countless miles and gaining about 45 pounds.
Last week, he earned his Cavaliers jersey, the rites-of-passage ritual that means he's been assigned a number as a walk-on. He's on the sideline during games, practicing with the team each day and hoping to move his way up the depth chart.
Wood couldn't talk too long Friday. He had to get to UVa's final practice, a walk-through session, prior to Saturday's game against Louisville.
Attending practices, that's something he never thought he'd do again. There's a lot of work still to be done if he wants to rise through the ranks. But Wood already has shown himself willing to put in the work.
"I would obviously love to get on the field," he said. "It's gonna take a lot of work in the offseason. Obviously taking two years off there's some adjusting time to get back where I was and then get up to the Division I level. But I think it's manageable."
He'll have three years of eligibility to accomplish those goals.
A simple story about fate not letting you go, yes, but it's more than that. It's inspirational. There are teenagers all across our area waiting for their chance at the next level, hanging on to their dreams of a better life.
Some are waiting for an athletic scholarship, because it's the only way they can afford college. Some are trying to break through the glass ceiling and become the first person in their family to receive a college diploma. And others, like Wood, just aren't ready to give up the game yet. Don't want to let the dream die. Hope to ride it out as long as they can.
I asked Wood what he'd learned from his journey.
"Do what you feel and what your gut tells you to do," he said. "I wasn't 100% sure at first, but when I started thinking about it, I'm gonna regret it 10 years down the road if I don't give it a shot. Go after what you want to do and don't let anyone tell you any different."
A second chance. A shot at redemption. Finding happiness in something you love. Those are things we all deserve.
Get in the game with our Prep Sports Newsletter
Sent weekly directly to your inbox!