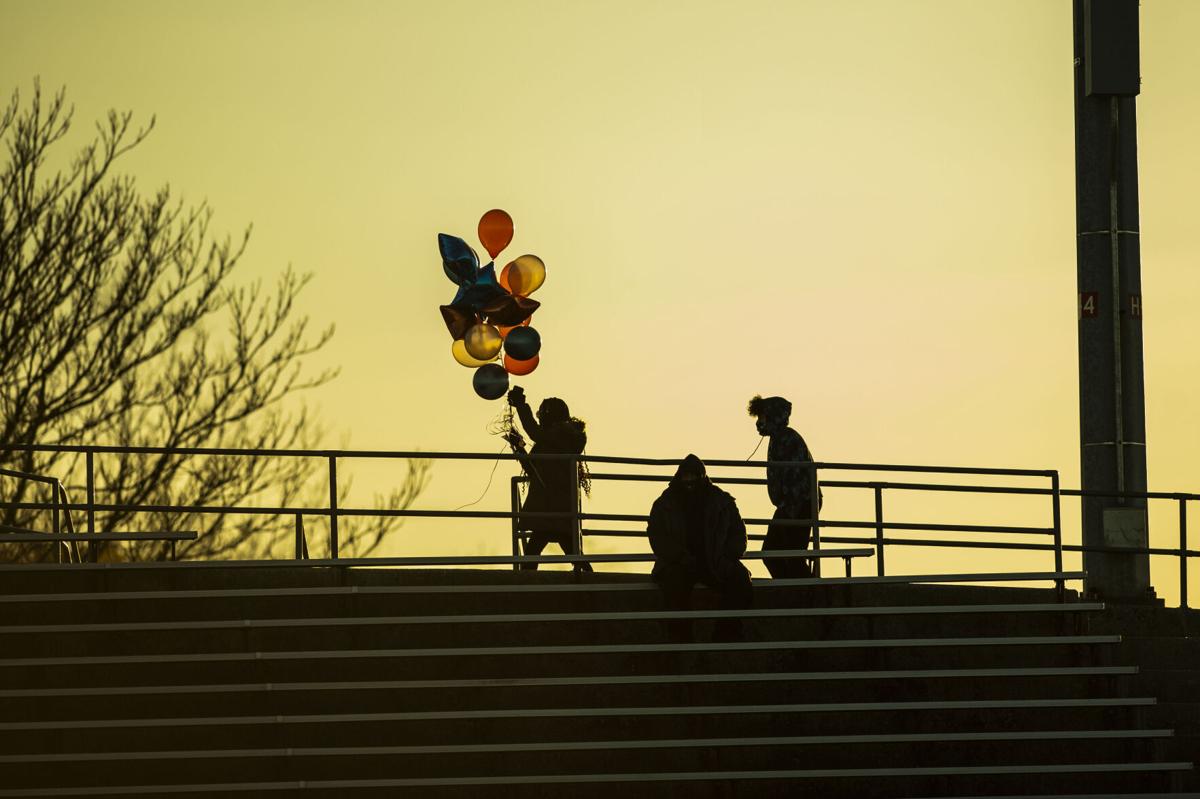 Everything was quiet by the time Marquise Woodruff emerged from the E.C. Glass locker room Friday night. Players had mostly thinned out, some chatting with pads slung over their shoulders, others hanging their heads low.
Woodruff spoke through the silence in a hushed voice. "Heartbroken," he said with a tone of an introspective athlete still soaking in the moment and coming to grips with the fact this was the end. "[Football] just means everything to me."
Sometimes you have to leave behind that thing you love. You have to say goodbye. Sometimes you have to hope that by giving it up, you'll get it back at some point. And sometimes, those goodbyes are spoiled by such disappointing results that it's hard to hold your head up.
Woodruff, a senior receiver and defensive back, grappled with those thoughts after E.C. Glass' season came to a sudden end with a 31-7 loss to Heritage in the Jug Bowl at City Stadium. After a six-week football campaign in which the Hilltoppers played only four times because of a two-week COVID pause, endured a host of injuries and watched as their lineup was decimated, the season is over, swept into the yawning black hole that has swallowed up so much of the sports world since the pandemic began.
The Hilltoppers won just once this season and lost three times. No 10-game schedule like in years past. No chance to really catch fire and surprise people with a late postseason push. As some schools across the state can attest: lose once this year and you might get knocked from the playoffs. So for seniors at Glass, dreams, unfulfilled, were left lying on the City Stadium turf, where countless seniors have had to say their goodbyes.
I've been thinking a lot lately about last chances. About how sometimes they arrive too soon, no matter how much we prepare. About how they pass too quickly, even though we tell ourselves to live in those moments and soak them in. And about how many of us second-guess ourselves after the big moment has passed.
Losing is tough. Losing the last one is especially difficult. But I look into the eyes of folks like Woodruff and his fellow senior, Nasir Williams, and I know they've given everything they had. No regrets.
For Williams, a 6-foot-2 tight end and defensive end, the season finale happened to be the game Glass came together. In a normal year, that might happen in Week 3 or 4, when new and veteran players might begin to jell. This year, it came at the last possible moment. Sometimes a loss brings teammates closer.
"I enjoyed my last 48 minutes out there, win or lose," Williams said. "And I love every one of them boys out there. All of them got a bright future." Then he prophesied: "Watch out for Glass in the next few years."
Williams, a burly and talented athlete who has garnered respect across the Seminole District, is headed to George Mason. He wants to one day pursue a graduate degree there as well, and study kinesiology.
On Friday night, he talked about how he wishes he could've had a normal 10-game schedule. Things would've been different for Glass.
"But you just got to go with what you can control," he said. "A lot of things are out of your hands. You've just got to go with what you're given and take that and, hopefully, the best comes out of it."
Maybe its because of the pandemic — more than a year of death and agony, of uncertainties and losses that can't be measured, of disappointments and fear — or maybe all the years of watching as athletes reach the end, but I'm inclined to agree with Williams: do the best with what you're given and hope for the best.
Hope. I think that's one reason people love high school football. When you believe in yourself, anything can happen. So the up-and-coming youngsters at E.C. Glass can prepare, knowing bright days are ahead. The youngsters at Heritage know they have a couple more years to make their mark. And the seniors at Heritage know they get to play on in the postseason, at least for one more week.
There was a full range of emotions at City Stadium on Friday. The up-and-coming Glass underclassmen will be back after getting their first taste of varsity football. Heritage seniors are moving on to the playoffs. The younger Pioneers have a couple more years to make memories. The Glass seniors, though, their coach had a special message for them before they moved on.
"I made 'em all stand up [in the locker room]," Jeff Woody said. "I thanked them. Told them they got dealt a bad hand. Thank you for giving the effort. Thank you for being leaders. Thank you for showing these young kids the example of how E.C. Glass football is played. They planted the seed. And, hopefully, the seed that these seniors leave is gonna continue to allow E.C. Glass football to continue to be respectable."
It's easy to be frustrated these days, because no matter what you do, chances are the coronavirus has stripped you of hopes and dreams to some degree. Through all that, it's necessary to find something in which to take pride.
So Woodruff took in the moment, talked about his family and how he's always played to make them proud, and then considered his future. He hopes to find a new team at the next level in the coming months, then announce his college commitment. But there's no place like home. And that's what Woodruff could take pride in: where he's been, what he's experienced and where he's going.
"I will definitely look back on this," he said of his lengthy varsity career. Then he paused and added: "I'm always gonna be bleeding blue."