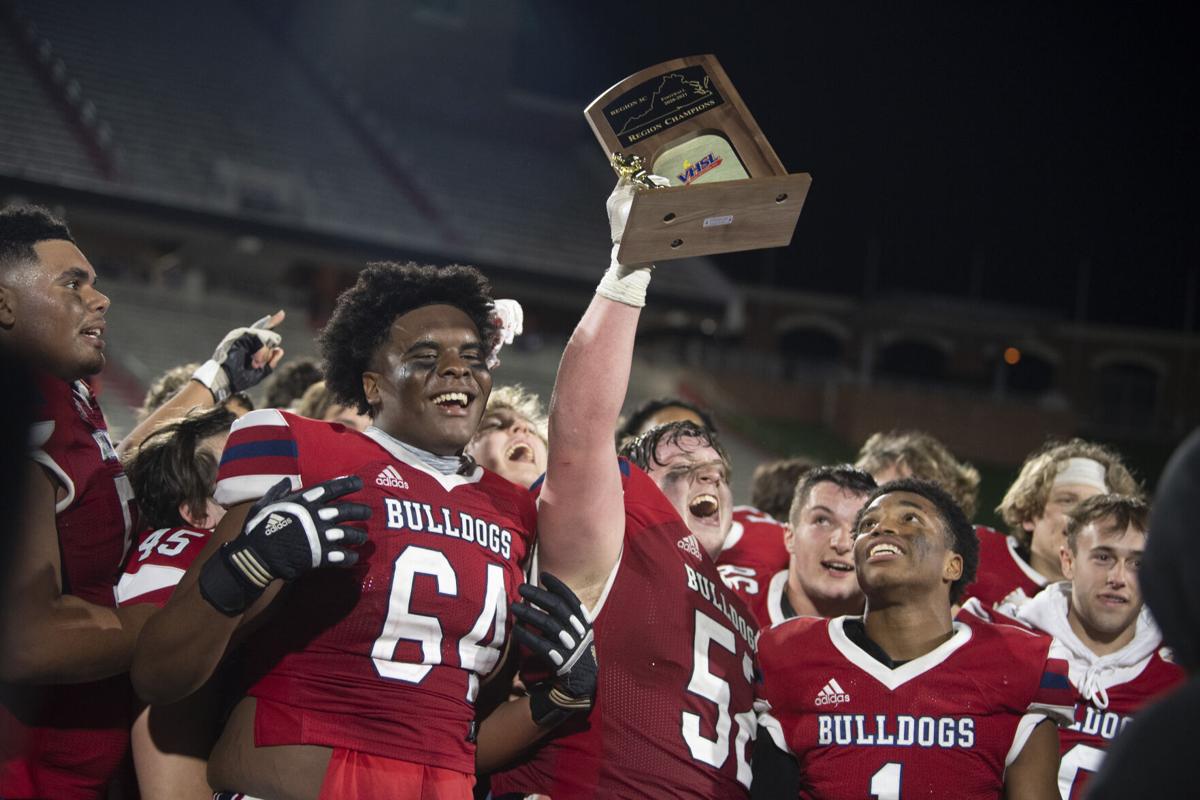 In 2018, Liberty Christian got speared by Heritage, 47-3. 
It was the year Zach Rice and Jaylin Belford were freshmen. A couple of twins, Cade and Will Wycoff, were sophomores. 
Those were uninspiring days for the program. Just a few months before the season began, longtime coach Frank Rocco announced he was returning after handing the reins to his son Chris two years prior. The Bulldogs went 4-7 overall, got trounced in the Seminole District by losing five of seven games, and then somehow squeaked into the playoffs, where they were batted away by Blacksburg 43-6 in the opening round. 
Now the youngsters from that 2018 team are upperclassmen, and they celebrated the first region title in school history Friday night when LCA defeated Heritage 30-14. They seem to know no quit, these Bulldogs. Somewhere along the way during this pandemic-shortened season they hit their stride and developed into the type of powerful team many folks thought they would be before the season began. 
On opening night in February, LCA looked nothing like a state title contender. Since then, the group has been lights out, a sign of dedication to the sport. 
Even after winning the Region 3C championship and advancing to the state semifinals, LCA players still remember that Week 1 loss. It was a pivotal moment because with such a short regular season, the Bulldogs would've had no playoff hopes if they'd lost again. Belford talked about it late Friday night. 
"Everybody was like 'LCA's done. LCA's not gonna make it,'" a breathless Belford said after celebrating with his teammates. "And then we kept on grindin' and grindin'. We used that as motivation and we kept on doin' our thing, getting win after win after win. And then we got our chance against Brookville, and we dogged 'em. They're a very good team, but we did our thing. And we actually wanted to play Heritage in the playoffs."
In 2018 they finished fifth in the Seminole standings. Now they're the last Seminole team standing. Next up: a state semifinal bout at Lord Botetourt (8-0), long considered the favorite for the Class 3 title. LB is stout, strong, speedy and self-assured — basically everything you want out of a team this time of year. They represent another serious challenge for LCA. 
But these Bulldogs are playing disciplined football right now, and they're nothing if not persistent. That's obvious on offense, with methodical drives designed to wear down the opposition. It's obvious on special teams, with long returns that often put the offense in strong field position. And it's obvious on defense, where the Bulldogs can make game-defining stands and force opponents into three-and-outs. 
There are now two teams left in this newspaper's coverage area: LCA (Class 3) and Appomattox (Class 2). 
Speaking of the Raiders, they are another example of a program turned from mediocre to mighty. 
In 2012, Doug Smith's first season, Appomattox went 4-6 and missed the playoffs. Few people would've thought the Raiders' rise possible back then. And no one imagined ACHS would go 15-0 in '15, string together a 32-game winning streak (the longest such streak in the state at the time), win three state titles in a row and then add a fourth in 2019. 
These Raiders (8-0) are rolling, too. They entered giving up just six points per game this season. And although they allowed 21 to Glenvar on Friday, they still dominated and captured their fifth region title in six years. It will take a dedicated, hardworking team to knock them from contention. 
Appomattox's turnaround was built on Smith's offensive strategy, Stephen Castello's lights-out defense and intangibles like discipline, devotion, faith and an indominable will. 
That's the state of things this playoff season: Appomattox, with its established postseason prowess, and LCA, which is just now finding that spirit as it begins its most coveted of athletic pursuits.