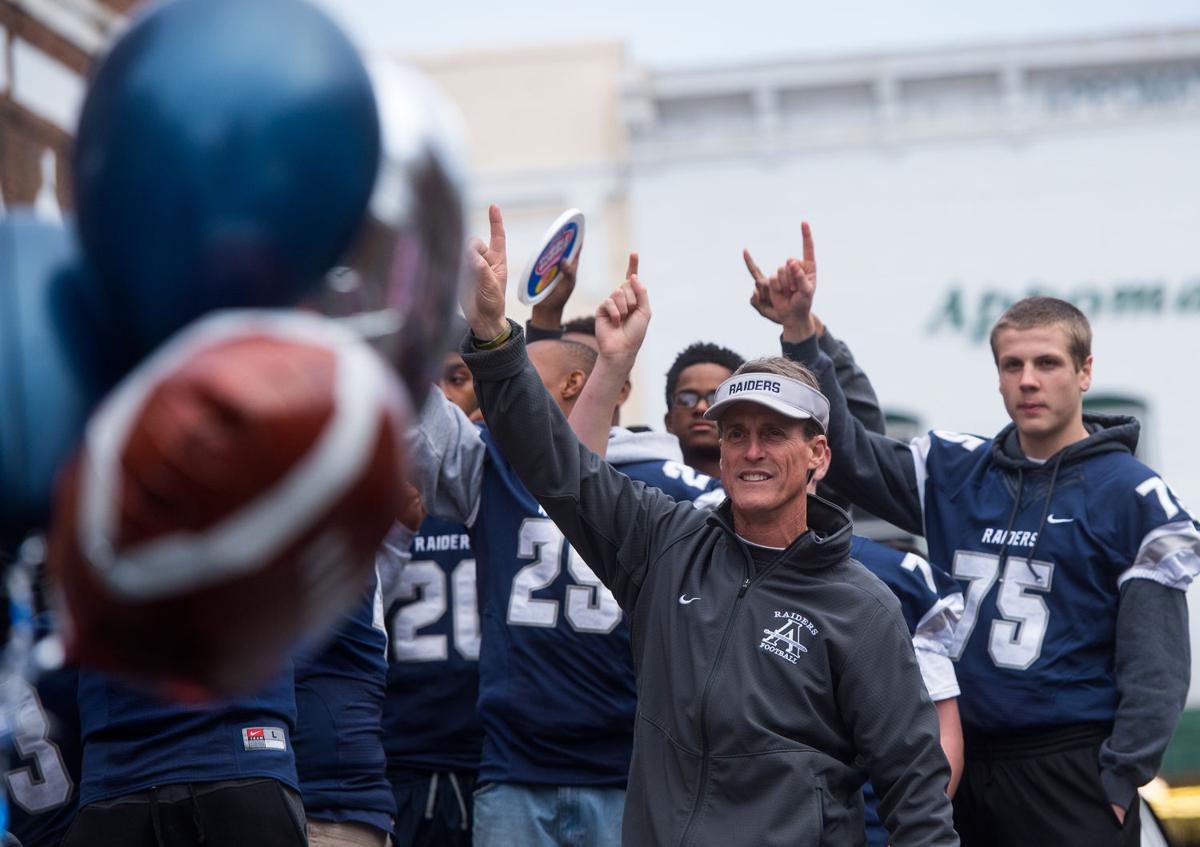 To many people, Doug Smith is a saint, someone whose existence borders on the divine.
It's easy to understand their reasoning. Here is a man of integrity, who practices what he preaches, whose word is his bond, who is father figure and football coach and spiritual advisor and advocate all rolled into one larger-than-life package.
To other people, the Appomattox County football coach is a hero carved from the pages of a comic book.
"He's Superman to us around here," Jay Wingfield, a longtime supporter of the program, said.
And that's understandable, too. Anyone who brings a school its first-ever football state title, then delivers three more the next four years, while also lending a hand to others and sacrificing his time in hopes the teenagers he leads will one day become people of strong character — that person is bound to reach superhero status.
But Doug Smith is human, and so he asked a question: Why?
Just three letters; but when strung together they form questions sometimes so menacing they're impossible to tackle alone.
No one knows why Doug Smith was stricken with multiple myeloma last fall. No one knows why bad things happen to good people — in this instance a person held in such high regard, about whom a negative word is rarely spoken, who stands as a model of decency and fairness and faith in action. And no one knows why the future will look much different for this man than anyone expected.
"I was just like anybody else. Your human side starts asking questions," Smith said a few days before beginning an intense round of tests and procedures at Duke Cancer Center in Durham, North Carolina, where his stay is slated to last until the middle of April. "Questions like why and how come and how could this happen."
To doubt is natural. To trust and persevere in the face of insurmountable odds is extraordinary.
Then again, Smith's life is an exceptional one. That's something on which everyone tends to agree.
Wingfield: "He's a very unique individual that I have not seen the likes of in my lifetime."
Appomattox County High principal Poldi Moreno: "I wish I was half the man Doug Smith is. Through all of this, he still gives to other people. He lives that motto of service."
Journalists are skeptical by nature. If someone is constantly referred to in glowing terms, we tend to be on guard for what's beneath that glow, recognizing inherent flaws may lie hidden under a polished exterior.
Not so with Doug Smith. There's no desire to fool people, no propped-up, fake facade that some day could come crumbling down under pressure. Just an authentic individual filled with care and compassion, buoyed by belief both in a higher power and the ability of mankind to reach for greatness.
"One of the most genuine men of faith I know in my life," Heritage football coach Brad Bradley said after finding out about Smith's diagnosis last year. Bradley and Smith's teams have faced off regularly since 2015 (with the exception of this pandemic-altered season). "Doug's gonna be OK with whatever happens, because he knows it's God's will."
Smith has cast aside his initial questions. Through the ashes of that doubt, he is emerging with a greater faith. He's spoken about the desire to help people more often, to be a stronger witness, to give back to others. Those words from a man who already has given so much.
He also recognizes the need for self-reflection.
"The more I prayed, the more I started finding out what was important to me," Smith said. "God showed me that slowing down is pretty important right now. Slowing down, reading his word and praying was the answer. I need to spend more time knowing him. Even though I wanna have a strong faith, I know I've let a lot of that take a back seat sometimes in my life. I'm glad it's happened before I leave this earth, to take some time to do those things."
Even during his treatments, he's still dedicated to his Raiders. While in Durham on Friday night, Smith was in touch with coaches virtually, calling plays and watching Appomattox's game against William Campbell.
The Raiders are playing for him this season, and Smith receives inspiration from them. Sometimes a coach needs his players as much as they need him.
And here's something we all need: more kindness and more generosity. More faith and more devotion to something bigger than ourselves. More belief that the future is bright, even when it's viewed through a glass darkly.
Even when all we can do is ask why.
"Doctors say you'll never lose this," Smith said of multiple myeloma, "but I'm thinking God can do anything."