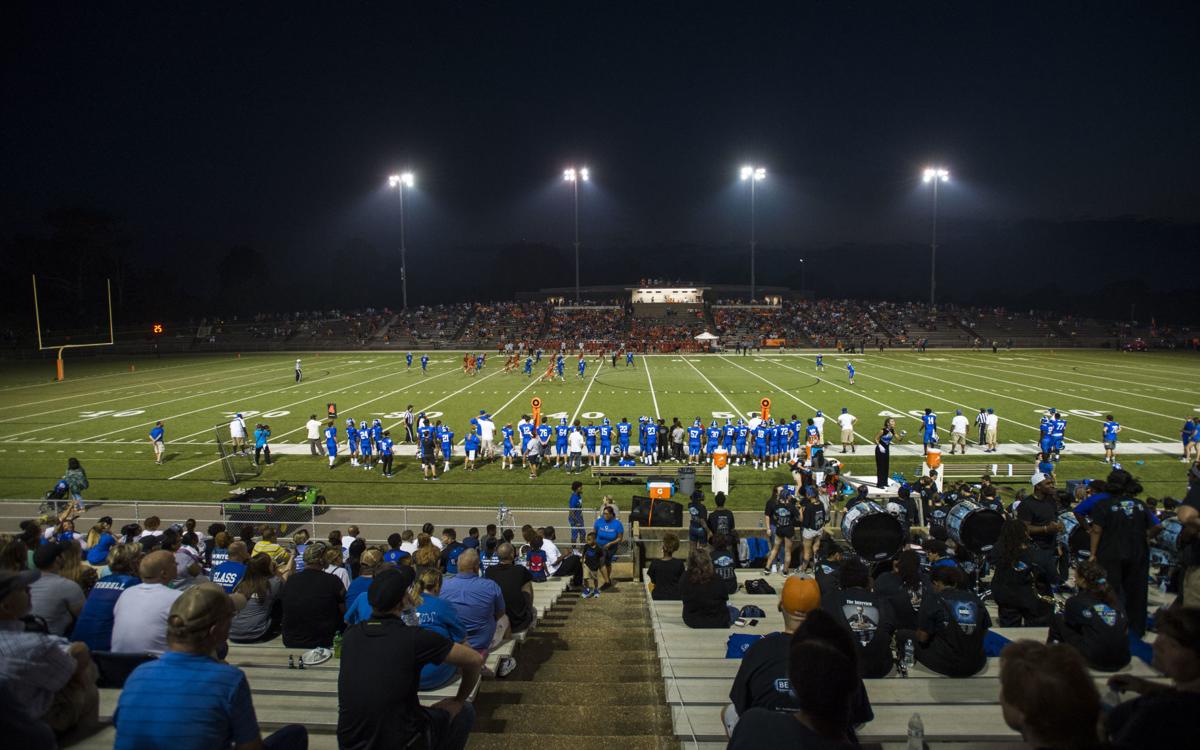 The final Friday in August, often reserved for opening night, arrived without fanfare.
September will roll away in strange silence, too.
Ditto October, when strong teams begin to separate themselves from mediocre ones. And November will pass without the word that's usually on countless tongues: playoffs.
For the first time in more than 100 years, there will be no high school football this fall.
We'll miss the clashing of pads on humid nights, the smell of popcorn wafting over from the concession stand, the crowds and marching bands and crisp whistles cutting through the chilly autumn air.
We'll miss players giving their all because they believe a state championship, the sweetest prize of all, waits at the end of all those bone-crushing hits and twisted ankles and botched plays that somehow turned into miracle touchdowns.
Instead, all across the area, Friday nights look like this:
In Lynchburg, City Stadium sits lonely.
At Appomattox, Bragg is an empty shell.
In Forest, no crowds spilling over onto the grassy knolls.
In Amherst, only ghosts of Lancers past.
Gretna isn't gearing up for its big rivalry game against William Campbell.
Brookville isn't preparing for its Timberlake Road clash.
There'll be no Bedford Brawl for Liberty and Staunton River.
No Black and Blue Bowl or Battle of the Lantern or longtime Colonels fans emptying the tiny town of Altavista to go watch football.
And no Jug Bowl or the week-long festivities that come with it at E.C. Glass and Heritage High, the fans donning either orange or royal blue throughout the Hill City on gameday and then packing into an old venue that has hosted football games every fall for the last 80 years.
All of that makes for a stark reality, right? Prior to 2020, who could have imagined a fall without the little brown jug? Or without bragging rights all across Central Virginia? Who would've thought we would be sitting at home, wishing for the good times, thinking about all the local heroes gone by and hoping for brighter days?
Look, it's unsafe to stage a football season this fall. I know that, and you should, too. Playing in the spring, which is the Virginia High School League's current plan, may still be unwise in March. I'm not judging any of those decisions; all I'm saying is this fall, I'll miss football.
I'll miss walking the sidelines and keeping stats during games. I'll miss preparing all week for a full slate of contests.
I'll miss the steely eyed determination on the faces of players and coaches. The long drives out to places like Appomattox and Gretna. Watching the sun sink below the crest of the Blue Ridge Mountains as shadows lengthen at City Stadium.
I'll miss getting to know the players — hearing how they grew up, finding out what circumstances they've overcome and realizing what motivates them to keep moving forward.
And I'll miss you, dear reader, with your suggestions and feedback and angry phone calls and encouraging emails.
But I know, too, that those brighter days we're dreaming of will appear at some point.
As I write, teams are practicing, slowly getting ready for clashes scheduled to take place from March to May.
Still, those plans may not materialize. Football may be deemed by the league as unsafe in the spring.
That's why it's so important to do your part.
If you care about high school football and the teenagers playing it; if you care about your family's health; if you care about the community in which you live; if you care about all the activities and sources of entertainment we used to enjoy without the danger of falling deathly ill — then do all you can to defeat the coronavirus.
Wear a mask. Wash your hands. Avoid large gatherings. Stay home if you can. After all, you have a social responsibility in this country to care for your neighbor, and your neighbor is everyone.
I've talked to several coaches the last few months who are afraid the pandemic may hammer the final nail in the coffin of a sport already ravaged by the realities of traumatic brain injuries and declining participation.
Then again, maybe football is tougher than we think. Maybe it will endure and enthrall small communities and big ones alike in the future.
But whether it survives might just depend on all of us rallying together to do our part.
Ben Cates is sports editor at The News & Advance. Reach him at (434) 385-5527.
Ben Cates is sports editor at The News & Advance. Reach him at (434) 385-5527. 
Get in the game with our Prep Sports Newsletter
Sent weekly directly to your inbox!