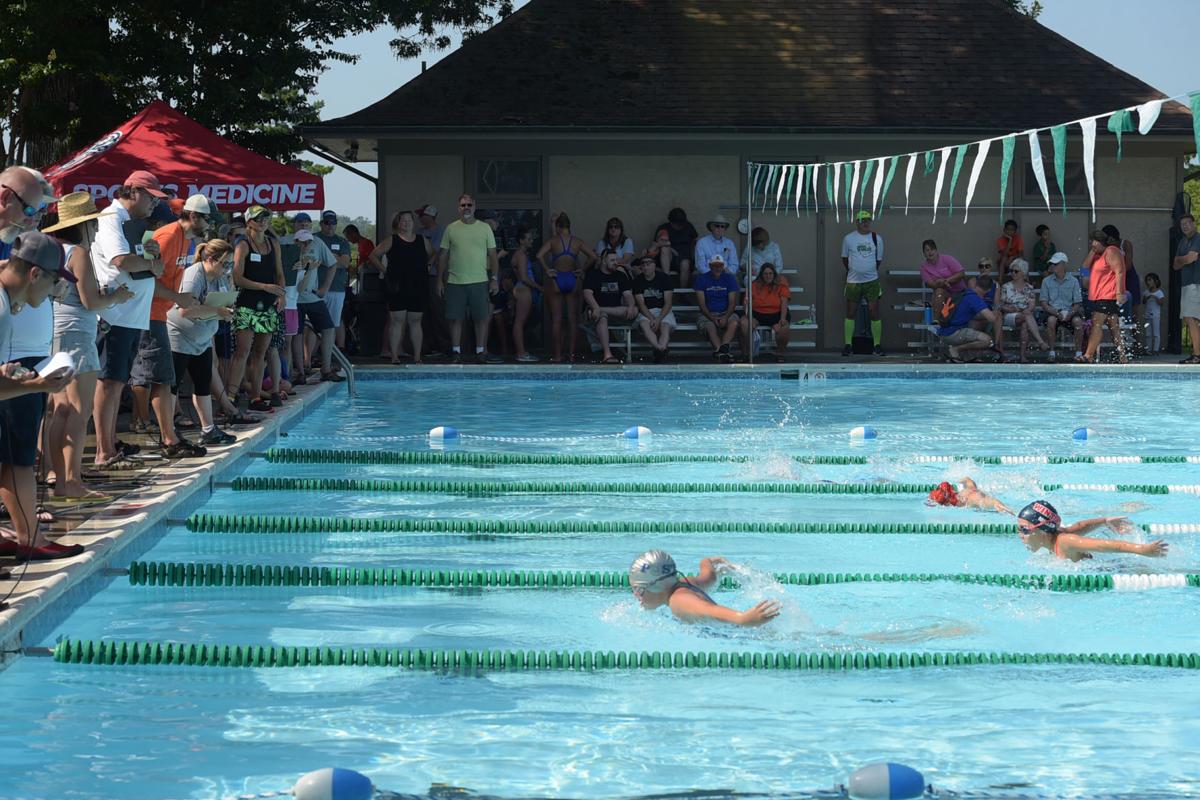 It was the height of summer, sometime in the early 1990s, and college-bound Lee Lewis posed for a photo beside a talented kid named Greg Hofmann at Rainbow Forest Pool. They held a trophy.
The two friends had just been named most valuable swimmers at Rainbow, their summer home every year. Lewis was about to embark on a career at Mary Washington, where he would set team and pool records in five categories. Hofmann, still years away from beginning high school, eventually would swim at Old Dominion.
Their friendship began, like countless others, on days like that one — the months when school is out and kids of all ages flock to pools throughout the area to beat the heat and swim for teams in the Lynchburg Aquatic League. For Lewis and Hofmann, the friendship never died; it only deepened.
Years later, they returned to the LAL as coaches for opposite teams. And both faced off as coaches at the high school level, Hofmann at Heritage and Lewis at Brookville. Now they're joining forces as their friendship continues to evolve.
On Friday, Randolph College announced it had hired Lewis and Hofmann to serve as co-head coaches of its swimming program, a move that coincides with the Rivermont Avenue institution's decision to beef up its program with facility upgrades in an attempt to win over a new generation of recruits.
That's good news not just for Randolph, currently home to only a dozen swimmers, but for the future of the sport in the Lynchburg area. Hofmann and Lewis have coached hundreds of young swimmers over the years, helping them develop skills that can last a lifetime. They're in touch with the local scene at every level — from the current high school athletes destined for college careers to the young kids in the swimming pipeline who may have bright futures.
Hoffman and Lewis hope to use that knowledge to recruit a wide variety of swimmers to Randolph.
"The No. 1 goal is to build a foundation," Hofmann said Friday. "We need to get 40 swimmers the next few years at Randolph. ... We want to recruit the top swimmers and novice swimmers that have the will and passion to improve, and make them the best swimmers possible."
Lewis is stoked about the new gig. By 2022, he said, the goal is to have 20 men and 20 women competing and making waves in the Old Dominion Athletic Conference. Among them could be his son Solomon, currently a junior at Brookville.
We usually don't see co-head coaches at the college level, but Lewis and Hofmann think they can pull it off. One reason: they know each other well and recognize each other's strengths and weaknesses. Another: they bring a wide variety of knowledge to individual events. Hofmann was a sprinter in college; Lewis excelled in mid- and long-distance events after having success as a sprinter, too.
"We're very compatible in terms of coaching philosophies," Hofmann said.
"We want to make it fun and upbeat."
Lewis recalled being in college and making trips to Florida, where he had the chance to swim at the International Swimming Hall of Fame in Fort Lauderdale. He hopes Randolph swimmers can have that type of experience in the future. "They haven't had that at Randolph," he said, "and we want this to be a fun experience."
Still, both men agreed the work ahead will be daunting. They're taking over a program currently in decline from a numbers perspective, so attracting recruits to the school could prove difficult. They're up to the challenge. "You're not going to find two people who are more competitive than Greg and I," Lewis said.
Hofmann will continue teaching at Heritage, but has not made a decision about whether he will remain Pioneers coach, a post he's held since 2005. He may return to the LAL circuit. Lewis isn't sure if he'll continue coaching in the LAL, but hopes to lead Brookville, where he's been for 13 years, for at least one more year.
Their work at the youth level should be celebrated. High school programs and organizations like the LAL depend on coaches who can teach the sport and make it fun while also developing talent. Fail and the system breaks down. Succeed and everyone wins.
That's why it's so important who your leaders are. Without competent ones, the programs that were once strong crumble. Hofmann and Lewis have done their part: they grew up on the local swimming scene and then returned to lead it, working to make it stronger along the way.
As for that picture, the one of those two youngsters standing together, it will now hang in an office at Randolph, a testament to the days gone by and all the ones still to come.