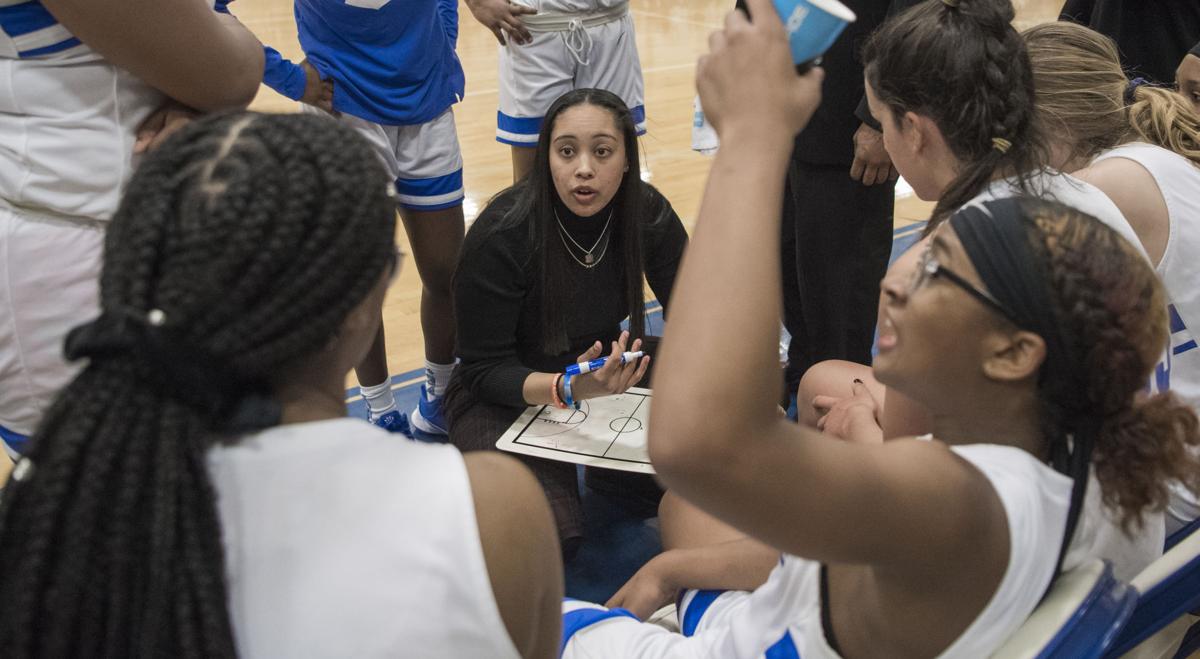 Anitra Thomas, a Brookville alumna who spearheaded a turnaround in the E.C. Glass girls basketball program as head coach for the past two seasons, is moving up the area coaching ranks. Two years removed from her playing days at Christopher Newport, Thomas will join the staff as an assistant for another Division III school, the University of Lynchburg.
UL announced Thomas' hiring Friday. She will begin her duties immediately under new head coach Allison Nichols, who took over that role in May.
"I am so excited to welcome Anitra to our coaching staff," Nichols said via a news release of Thomas, who has resigned her post at Glass to take on the new job. "Her outstanding collegiate career on the court and in the classroom speaks for itself, and that success has already followed her to the sidelines. Our basketball program, especially our players, is going to benefit tremendously from Anitra's passion, knowledge, experience, and love for the game."
Nichols, who comes to UL after serving as associate head coach for nearby Roanoke College since 2017, and Thomas both are graduates of Brookville.
"It's truly a blessing," Thomas, 25, said in a phone interview Friday. "It's an opportunity you can't pass up at my age. Everything that has happened since I left college, a lot of things have really just worked in my favor, and I owe all of that to God."
Thomas' new role is now her third coaching title in her short professional career. She started at E.C. Glass as an assistant coach in 2018, helping the Hilltoppers that year to a 15-11 record in what became the first of three winning seasons.
The stretch, which continued when Thomas took over as head coach in the 2019-20 season, represents a turnaround for the Glass program that previously had strung together seven consecutive losing campaigns.
"Every single [player] that I've coached has made some type of sacrifice, whatever their role was. They are the reason the program has changed the way that it has," Thomas said.
As a head coach, Thomas led the Hilltoppers to the Class 4 state tournament in 2019-20, marking just the second time a Glass girls team had made it to states in program history. Glass went 22-5 that year with just two regular-season losses.
For her leadership during the season, she was named both Seminole District coach of the year and Region 4D co-coach of the year.
E.C. Glass posted a perfect 8-0 record in the most recent season. The campaign was condensed by the Virginia High School League in response to the pandemic, and the Hilltoppers' season came to a premature end because of COVID-19 protocols. Glass was slated to enter the Region 4D tournament as the No. 2 seed.
During Thomas' two years as head coach, the Hilltoppers were perhaps most successful on the defensive end. Thomas implemented a man-to-man defense that pressed and caused havoc all over the court, creating turnovers and easy scoring opportunities.
"I'm most proud that we took a group of girls that people would basically count out every year and with discipline and culture we turned that program around," Thomas said. "I think we've laid a good foundation for the girls to continue in the future."
Thomas rose to prominence in the area during her four years at Brookville. She became the program's all-time leading scorer by her senior season in 2014 with 1,355 points, a mark only since eclipsed by one player, Hannah Young. Thomas earned all-region and all-state honors during her time at BHS, as well.
Following her high school years, Thomas continued her career at Christopher Newport, where she played for four seasons. She averaged 6.6 points per game in 105 appearances and recorded more than half of her total points from 3-point range, where she shot 41%. Thomas also averaged two rebounds per game and added one assist per game and just under one steal per game.
The Captains made the NCAA Division III Tournament three times, reaching the Sweet 16 twice and final four once, during Thomas' stay in Newport News and finished each of those seasons ranked among the top 15 teams nationally.
Thomas graduated from CNU in 2018 with a degree in biology and taught science at Dunbar Middle School while coaching at Glass.
She and Nichols now will guide a University of Lynchburg team that is in the midst of the most successful stretch in program history.
The Hornets are coming off an Old Dominion Athletic Conference title in 2021 over Roanoke, the team Nichols helped coach at the time, for their second-ever conference championship. UL went 11-1 in the shortened 2021 campaign and now is 104-46 in the last six seasons, a stretch that includes two NCAA Division III tournament appearances.
Thomas hopes the fact she's not too far removed from her playing career will be a benefit as she steps into coaching college athletes, and she believes her connections to the area high school scene could help when it comes to recruiting.
Thomas is the first assistant to be hired under Nichols, who will continue filling out her coaching staff ahead of the upcoming season.