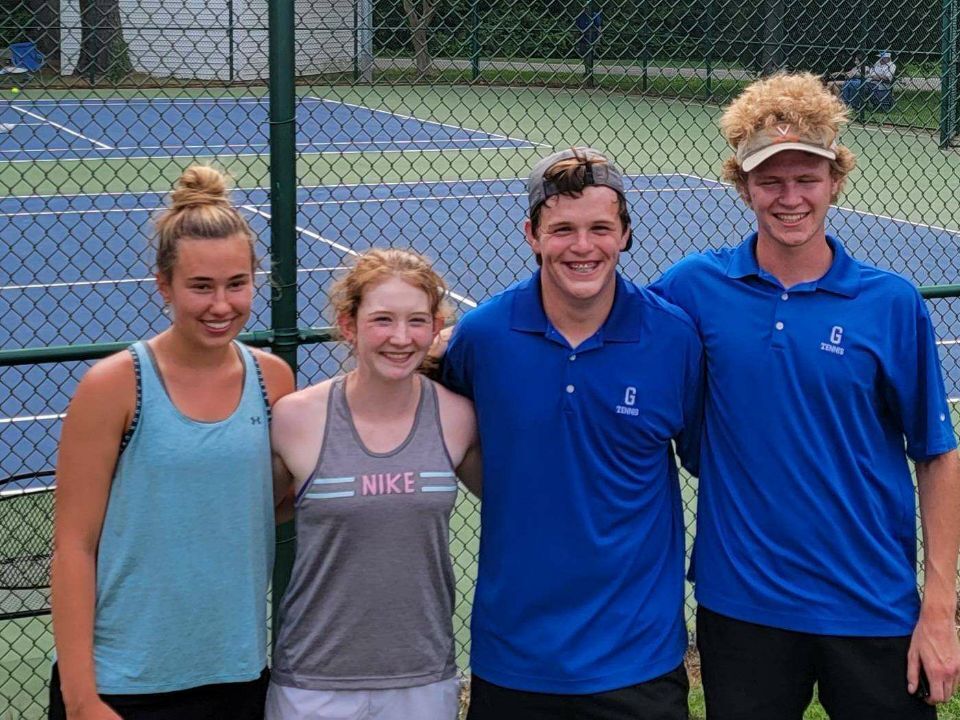 In Newport News, Spencer Knight and Wolfgang Ploch fell in an early hole in the Class 4 state doubles semifinals. 
But good teams find a way to bounce back, and that's just what Knight and Ploch did. 
After dropping the first set to John Handley's Daniel Botros and Brendan Love 3-6, Knight and Ploch started figuring things out. 
They began countering against the Australian style of doubles played by Batros and Love and also began serving better. That led to a grueling and stressful second set that Knight and Ploch won 7-6 (7-2). 
The E.C. Glass duo was on cruise from there, winning the third set 6-2 and advancing to Friday's doubles championship. 
"Something just clicked after we won that tiebreaker set," E.C. Glass coach Tim Matthews said of Knight and Ploch. "They came in with some momentum. They were struggling with their serves in the first set and then started to play their typical doubles game."
The result — with Knight and Ploch adjusting to overcome a different style of play and Handley's consistently tough placement on returns — made for "some of the best doubles I've seen," Matthews said. 
Knight and Ploch, he added, had to "slow down and be more patient and not win it on a serve."
Knight and Ploch, who advanced to the state tourney by winning the Region 4D title last week, face Hanover's Ethan Belote and Charles Adams in Friday's 1 p.m. finals at Huntington Park in Newport News. Belonte and Adams defeated Aaron Squire and Benjamin Sheriff 6-0, 6-1 in Thursday's other semifinal. 
In the girls semifinal round, Glass' Megan Knight and Grayson Laughon cruised to a 6-2, 6-2 victory over Loudoun County's Vivian Lun and Cora Wildman. 
"Grayson and I played really solid," Knight said. "It was the best tennis we've ever played together."
Knight and Laughon noted recently that they were starting to really jell. That showed in their region championship victory and then again Thursday, as Laughon sparked Glass with her baseline play and serves and Knight was stellar at the net. They were so dominant that they captured the first five games of the second set before Loudoun County could get on the board.
"We weren't making a lot of mistakes," Knight added. "I feel like we're peaking right now."
Knight and Laughon now play a to-be-determined opponent in Friday's 1 p.m. state championship match. The other semifinal doubles match, between Jamestown and Hanover, was suspended because of rain Thursday with Jamestown leading 4-1 in the first set. That match concludes Friday morning. 
Megan Knight plays Lun, an opponent she sized up in Thursday's doubles match, in the state singles semifinals Friday at 10 a.m. 
It'll be a challenging day for the Glass senior, much like June 2, when she played in the region singles finals and the region doubles finals. 
"She's got pretty incredible stamina," Hilltoppers girls coach Diane Brown said. "I'm just constantly amazed at her stamina and endurance and ability to give it her all."