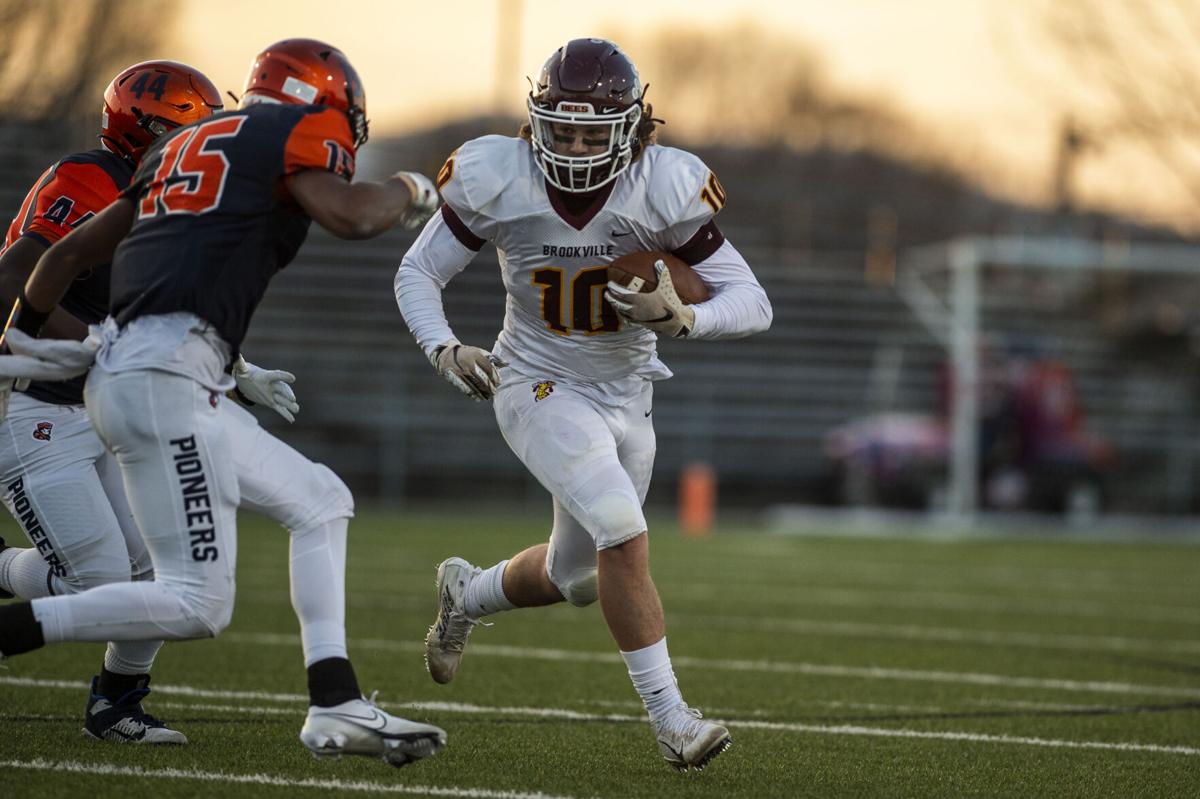 Brookville quietly captured the Seminole District regular-season football title Friday when it defeated Rustburg.
It was the first time the Bees (5-0) have won the title under coach Jon Meeks, in his seventh year as head coach. But there was no fanfare after BHS officially claimed the crown. Instead, the Bees set their eyes on the future.
"We haven't talked about it at all," Meeks said after Monday's practice. "The most important game is JF and trying to wrap up the season."
Brookville can go undefeated and possibly earn a No. 1 seed in a convoluted Region 3C if it defeats rival Forest (1-2) this Friday.
Brookville and Dogwood District member Appomattox (5-0) have both clinched playoff spots heading into the final week of the regular season. That leaves plenty of area schools on the bubble.
The most intriguing region to watch in the Lynchburg area is 3C, where teams are separated by a thin margin of points earned each week that determine which squads move into the playoffs. Only four teams from each region advance to the VHSL playoffs during this pandemic-altered season, making the postseason more difficult to reach.
Heritage (4-1) leapfrogged Liberty Christian (3-1) in the ratings scale released Monday. The Pioneers sit in fourth place (21 points), while LCA is in fifth (20.75). Brookville (24.4), Rockbridge (23.2) and Turner Ashby (21.6) currently occupy the top three spots in the region.
A slew of factors could come into play Friday night.
For the Pioneers, here's the bottom line: they have to defeat rival E.C. Glass (1-3) in order to give themselves a shot at the playoffs. Eyes also will be on Turner Ashby (5-0), which hosts Rockbridge (5-0) on Thursday night. A Rockbridge victory would likely put Heritage in the playoffs, providing it beats Glass. A Turner Ashby win could vault LCA into one of the region's top spots, if the Bulldogs defeat Amherst. Should LCA lose to Amherst, it would likely be out of the playoff picture.
LCA has a distinct advantage: unlike other teams in the 3C hunt who divide their points earned by six (the number of games each has played), LCA will divide by five since it will have played only five contests.
If TA defeats Rockbridge and both Brookville and LCA win, Heritage could get knocked out even if it defeats Glass. The Pioneers stayed in the hunt Friday when they scored 42 points in the second quarter and went on to wallop Jefferson Forest.
"We've got a huge game against E.C. Glass in the Jug Bowl," Heritage coach Brad Bradley said after the win. "We know how big that is."
Another scenario has Brookville and Rockbridge tied for the region's top spot. Should that happen, the VHSL would have to consider a number of factors to break the tie, such as which team has the best district record. Depending on how things pan out, BHS could face Rockbridge, Heritage or LCA in the first round.
Brookville represents a huge challenge for JF. The Bees' starting defense has allowed just 28 points (5.6 points per game) and also is responsible for scoring 28 points.
"That's unheard of," Meeks said. "I've been pleased with this group in every aspect: attitude, work ethic, in the weight room, in practice. There are no complaints. They show up and work every day."
In Region 4D, Amherst (3-2) notches a berth with a victory. In that same region, E.C. Glass (1-2) appears to have been eliminated. In Region 1B, Altavista and William Campbell will likely duke it out for the third and fourth spots. In 2C, Gretna's path to the playoffs appears blocked. In 3C, Rustburg and Liberty have been eliminated.